By JOSEPH CORTES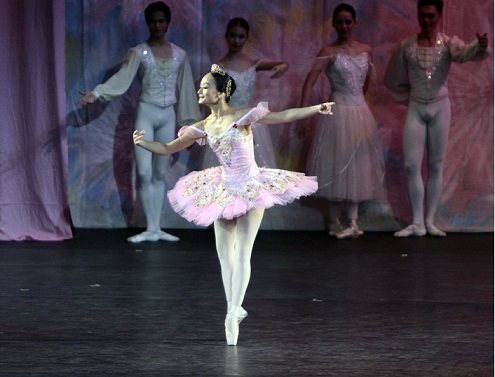 WHEN Lisa Macuja-Elizalde dances this Sunday, December 8, the role of the Sugar Plum Fairy in Ballet Manila's production of "The Nutcracker," she will have formally retired all her major dance roles.
It took her three years to say goodbye to the roles of Odette and Odile in "Swan Lake," Juliet, Kitri in "Don Quixote," Giselle, Carmen, Medora in "Le Corsaire," Nikiya in "La Bayadere," and the Sugar Plum Fairy. Next year, when she turns 50, she will be formally retiring from the stage. That eventuality is still a year away; for now, fans of the ballet still have time to troop to Aliw Theater and enjoy the ballerina's dancing.
It has been an arduous three years, but for Macuja-Elizalde it was but logical to say goodbye to her favorite roles in the way she knows best: by dancing them for the last time in a Swan Song series.
The retirement of her roles had not been without its challenges. She is much older now, and that meant a body that has been dancing for three decades. Like any athlete, she has suffered injuries, which would have fazed any ordinary dancer. But we are talking about the country's prima ballerina, She hurdled any physical infirmities and got the job done. And she never failed to offer her fans a show, an occasion they would remember for a long time.
The role of Nikiya was the one she danced the least. She learned the role for a production of Ballet Philippines in 1987, debuting it on Philippine shores. She has danced it in Russia and in Ballet Manila productions since 2004.
Part of the difficulty of staging "La Bayadere" is casting a corps who would be up to the demands of the final Kingdom of the Shades sequence. Macuja-Elizalde described the scene as "dancing… in slow motion." Indeed, a corps of 24 ballerinas has to dance in perfect timing, their movements in unison, executing repeating gestures that take quite some time to complete. There might have been a few unsteady ballerinas during Ballet Manila's show on November 14, but that did not distract from the sheer beauty of what was transpiring on stage.
While the ballet's last scene is arguably tough for any ballerina undertaking the role of Nikiya, rivaling only the role of Giselle in its many leaps and hops, Macuja-Elizalde professes an inclination towards the temple maiden's solo in Act 2, which is called Nikiya's Lament. Here, Nikiya dances at the wedding reception of her lover Solor who was forced to marry Gamzatti, the Maharajah's daughter.
At turns lyrical, at parts physical, it requires of a ballerina not just fluency in the dance but also acting ability. It is testament to Macuja-Elizalde's utmost relationship to the role that we forget for a moment the dancer. Her association to the role of Nikiya is total that she made this tour de force moment both a dramatic and artistic triumph.
For her Solor, BM brought back Russian dancer Mikhail Martynyuk for some performances. Since he first appeared opposite Lisa last year in "Le Corsaire" and "Giselle," Martynyuk has dazzled local ballet goers with his thrilling performances, dramatic and athletic at the same time. He didn't disappoint in this assignment.
The role of the Sugar Plum Fairy has long been Macuja-Elizalde's favorite. What is there not to like with what many consider to be the quintessential Christmas ballet? The series of character dances in its two acts of the ballet, the romantic set pieces, and the grand pas de deux between the Sugar Plum Fairy and the cavaliers are always a delight to see.
What makes this production of "The Nutcracker" a special one is that it is only the second time Macuja-Elizalde is dancing with her daughter Missy, who takes on the role of the child Masha, the alter ego of the Sugar Plum Fairy. Her daughter Missy is turning into a natural performer just like her mom. Masha is now just a walk in the park for her. Her leaps were secure and her acting engaging. Many are already expecting her to become a formidable dancer like her mom.
During the December 1 performance, Macuja-Elizalde got a standing ovation in the middle of the grand pas de deux for the hopping variation. It is a difficult number that she has always executed with aplomb; it always made us wonder how she could make it look so easy. It was the most heartfelt accolade her fans have ever given her, literally stopping the show for a few moments and bringing the ballerina close to tears. But the show went on.
At the end of that evening, after the Sugar Plum Fairy has transformed back into Masha, newly awakened from her dream, you realize that after this Swan Song series, there will be few opportunities to see Macuja-Elizalde dance on stage. She has declared in interviews that she was only retiring her full-length roles, and that she would still be dancing in galas and special occasions.
For what would ballet in the Philippines be like without the artistry of Lisa Macuja-Elizalde?