By PABLO A. TARIMAN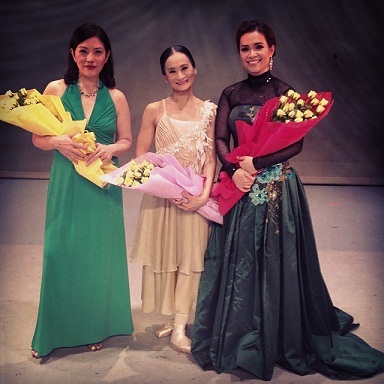 THEY are no doubt about it, the best in their respective artistic fiefdom.
What happens when they share the stage for two nights?
Metro Manila got a most-needed respite from scams and scandals when Cecile Licad, Lea Salonga and Lisa Macuja Elizalde — along with the ABS CBN Philharmonic under Gerard Salonga and the Ballet Manila (BM) ensemble– shared the CCP main theater stage for two nights of song, music and dance.
To be sure, the concert — billed as "The Legends and the Classics" — has the stuff of well-earned fame and status. Come to think of it, they deserve every ounce of it what with all the blood, sweat and tears that went with the nurturing and honing of their respective talents and later constantly aiming for perfection.
This artistic get-together has many things going for it.
For one, it allowed three kinds of audiences to merge and be exposed to other art forms they normally ignore because of partiality to only one or two art forms.
Balletomanes are naturally drawn to music because obviously they come in pairs.
But for theater-goers to shift from Webber to Schoenberg and on to Rachmaninoff and  Ludwig Minkus is another story.
The latest edition of "The Legends & the Classics" was indeed a repeat of last year's well-received concerts from beginning to end. Only the orchestral number of Licad (Rachmaninoff's Variations on a Theme by Paganini") and the presence of cellist Francisco Llorin (for Camille Saint-Saens' Dying Swan) are new.
The opening number, Cayabyab's "Nais Ko" had all the three artists together along with dancers of Ballet Manila. It's not the kind of piece that will easily settle in the ears of classical music lovers but it set the tone for the evening and what were in store for audiences that night.
Those who aspire to be singing actors have so much to learn from Lea Salonga's Broadway medley which saw her — not just singing — but acting beautifully with her chosen pieces. Her " I Dreamed A Dream and  "On My  Own" (from "Les Miserables") had heart-tugging  moments contrasting dramatically with her "For Good" and  "Defying Gravity" from Stephen Schwartz's "Wicked."
One has the feeling conductor Salonga can conduct these pieces with his eyes closed the way he was perfectly synchronized with the soloist who happens to be his sister. For those who were not lucky to see the Tony-award winning actor in actual stage roles, they were indeed twice blessed to hear those songs with their substance intact but rendered with more maturity by a singer now evolving as wife and mother.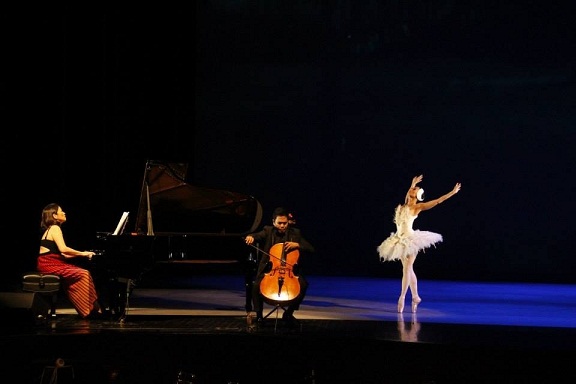 Elizalde's supreme moments were no doubt in the balcony scene from "Romeo and Juliet" with danseur Rudy de Dios as her able and brilliant Romeo. Their leaps and turns have gossamer quality, their subtle and well-nuanced acting matched their razor-sharp virtuosity.
Ending with grand divertissement from Petipa's dazzling Paquita, Elizalde showed firm and stable fouettes and De Dios is, alas, now beginning to look like the country's answer to Baryshnikov. The danseur has presence with dizzying turns that he maneuvered without losing his character. He is one big reason why Manilans should patronize Ballet Manila even after the eventual retirement of Elizalde.
As it turned out, the Paquita Grande Divertissement shook the CCP theater and had audiences screaming for more.
Salonga as ballet conductor is fast catching up and doing more commendable work.
With the mass pandemonium elicited by Salonga and Elizalde in the first part, Licad's number was a most fitting highlight. As soloist in Rachmaninoff's "Variations on a Theme by Paganini,"  Licad made something noble and grand of the 24 variations interrupted thrice by audience applause. Unexpectedly, the last variations elicited audience euphoria for the pianist. It was the same euphoric reaction that Salonga got for her renditions of songs from "Wicked" and in the breath-taking number of Elizalde and De Dios in the Paquita grande divertissement.
But for followers of classical music, Licad's divine moment was in the 18th variation where she carved a magical line in the andante cantabile section. This variation stands out in the mountain of technical challenges that this piece posed on the soloist.
As it was, conductor Salonga was in perfect rapport with Licad who used a 7-ft. Steinway grand that came all the way from the Steinway Gallery in Singapore.
The crowning glory of the evening was of course Saint-Saen's "Dying Swan" as interpreted by Elizalde with live music by cellist Francisco Llorin and Licad.  As danced by Elizalde, there was more poignancy in this interpretation, more meaningful line and turns that evoked a closing chapter and a last full moon. The human Swan got a thunderous applause with the cellist and pianist.
The evening ended with "Sana'y Wala ng Wakas" by Willie Cruz (Licad's cousin) which brought the three artists together with the BM ensemble.
Indeed, it was an evening that showed three genuine talents of world-class proportion.
It was one big concert that was a big and necessary balm for Filipino audiences weary of daily doses of scam and scandals in all media outlets.
That Elizalde managed to bring the three together was a big feat and it proved that unnecessary factions in the performing arts world can be demolished in the name of arts and well—peace and unity.