By PABLO A. TARIMAN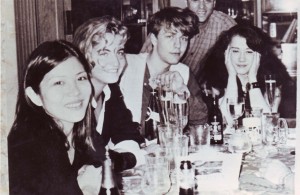 COMPETITION prizewinners are again in the news in Manila's music scene as Russian pianist Sofia Gulyak debuts in Manila Oct. 14 at the Philamlife Theater.
Gulyak is the first woman to win the Leeds Competition in Great Britain after winning 14 other piano competitions all over the world. She doesn't make a big deal out of those competitions.
Gulyak said, "Every contest is a lottery. Nobody knows where and when you'll draw out a lucky ticket. What is unquestionable, though, is that luck is always with those who work hard, and only optimists win!"
But the fact is the Philippines has its share of keyboard prizewinners more than a hundred years after a German nun named Sister Baptista Battig introduced formal piano education in the country early in the last century.
Many years back, a Filipino pianist was one of the top three prizewinners of the Chopin Competition won by Martha Argerich (Argentina), Mitsuko Uchida (Japan) and Jose Contreras (Philippines). Uchida performed in the Philippines in 1979 playing Chopin No. 1 with the NHK Orchestra while Argerich became a world sensation in the piano world.
Cecile Licad became the country's (probably the first Asian) first recipient of the Leventritt Gold Medal in New York, the same medal won by  Van Cliburn and Gary Graffman.
Argerich's ex-husband, Charles Dutoit, conducted Licad in the lone Manila performance of the London Royal Philharmonic in the 1980s.
Licad's natural flow on the piano also impressed Argerich who could be exuberant with the compliments. Argerich would ask Licad how she did those beautiful arabesques in the first movement of Chopin No. 2 and Licad would ask Argerich how she should play her Chopin No.1.
Rowena Arrieta became the country's first prizewinner (fifth place) at the Tchaikovsky Competition in Russia in the mid-1980s, the same competition where Brazilian cellist Antonio Meneses got the gold medal. As it turned out, Meneses  ended up marrying  Licad with whom he had a son after a 10-year marriage.
Most Filipinos take competition for what they are (as a chance to be known and to gain experience), but none can be so obsessed with it as pianist Jovianney Emmanuel Cruz. He placed third in the Frinna Auerbach Competition in New York (Arrieta placed first) and won third again in the Jose Iturbi Competition in Spain, the same competition where Arrieta placed first.
Returning to the country, he organized what he called the "ultimate competition"  in Manila,  dangling a big cash prize that  some prizewinners never got to receive. Like it or not, this is a case of competition where "cash" was the main draw and "honor" took the back seat.
But three decades after their competition phases, it was the pianists who didn't care about competition who made a substantial and meaningful career.
Licad never made a big deal of her Leventritt gold medal and two years ago, a New York critic, after hearing her in a New York recital wrote that the Filipino pianist "has joined the league of the world's greatest pianists."
Probably the first Filipino to be invited as soloist of the Russian National Orchestra where she will play Brahms No. 1 in April next year, Licad was again a sensation when she opened the orchestra season of the Adrian orchestra in Michigan two weeks ago.
Wrote Arlene Bachanov  of the Michigan Daily Telegram: "It would not be an exaggeration to say that the Adrian Symphony Orchestra's (ASO) presentation of the first classical-music performance of its 30th season set the bar mighty high for the rest of its year. Sunday's concert featured a performance that was most definitely a high point of this or any other ASO season: a truly world-class guest artist, Cecile Licad, in a stunning rendition of Chopin's Piano Concerto No. 1."
He continued: "Not often do you have the distinct pleasure of hearing someone for whom the instrument seems like a natural extension of themselves, but for Licad it appears exactly that way. She not only displayed a first-rate technique, with the light touch and refinement demanded of this work, but she also captured perfectly what surely had to be Chopin's intentions with this music: for its understated grace and very intimate quality to shine through for the listener."
Another pianist who made a mark in the piano world without  making a big deal out of competition is French pianist Pascal Roge who will debut in Manila on Oct. 18 at the Philamlife Theater.
Pianists all over the world agree that Roge  exemplifies the elegance and subtlety said to distinguish French pianism in his interpretation of the works of compatriot composers Saint-Saëns, Fauré, Debussy, Ravel, Satie and Poulenc, among others.
A Canadian critic has described a Roge performance thus: ""This is an artist of superlatives–incomparable technique, inimitable passion, matchless in his understanding and internalization of the music. Truly dedicated to conveying meaning and beauty to his audience, he presented a rare gift to us."
Some pianists never isolated their music life from their family life and probably never cared about competition. Pianist Ingrid Sala Santamaria has done more than 400 concerts not just in the cities but in the hinterlands of the Philippines where classical music is probably a strange word. She has done the favorite piano concerto repertoire with battered pianos in the provinces where piano tuners never existed.
For now, Santamaria–an undiscovered candidate for CNN hero of the year–described her life as a living piano sonata.
"Come to think of it," Santamaria mused, "a sonata begins with an exposition, grows with development and reminisces with a recapitulation. I suppose one's life has parallels with a sonata. The only Liszt sonata would probably express it all."