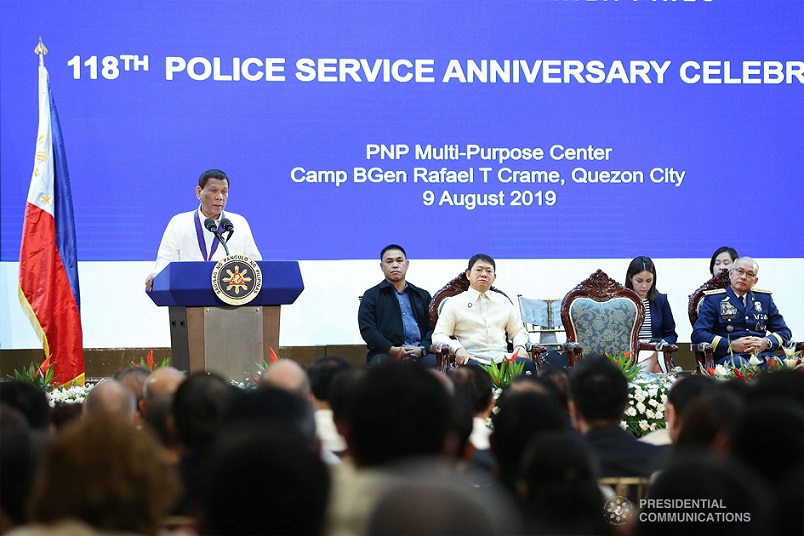 Malacañang photo by Richard Madelo.

When President Duterte told members of the police force that it's okay to accept gifts, he was just preaching what he has been doing. And his harvest has been bountiful, by his own account.
On his 69th birthday, on March 28, 2014, seven deposits totaling P193,705,615.88 were credited to the joint account of then Davao City Mayor Rodrigo Roa Duterte and his daughter Sara Z. Duterte in BPI, Julia Vargas branch in Ortigas Center. The first was in the amount of P55,131,747.32, followed by P41,721,035.62. Then four deposits in the amount of P20,000,000.00 each came in. The last deposit for the day was in the amount of P16,852,832.94.
VERA Files obtained the bank records from the Senate Record where former Sen. Antonio Trillanes IV submitted the documents. These are the same documents that were submitted to the Office of the Ombudsman when Trillanes filed a plunder case against Duterte.
A few weeks before the 2016 elections, Trillanes came out with an exposé that Duterte has at least P211 million in the bank which was not reported in his 2014 Statement of Assets and Liabilities and Networth, a violation of the law. The deposits on Duterte's birthday was included in the exposé.
Initially, Duterte denied the existence of the bank account. But when bank deposits to the account disproved him, Duterte said the seven deposits on his birthday simply meant, "Ibig sabihin niyan marami akong kaibigan na mayaman. (It just means I have many rich friends.)"
He added that the money had already been spent.
R.A 6713, the Code of Conduct and Ethical Standards for Public Officials and Employees states that " Public officials and employees shall not solicit or accept, directly or indirectly, any gift, gratuity, favor, entertainment, loan or anything of monetary value from any person in the course of their official duties or in connection with any operation being regulated by, or any transaction which maybe affected by the functions of their office."
We do not know who were the sources of those multi-million deposits on the Presidents 69th birthday because the Ombudsman has suspended the investigation on the plunder case filed by Trillanes after the Anti-Money Laundering Council informed them that they would not be releasing bank records related to the case because the President is immune from suits.
The deposits raise curiosity. It's easy to believe that the four deposits of P20 million each may have been birthday gifts from his billionaire friends. But the three checks that are not in rounded amounts: P55,131,747.32; P 41,721,035.62; and P16,852,832.94 are intriguing. Who would give a birthday gift broken down to the last centavo?
There's one generous friend that Duterte named: the son of god, Pastor Apollo Quiboloy.
Duterte said: "Noong mayor ako, binili ni Pastor, tatlong [property]…Totoo ''yan. Sabi niya, bilhan ko yung anak mo, maliliit pa 'yan sila. When I was mayor sabi niya, kasi magkaibigan kami ni Pastor before I became mayor, long time ago kami, 30 years. Sabi niya, bilhan niya mga anak ko kasi 'pag nadisgrasya ka sa trabaho mo, namatay ka.(When I was mayor, Pastor bought three [properties]. He said I'll buy your children [property], they were little then. When I was mayor, he told me that, because we've been friends for a long time, 30 years. He told me he would buy my children [property] in case I die from doing my job.)
Duterte also said Quiboloy, whose private aircraft was detained in Hawaii last year when a follower was found to be carrying a huge amount of undeclared cash, gave him a Nissan Safari and a Ford Expedition.
That's an example that Duterte has shown the policemen andpeople in public service.
On Aug 9 at the 118th Police Service Anniversary, he said: "Well, basta kung bigyan kayo, eh tanggapin ninyo. (If you are given, you accept it.) It is not bribery because — it cannot be bribery because it is allowed by law. What I mean if there is generosity in them, sabi ng anti-graft you cannot accept gifts. Kalokohan 'yan. (The anti-graft [law] says you cannot accept gifts. That's bullshit.)
He further said: "I know that, especially the police, if you are able to solve a crime and you guys from Davao alam man ninyo 'yan. If you are able to solve a crime and the family would like to be generous to you or would nurture a feeling of gratitude for what you accomplish, then, accept it. Wala akong ano. (I have no..) "