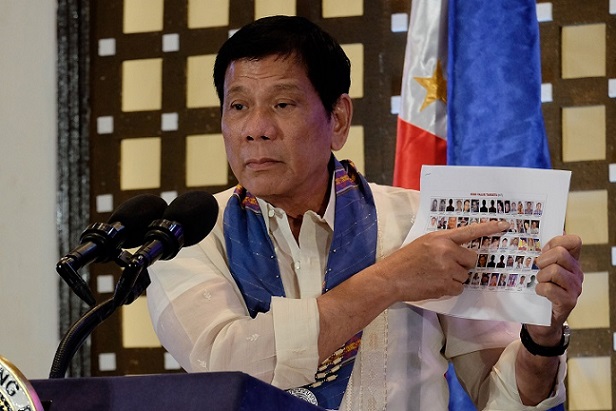 Pres. Duterte before the Davao City Chamber of Commerce and Industry at Marco Polo Hotel in Davao City. Malacanang photo by Rene Lumawag.
DAVAO CITY – President Rodrigo Duterte has confirmed the arrest in Malaysia of the son of two Mindanao political leaders in connection with September's blast that killed 15 people here.
Duterte was referring to a son of former Cotabato City mayor Muslimin Sema and Maguindanao lawmaker Rep. Bai Sandra Sema.
"He is now detained in Malaysia," Duterte told the Davao City business community Saturday night.
Duterte did not identify who among Sema's sons was in Malaysian custody, although VERA Files earlier reported that Datu Mohammad Abduljabbar Sema, 26, was arrested on Nov. 24 at the Kuala Lumpur International Airport upon his arrival from Bangkok.
The VERA Files report said the young Sema had been traveling to and from Bangkok. When his 30-day visa expired, he had exited to Cambodia, decided to go to Malaysia and was promptly arrested upon arrival in Kuala Lumpur.
Duterte did not elaborate on the involvement of the young Sema, reportedly an Islamic scholar, in the Davao blast.
The legal basis for Sema's detention by Malaysian authorities also remains unclear but Duterte, in his speech before the Davao City Chamber of Commerce and Industry, highlighted the close security cooperation the Philippines enjoys with Malaysia.
Duterte was also categorical about one thing: Those behind the Sept. 2 bombing "have all been accounted for."
"Nahuli ko na lahat yan (I've captured all of them)," the President said.
Three men were arrested on Oct. 4 and another four more on Oct. 29 inside the Southern Philippine Development Authority Compound in Cotabato City.
The area where the second batch of suspects were arrested is within the jurisdiction of Rosary Heights 7 where young Sema was elected barangay chairman in 2013.
The seven men are believed to be operatives of the Maute Group, a radical Islamist group composed of former Moro rebels based in Lanao del Sur where they founded an Islamic state or Dawlah Islamiyah.
The Maute Group is considered the biggest threat to peace and security in southern Philippines now that the Duterte government has been able to secure the cooperation of the major armed rebel groups such as the MILF and the communist New People's Army.
Meantime, Duterte acknowledged that American drone technology provided crucial assistance in the investigation.
"Aside from my camera, iyong sa siyudad natin, may ibang camera pa so 'yung mukha mo nakikita talaga," Duterte shared. (Aside from the city's, there are other cameras so your face is easily detected.)
He explained that drones can take high-resolution photographs even from a high altitude.
"You know one thing with this drone…They can take pictures. So we have their faces. So it was very easy for us to catch them," Duterte said.
"Sa gabi, hindi mo makita, nandiyan lang pala sa tuktok ng Marco Polo (You won't see it at night but it could just be at the top of Marco Polo)," the President said, referring to the hotel where the Davao Chamber of Commerce and Industry held its induction ceremony Saturday night.
He acknowledged "almost all kinds of tao dito nakunan na ng picture (We've taken the pictures of almost all kinds of people)."
The President has been openly indignant of the presence and involvement of the United States' military in Mindanao, but he nonetheless thanked the Americans for assistance they provided in the Davao bombing investigation.
"There are imperialism days. It's different from this one," Duterte said.