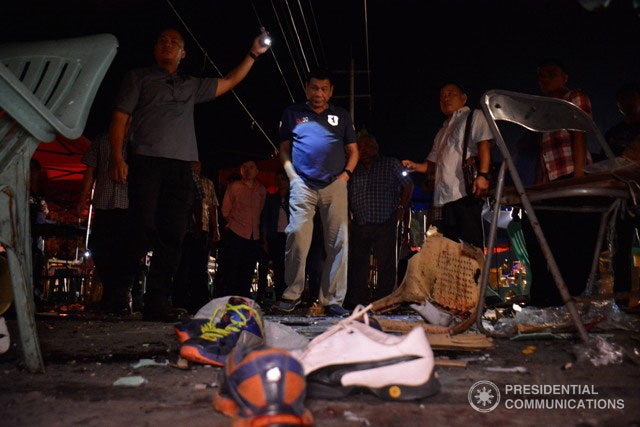 President Duterte visits site of Davao blast. Malacanang photo.
Malaysia has yet to complete its investigation on the son of two prominent Muslim leaders now detained in Kuala Lumpur in connection with the Sept. 2 Davao City night market bombing, Foreign Affairs Secretary Perfecto Yasay Jr said.
Mohammad Abduljabbar Sema, 26, has been in Malaysian custody since his arrest on November 24, 2016. Yasay said the Philippine government continues to monitor his case to make sure Sema's rights are not violated while in Malaysian custody.
"When Malaysia will make a representation to the Philippines to surrender him after they complete their investigation in this regard, we will be very happy to receive him and for him to face whatever charges he may be facing when he is here," Yasay told reporters in a briefing Thursday.
Sema is the son of Muslimen Sema, the chairman of the largest faction in the Moro National Liberation Front (MNLF) and former Cotabato mayor, and his wife incumbent Maguindanao Rep. Bai Sandra Sema.
Last month President Rodrigo Duterte confirmed VERA Files' report about the arrest in Kuala Lumpur of the young Sema but did not give derails. VERA Files sources said the arrest was based on the request from the Philippines National Intelligence Coordinating Council.
"I have not received any reports particularly that his rights have been violated. And I know the parents and they have not come up with any complaint on this matter," Yasay said. "I would imagine that he is being treated properly by the Malaysian authorities."
Sema was arrested at the Kuala Lumpur International Airport as he arrived from Bangkok after traveling in and out of Thailand and Cambodia. When his 30-day visa free entry was about to expire, he decided to go to Malaysia, intending to return to Thailand after three days.
Security officials in the Philippines tagged Sema in the bombing, which claimed the lives of 15 people and wounded 69 others. They are looking into reports that he allegedly provided the logistics to the Maute group, an alleged terrorist organization operating in Lanao del Sur.
Sema's brother Omar Yasser Sema was recently named member of the expanded Bangsamoro Transition Commission that will draft the new Bangsamoro enabling law that will create the new Bangsamoro region to replace the Autonomous Region for Muslim Mindanao (ARMM).
ARMM was part of the peace agreement between the government and the MNLF in 1996 while the BBL is part of Comprehensive Agreement on the Bangsamoro (CAB) signed in 2014 between the government and the Moro Islamic Liberation Front (MILF), a breakaway of the MNLF.