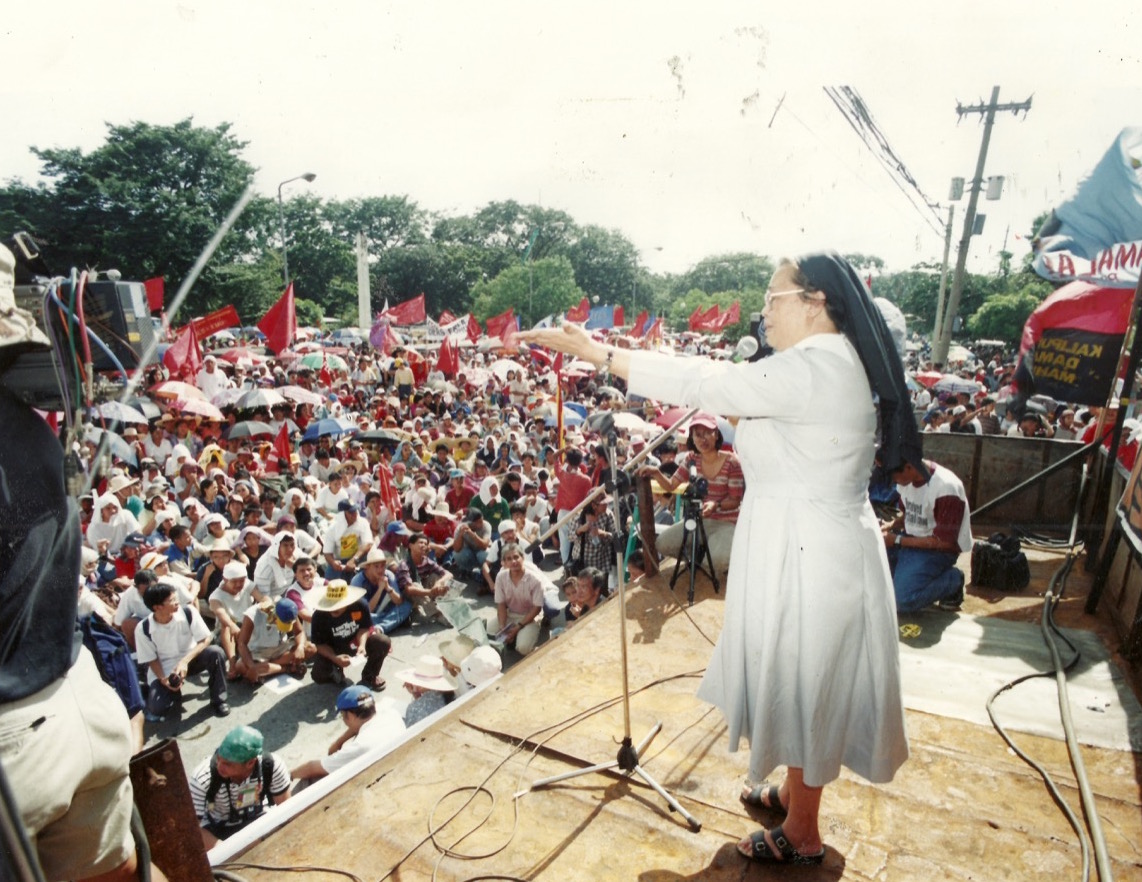 By MARIA FEONA IMPERIAL
THEY say there is virtue in silence, but members of the Catholic Church are starting, one by one, to defy this principle in the face of what many say as the president-elect's foul and vulgar tirades.
After Archbishop Socrates Villegas broke his silence, here comes nun activist Mary John Mananzan scoring president-elect Rodrigo Duterte for his "macho and sexist" acts.
"By his words and his actions, talagang he either belittles women, or doesn't respect them," Mananzan told VERA Files.
When he wolf-whistled a female reporter during a nationally televised press conference, a women's rights group representative initially dismissed it as a form of "sarcasm" inherent in the Visayan culture of communicating.
This despite whistling being banned in his hometown Davao City through an ordinance he himself signed.
When it was pointed out to him by another female reporter in a subsequent media conference, Duterte evaded the question.
Adding insult to injury, Duterte said whistling falls under his right to free expression.
For Mananzan, the Davao ordinance says very clearly that whistling is a form of sexual harassment.
"This has to be taken from the side of the victim. It doesn't matter what the intention of the doer, whether it's a compliment, but if the person feels embarrassed, feels belittled, feels he or she is not taken seriously, that is harassment," Mananzan said.
By being vocal about his multiple partners, Mananzan said Duterte seems to perceive women as his "playthings."
Risa to Duterte: Sexual harassment isn't harmless fun
Meanwhile, Senator-elect Ana Theresia Hontiveros called on the president to "uphold the spirit of the law which he himself will be charged to enforce."
"Hindi mo pwede (sabihin) na (you can't say) freedom of expression ay mas mataas kesa sa karapatan ng kababaihan maging libre sa (is greater than the right of women to be free from) sexual harassment," Hontiveros told VERA Files.   
A women's rights defender, Hontiveros said catcalling, which is banned in certain cities should not be contradicted by personal conduct.
"No act of sexual harassment, whether large or supposedly small, is ever enough to be called harmless fun," Hontiveros told VERA Files.
Both ordinary citizens and leaders have equal responsibility to uphold women's dignity and eliminate gender inequality, she said.
"Pero napaka-indispensable ng papel ng leadership (But the role of leadership is very indispensable)," Hontiveros said.
The president must show example, she added.
Corruption can't justify media killings
Vigilance is key, Mananzan said, during these trying times, especially for media practitioners who have been the subject of news recently.
Duterte, a long-serving mayor of Davao, has been quoted as saying journalists deserved to die for being biased and corrupt.
But corruption cannot justify extrajudicial killings under any circumstances, both Mananzan and Hontiveros said.
Facing backlash, the president-elect told reporters that the Constitution cannot even save them for being corrupt.
Article III Section 4 of the 1987 Constitution states that no law shall be passed abridging the freedom of speech or expression. The same right is preserved under the International Convention on Civil and Political Rights, to which the Philippines is a signatory.
Despite these safeguards, the Philippines ranks fourth in the Committee to Protect Journalists' Impunity Index, which spotlights countries "where journalists are murdered and the killers go free."
"(But) the Constitution is not meant to so-called save us from corruption or unfair bias," Hontiveros, a former journalist, said.
Rather, it is a social contract that guards one's rights, freedom and protection in resolving present problems of ordinary citizens vis-a-vis an all-powerful State, Hontiveros said.  
"Kailanman hindi pwedeng tanggalin bilang proteksyon sa karapatang mabuhay (You cannot remove it as protection to one's right to life) ," she added.
Hontiveros added that the media has self-regulation efforts that cannot be shackled by censorship and political violence.
Moral values were put on hold
Mananzan, meanwhile, is dismayed by how divisiveness brought by this year's elections has put on hold the people's moral values.
"These are universal principles of ethics, moral, courtesy and politeness. This is not just Filipino, this is universal. It's really scary," she said.  
Mananzan takes optimism in Duterte's platforms that seek to eradicate poverty, for instance, but the admits to "cringing every time the mayor opens his mouth."
Having won by landslide, Duterte banked on eradicating drugs and criminality through summary executions even without due process.
He has been linked to the Davao Death Squad, which is responsible for killings of suspected criminals.
"Walang nirerespeto, parang siya 'yung (He does not respect anyone. It seems that he is the) standard of everything, above the law, above the constitution, above everything. That's scary," Mananzan said.
Hontiveros, meanwhile, urged women to take part in the discourse.
"In the fight to combat and eliminate inequality in our society, the last thing we should expect is for women to keep silent about these," Hontiveros said.