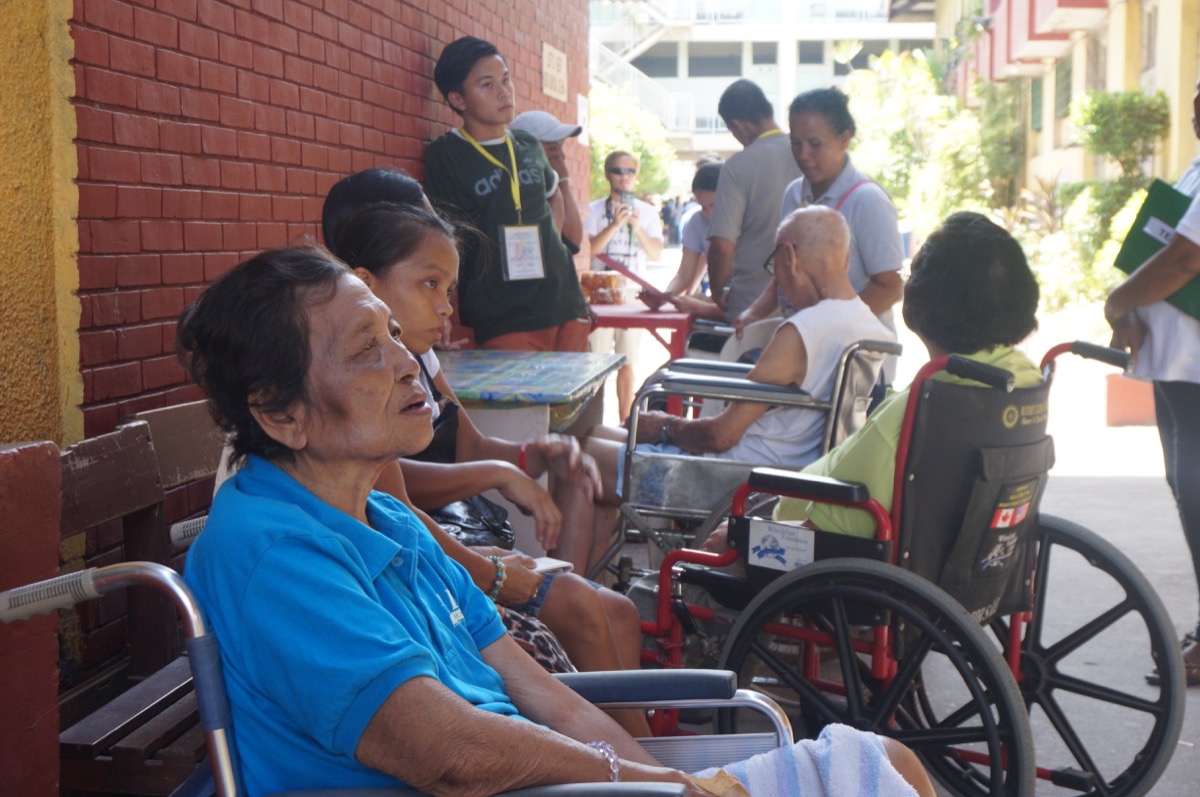 By MARIA FEONA IMPERIAL
AMID reports of people with disabilities (PWDs) and senior citizens climbing a flight of stairs to vote, an international nonprofit group finds this year's elections "disability-inclusive" compared to previous ones.
In its assessment, The Asia Foundation (TAF) lauded the Commission on Elections for its widened scope of accessible polling places (APPs) and the integration of sign language insets during the televised debates–both of which are mandated by law.   
TAF dubbed these accomplishments a "significant milestone for the disability sector and advocates."
From two APPs in 2013, Comelec data shows around 6,211 APPs were set up this year, but only 768 APPs with above 100 registered voters had been identified.
An accessible precincts law, Republic Act 10366, had been passed since 2013, but it was only fully implemented this year, according to TAF.
TAF did not discount criticisms earlier raised by observers such as the belated implementation of the EAPP resolution that led to challenges in information dissemination.
In addition, it mentioned the "uneven application" of APPs in voting centers nationwide, resulting to some voters with disabilities being carried to upper floors to vote.
Beyond challenges to accessibility, TAF commended Comelec for addressing attitudinal and behavioral barriers, particularly the conduct of PWD-sensitivity trainings to election inspectors to ensure apt and knowledgeable response to voters' needs.
Reports in some areas show otherwise
But these observations do not align with several reports of PWDs opting out of EAPP privileges.
In areas without APPs, PWDs, senior citizens and heavily pregnant women were given options to vote in makeshift tents or emergency APPs (EAPPs) located at the facade of multi-level school buildings. (See Comelec to put up makeshift voter tents for PWDs, senior citizens)
In some areas, EAPPs defeated their purpose for having caused longer queues for PWD and senior citizen voters, some of whom were forced to go home instead of waiting. (See Before noon, problems abound for voters with disabilities nationwide)
This prompted poll watchdog Legal Network for Truthful Elections (LENTE) to call EAPPs a "mere band-aid solution," the move having been finalized only 10 days before polls, leaving insufficient time to disseminate information to both voters and poll watchers. (See Despite EAPPs, voting not any easier for many PWDs and senior citizens)
In his speech during the proclamation of senators-elect, poll chief Andres Bautista said around 300,000 PWD and senior citizens were able to vote at the ground floor of voting centers.
No mention on mall voting cancellation
The report made no mention on cancellation of mall voting as well as voter verification for people with visual disabilities through headphones.   
A pilot project undertaken by Comelec, mall voting was favored by the disability sector as it would ease voting for PWD and senior citizen voters.
Weeks before election day, however, PWDs ended up disappointed when the en banc decided not to push through with mall voting due to legal and practical reasons.
Under the Omnibus Election Code, no location shall be changed 45 days before a regular election. Nineteen days to the polls however, the Comelec not having issued an order would have resulted to massive disenfranchisement of voters. (See Disability sector dealt another blow as voting in malls canceled)
Despite inefficiencies, Namfrel says 2016 election far better-managed
Meanwhile, the National Citizens' Movement for Free Elections (Namfrel) says despite some problem areas, the May 9 elections have been managed far better than the past two automated elections in 2010 and 2013.
For one, this election has the fastest transmission rate and the highest voter turnout in Philippine electoral history: 81 percent for local and 31 percent for overseas absentee voting. (See Comelec: 2016 elections with fastest transmission rate)
Namfrel said less incidence of ballot rejection by vote-counting machines (VCMs), an insignificant number of discrepancies between automated and manual count, and shorter downtime due to malfunction translate to improved performance of general automated elections.
But the poll watchdog did not discount "continuing, persistent, but avoidable inefficiencies" missed by the Comelec.
These include reports of ballot misdeliveries that delayed polls in some areas, inaccurate and incomplete voters' list, and inadequate training of election inspectors who had implemented the general instructions set by Comelec differently, depending on discretion.
Namfrel noted that election inspectors were confused as to who will be allowed to assist PWD voters and senior citizens, who will distribute election returns, as well as in random manual audit procedures.
Violators of election laws have likewise been unapprehended, such as those who have posted campaign paraphernalia in unauthorized places, those who have campaigned on election day and engaged in vote-buying.
The mock elections, conducted in early February, were done too late and failed to simulate election day conditions, Namfrel said.  
Namfrel seeks probe on discrepancies
Despite a better-managed elections, Namfrel demands investigation and accountability for certain problem areas in the elections.
The Voter's Information Sheets (VIS), which would have informed the 54 million registered voters of their assigned precincts, were not distributed despite budget allocation, Namfrel said.
In addition, it said the 100 percent turnout in command votes in Lanao del Sur, Benguet, Ifugao, Kalinga, Isabela, Aurora, Bohol, Cebu, Western Samar, Leyte, Lanao del Norte, North Cotabato, Agusan del Norte is statistically improbable.
The group also criticized Comelec for technology issues such as malfunctioning VCMs, delays in transmission results, and the alleged unauthorized changed in transparency server scripts which "raised doubt to the integrity of the system." (See Comelec denies cheating in hash code change)   
Former and present election officials earlier lambasted Smartmatic for a protocol breach that had undeniably made an impact to the "psyche of the people" and was perceived to be telling of the Philippine elections being supplier-driven. (See Comelec proclaims winners despite issues, protests)  
"Of course there remain lingering and overarching election issues that should be addressed but will need time, legislative action, or more focus for the COMELEC such as political dynasties, uncontested posts, weak political parties, resolution of protest cases, etc," Namfrel said.
Namfrel is yet to release its final assessment report on the elections, this time analyzing the root causes and implications of  the high percentage of undervotes and overvotes.