OUT of school children and youth, including those with disabilities, can as early as now enroll for the upcoming school year (2015-2016), which begins in June.
The Department of Education (Dep Ed) has declared January 24 to February 27, 2015 a period of early registration for school-age children who are not currently enrolled.
The order covers all public elementary and secondary schools nationwide.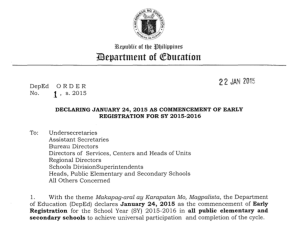 The department has tasked its offices down to the heads of schools to actively seek out children and youth with disabilities, those in remote locations, living "in difficult circumstances," and those from disadvantaged groups or who suffer discrimination, so they can enroll early.
"Schools are urged to come up with various activities such as house-to-house campaigns or meeting with local and barangay officials and civic organizations to help and locate children who should be in schools," the order said.
Division supervisors in charge of special education (SPED) are to facilitate the overall planning and implementation of the registration process for children and youth with special needs, and are to network with persons with disabilities (PWD) groups.
In areas without schools but with enrollees, registration can be done in the barangay in coordination with the local executives, the department said.
Early registration, it pointed out, will help education personnel understand barriers to access as well as identify local interventions for the various needs of children and youth enrollees.
All department offices are tasked to ensure that children and youth who register under the early enrollment program come to school when classes start in June.
Expenses for the program are to be charged to local funds and other fund sources.
National Council on Disability Affairs (NCDA) Deputy Executive Director Mateo A. Lee Jr. urged advocacy groups to support the early registration.
"Let's help government, the Department of Education, to inform people and start enrolling," he said in a forum last month. "Every child should be in school. That's compulsory. No child with disability [should] be denied admission in school."
For inquiries about the program, contact the Dep Ed Office of the Undersecretary for Programs and Projects at 633-7202. – Jake Soriano