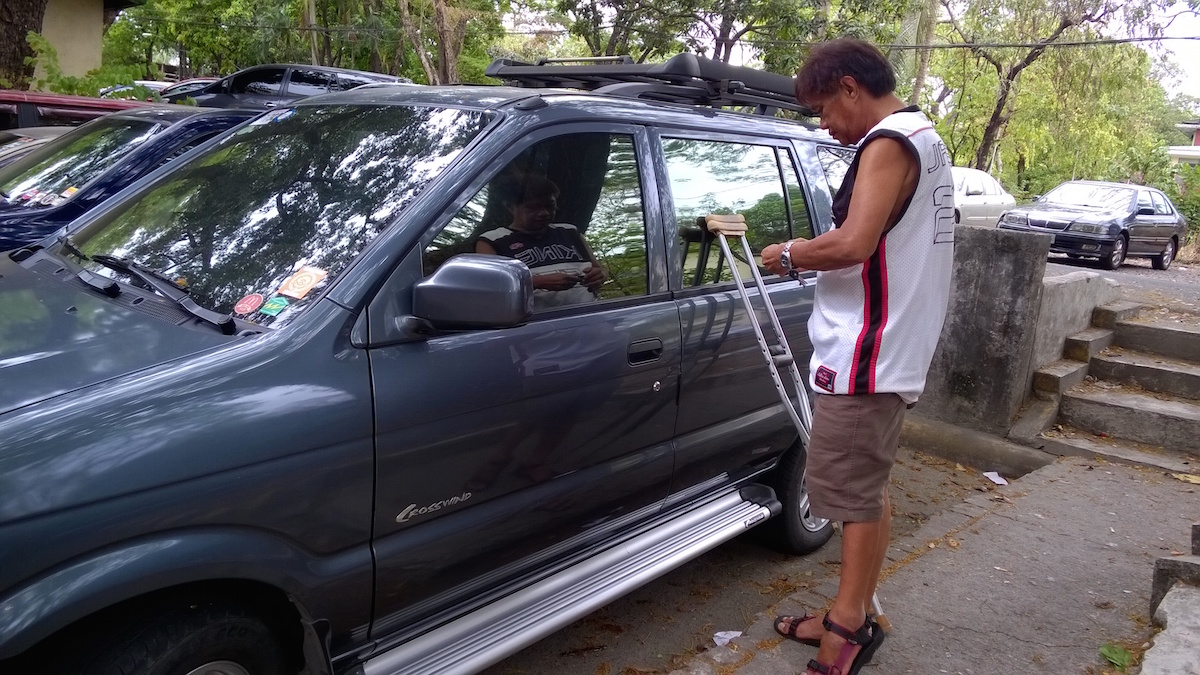 By VJ BACUNGAN
DRIVING a manual can be agonizing for many drivers, especially in the stop-start traffic of the often-gridlocked metro. Anyone who has been on EDSA or C-5 during rush hour knows the strain of constantly pushing and balancing the clutch pedal just to move at a snail's pace, like a sadistic dance between car and driver that seems to go on and on.
But 58-year-old family driver Roberto Cuya has no trouble handling the footwork, even though his left foot was crushed by a bus as a teenager. That same foot would be fractured nearly 30 years later, permanently damaging it and, thus, requiring him to use crutches to walk.
"A lot of people are surprised when they see me get out of the driver's seat," he said.
Although many would think that Cuya only drives an automatic, he more often drives a manual. In fact, he said he can still do the over-nine-hour drive from his home in Quezon City to his province in Bicol with no problems.
Affectionately called "Uncle Boy" by his family, Cuya has been behind the wheel since he got his professional driver's license in 1980. Interestingly, he said the Land Transportation Office has never raised an issue over his disability every time he renews his license, which likewise doesn't carry a condition.
The LTO gives the following license conditions for drivers with impairment: A requires wearing eyeglasses, B requires special equipment for the upper limbs, C requires special equipment for the lower limbs, D restricts the driver to daylight driving and E requires the accompaniment of a person with "normal" hearing.
But driving is more than just a job for Uncle Boy. "I am happiest when I'm behind the wheel," he said. "I don't know why, but I feel shy when I'm around other people. But when I drive, I don't feel like I have a disability. I feel like a normal person."
Born in Project 4, Quezon City, Uncle Boy is the second of 10 children of Jovito, a sari-sari store owner and jeepney operator, and Nonita, a tailor. Shortly after his birth, his family moved back to their province, the municipality of Tiwi in Albay. There, his love affair with cars began.
Uncle Boy recalls his grandfather—a wealthy businessman who operated a bus company, owned a store and managed a rice field—and his collection of American cars: a Chevrolet, a Ford and an International Harvester. "In a small town like ours, a car was really a status symbol," he said.
Ironically, it was these very objects of affection and status that led to his first encounter with a disability. Fresh out of high school in 1976, Uncle Boy was out with his driver in their 30-passenger Chevrolet Series 30 bus when the tire blew out.
"While I was helping change the tire, the jack slipped and the entire wood body fell on my left foot," he said. He was able to walk again a year later.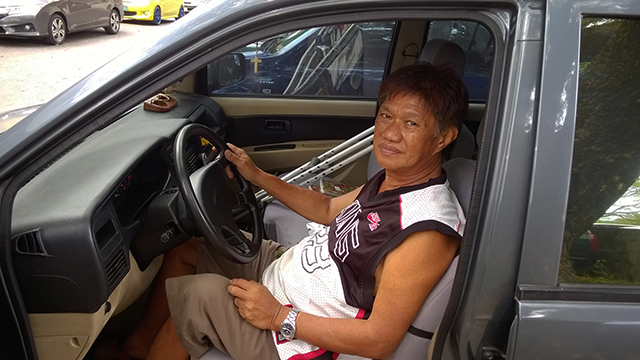 Uncle Boy's love for cars and driving also spilled over to his education and career. After studying to become a seaman at the Philippine Maritime Institute, he studied to become an auto mechanic. After this, he worked as a driver for a bus company in the province and even became a jeepney driver in Manila in the 1980s.
But nearly three decades after being crushed by a bus, Uncle Boy's left foot was once again injured in 2004 after he accidentally slipped. This time, the damage from the resulting fracture was far more severe. A metal implant had to be surgically placed into his foot at a hospital in Urdaneta, Pangasinan.
However, his foot got infected and he was brought to the University of Santo Tomas Hospital in Manila, where doctors removed the implant and put an antibiotic bridge into the bone. "After a week, the bridge was removed, but I haven't walked properly since then," he said.
The injury and the operations eventually disfigured his left foot, making it around four inches shorter than his right foot. Although he doesn't have much feeling in his foot anymore, Uncle Boy said he needs to use crutches when walking because he is afraid that stepping on it with his body's weight could cause it to break again.
However, he can still exert enough force to depress the clutch. "I never lost hope in life since I could still drive," he said. But the damage to his foot meant that therapy was not a viable option anymore. His disability is likewise complicated by diabetes and uric acid problems.
Despite all these, Uncle Boy said he has never been discriminated or made fun of outright. "Although I can't be sure of what people say behind my back," he said. He is also given priority in various establishments.
In line with the United Nations Convention on the Rights of Persons with Disabilities, which the Philippines is a signatory of, Republic Act 7277 or the Magna Carta for Disabled Persons upholds the fundamental rights of persons with disabilities, including protection against discrimination and the establishment of priority lanes.
Uncle Boy's disability also didn't stop him from working with cars. In 2007, he was hired as the branch manager of his brother-in-law's Rapide franchise in Tarlac. He was even given an award for his exemplary performance.
He left his job in 2010. Shortly after, his younger brother, Jovito Jr., a doctor in Quezon City, hired him as his family's live-in driver.
"Uncle Boy doesn't like hanging around, doing nothing. That's why my dad took him in to drive for us. He even taught me how to drive," said 20-year-old Karl Cuya, Uncle Boy's nephew and a fourth-year medical technology student at Our Lady of Fatima University.
Karl said his family has always been very supportive of Uncle Boy, especially since both his parents are doctors who can provide free medical care for him. "My dad has also been encouraging him to get a PWD ID," he said.
According to a 2008 Administrative Order of the National Council for Disability Affairs, the government agency in charge of implementing PWD policies, a PWD ID may be obtained at the Office of the Mayor, the Office of the Barangay Captain, the NCDA or its regional counterpart, Department of Social Welfare and Development offices and participating organizations with memoranda of agreement with the Department of Health. Applicants must submit a fully accomplished application form, two 1'x1' ID pictures and a duly signed clinical abstract by any licensed private, government clinic, or hospital-based physician.
R.A. 9422, which amends R.A. 7277, stipulates the benefits of the ID, including at least 20 percent discount for medicines, medical and dental services, transportation and even in hotels, restaurants and movie houses, among others.
But as much as Uncle Boy appreciates the perks, he said he doesn't have an ID yet because the process of getting one is too difficult. "The PWD office in my barangay is hard to get to since I have to climb stairs," he said.
He would really prefer a method of applying for an ID without showing up at the office. In fact, he believes that it would be a better idea to give benefits to PWDs even without showing an ID.
Karl agrees, saying that a less taxing application process, such as through postal mail or online, would be far easier for PWDs.
R.A. 10070, the law that established the NCDA, mandates local government units to put up a Persons with Disability Affairs Office or appoint a PWD Affairs Officer to cater to the needs of PWDs. Additionally, the Marcos-era Batas Pambansa 344 enumerates guidelines that establishments, including government offices, must follow to ensure accessibility for PWDs, such as providing ramps, railings and elevators to aid mobility.
Uncle Boy also criticized how PWDs in the country are not given enough job opportunities, with many wanting to return to the workforce to contribute to society. "I prefer working over begging," he said.
R.A. 10524, which also amends R.A. 7277, requires at least 1 percent of employees in government offices to be PWDs, with the same percentage being encouraged for private companies that have over 100 employees. This law also gives incentives to private employers that hire PWDs, including a 25 percent tax deduction to their gross income, based on wages to PWD employees, and a 50 percent tax deduction to their net income, based on the cost of PWD-friendly features that are outside those required under B.P. 344.
Between driving duties, Uncle Boy enjoys working on cars. His face lit up when he talked about his pride and joy, a 1987 Nissan Maxima.
"I bought it in Filinvest a few years ago for P40,000. I like its performance since it has a 2.0-liter engine. And it really feels like a luxury car. I'm hoping to restore it to showroom condition one day," he said.
Uncle Boy's wife, Saturnina, passed away in 1987. He has two children who support him emotionally and financially. Son Anthony is a physical therapist and daughter Jessica is a nurse in Manila who is qualifying to work in Canada and is planning to bring Uncle Boy with her.
But Uncle Boy has made it very clear to his daughter that he will only live with her abroad when he gets tired of working. "But as long as I have the strength, I'll keep on driving," he said.
(The author recently graduated with a journalism degree from the University of the Philippines-Diliman. He submitted this story for the journalism seminar class "Reporting on Persons with Disabilities" under VERA Files trustee Yvonne T. Chua.)