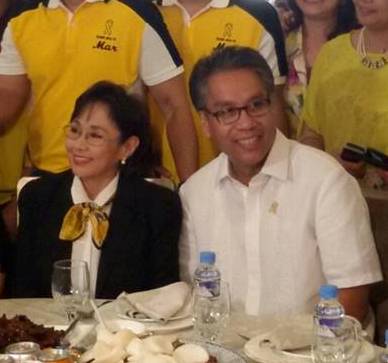 By ELLEN T. TORDESILLAS
INSTEAD of acting like crybabies for not having lulled Sen. Grace Poe into their trap so she could not be an impediment to their standard bearer's Malacañang dream, Liberal Party officials should work on getting Batangas Governor Vilma Santos-Recto as Mar Roxas running mate.
Ate Vi is the perfect partner for Roxas. She will provide what Roxas sorely lacks: masa appeal.
Santos-Recto is one of the few showbiz personalities who have successfully transitioned from the screen to the world of politics. She has gained respect as no-nonsense public official and has never been involved in any anomaly.
Unlike Grace Poe, who has become a frontrunner among possible presidential candidates, Santos-Recto is not being promoted for the presidency. She doesn't have to "come down" to boost Roxas' presidential campaign.
The Rectos are from Batangas, the 8th vote-rich province in the country with over 1.5 million registered voters in 2013. They provide a good balance for Roxas who is from Capiz in Panay.
Santos-Recto is on her last term as governor. She has been quoted in news reports that she is not interested in running for vice president and is thinking of running for Congress.
A source said, "That's because Roxas has not offered her the VP post yet."
This was confirmed by the Batangas governor in her Tuesday interview where she said, "Wala pang pormal na usapan (No formal talks)."
Her husband, Senate President Pro Tempore Ralph Recto, is up for re-election in 2016. Vilma's son, TV personality, Lucky Manzano, has been reported to be also considering joining politics.
Those, probably, are considerations for Santos-Recto.
A political analyst said, "If they can be assured of half-a-billion campaign funds, it would not be difficult to persuade Ate Vi to help Roxas."
There are other names being floated to be Roxas' running mate. One of them is Camarines Sur Rep. Leni Robredo, widow of the late Interior Secretary Jesse Robredo.
Robredo has been quoted to have said her running for a higher post is "too soon" for her.
There are those who say that Sen.Alan Cayetano, whose presidential bid is not taking off daily TV ads, is willing to be Roxas's running mate.
However, many in the LP, especially Pres. Aquino, are averse to Cayetano as Mar's running mate. They have not forgotten that in the 2010 elections, Cayetano was one of those behind the release of the psychiatric evaluation of Aquino, which the Aquino camp said was fake.
Sen. Antonio Trillanes IV of the Nacionalista Party has declared his plan to run for vice-president but he has also informed the Liberal Party not to consider him as Roxas's running mate. He would rather run as an independent candidate.
Actually, Trillanes has done Roxas a huge favor. His crusade against the alleged corruption of Vice President Jejomar Binay has caused a lot of damage to the VP's presidential bid.
The seemingly endless Senate investigations have caused Binay's rating to drop, enough for Poe to take the lead but not enough for Roxas to get close to Binay.
Aquino's endorsement may boost Roxas's ratings. If he gets Vilma Santos as running mate, he may yet overtake Binay in the next survey.