Text and video by GRAZIELLE CHUA
THE multi-awarded athlete holds his right fist to his chest as he recalls the moment the Philippine flag was being raised after he won at the 9th Far East and South Pacific (FESPIC) Games in Kuala Lumpur in 2006. Besting more than 40 countries in the pentathlon wheelchair event by a mere two points, he calls his victory a "miracle."
Juanito "Speedy" Mingarine brought home the gold medal with a total of 4,447 points from the shotput, javelin, 200-meter, discus throw and 1,500-meter events. He considers this as one of the most memorable wins he has had in all his 25 years of being an athlete.
"I was so happy, I was so proud," he said. "When they were playing Lupang Hinirang, I was crying and shaking all over."
Mingarine is one of the athletes with disabilities (AWD) who have brought home multiple awards for the Philippines from international sporting competitions. Since he started competing in 1990, he has brought pride and honor to the country in wheelchair racing, wheelchair basketball and athletics. He also competed in power lifting, canoe kayak and wheelchair ballroom dancing, and plays wheelchair tennis and swimming as a hobby.
What he calls his "only treasures in life" are the awards he gained from these competitions. Among the long list of awards under his belt are a first place win in the male category of wheelchair ballroom dancing in 2008, a Mythical Five Award for wheelchair basketball from the Philippine Sports Association for the Differently Abled (PhilSPADA) Para National Games in 2012, and a bronze medal for wheelchair basketball from the 7th ASEAN Para Games held in Vietnam last year.
This year, as captain ball of the Philippine national team for wheelchair basketball Pilipinas Warriors, he is hoping to bring home another medal for the country in the 8th ASEAN Para Games scheduled in December in Singapore.
Being an AWD has not been an easy ride to success, though, for this 43-year-old athlete.
Mingarine was born third in a family of eight children in Villasis, Pangasinan to Roberto and Antonia Mingarine on March 5, 1972. He got the polio virus when he was 8 months old.
The highly infectious disease is caused by a virus that invades the nervous system and can leave a person totally paralyzed. One in 200 infections is said to lead to irreversible paralysis, while 5 to 10 percent of those paralyzed lead to death when the breathing muscles become immobilized.
Children under 5 years old are most vulnerable to the disease. No cure has been found for polio, but it can be prevented with multiple vaccination.
For Mingarine, the virus led to bone deformations in both of his legs, causing them to shrink and lose strength, affecting his ability to walk. He recalls having to crawl around their house up until he was 6 years old. He was eventually able to walk with the use of crutches when he underwent surgery to straighten his legs at the Philippine Orthopedic Center in 1978.
That same year, his parents sent him to Cainta, Rizal to study at the Marick Elementary School through a scholarship offered by Tahanang Walang Hagdanan, a nonprofit nongovernment organization that offers rehabilitation and skills training for people with orthopedic disability.
During special occasions like its anniversary, Tahanan would organize sporting events for their residents and employees. That was how Mingarine was exposed to sports. Through wheelchair racing, he realized his potential and dreamed of playing professionally in the future.
"I would always win back then. So I said to myself that maybe I can go to other countries with sports. I know no one could beat me," he said.
Although he was away from his family, he reveled in his new home and his newfound passion for sports.
He had to leave Tahanan, however, to return to Pangasinan to continue his studies at the Amang Perez National High School. The school was a kilometer away and every day, he had to be driven in a bicycle with a sidecar.
Unlike Tahanan, his hometown made him feel different from the people around him that he eventually took his disability with a heavy heart. Looking back, he regrets not being able to go out with friends whenever he wanted, dance at school events, and court his crushes because of his disability.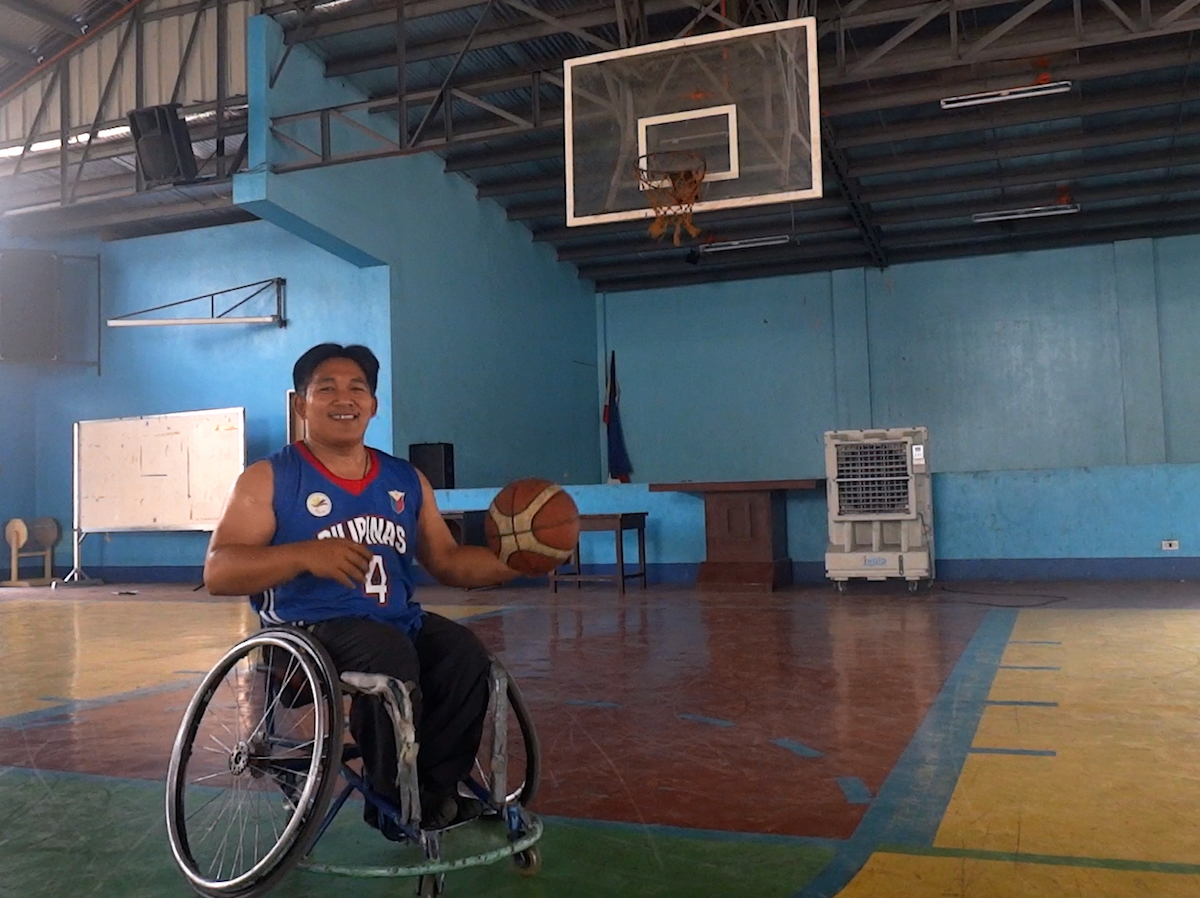 "It came to a point where I would blame my family and God. I even thought about taking my own life. But I couldn't do it," he said.
He decided to direct his attention to sports, at the expense of his studies. He would always play basketball, wheeling himself in his sidecar and shooting hoops with friends.
He later struck a deal with his parents, promising to do well in his studies in exchange for a wheelchair. His parents came through with their end of the deal, but Mingarine still found himself focused on basketball such that after his graduation, he went back to Tahanan to pursue sports instead.
"I was not that good in basketball yet, however. The veterans in Tahanan challenged me and made me better," he said. Mingarine eventually honed his skills and competed in various sporting competitions representing the organization and the country.
Since becoming a part of the national team for wheelchair basketball in 1998, he was given a free dormitory at the PhilSports Arena in Pasig City.
His exposure and participation to sports was not the only thing he had Tahanan to thank for. Mingarine also found a job at the organization. He was assigned to quality assurance and research development of wheelchairs. But more important, the organization also helped him see his disability in a positive light.
"Tahanan has been a great help to me. It was through Tahanan that I accepted who I am. It was as if all the pain and wounds from the past healed," he said.
The first few years of his sporting career, however, was met with a lot of trials: New equipment, proper coaching and training facilities, as well as lack of support from the government were lacking.
"I trained by myself. I did not depend on the training provided. I persevered to gain strength and trained every day," he said.
Through sports, Mingarine also learned valuable life lessons. A loss in wheelchair racing in the first Philippine Wheelathon held in 1997 caused him to lose interest in racing. He had trained hard for the event and even bought a new front wheel from abroad for his racing wheelchair, all to no avail. It was because he failed to check the side wheels, which had loose screws. His complacency led to the side wheel falling off during the race, leaving him with an 11th place finish.
"That became a lesson for me. Before, I only relied on my strength and I didn't care for equipment. I just competed right then and there," Mingarine said.
In 2002 marital problems led to a split-up with his wife, who took their three children with her. He turned to alcohol to forget his problems. "Every night, I would drink. It was like the whole purpose of my life disappeared," he said.
Mingarine's vices caught up with him and took a toll on his health. He developed hypertension, which made it hard for him to play again. He took his condition as a sign to train again and to focus on sports instead. With continuous training, he went back to his old self and eventually climbed to the peak of his athletic career.
His win in the 9th FESPIC Games in 2006 was the start of his international recognition. He was also recognized that year in the San Miguel Corp.-Philippine Sportswriters Association (SMC-PSA) Annual Awards, which featured the best in Philippine sports.
Mingarine felt like a "superstar" as he was honored alongside athletes such as boxing champion Manny Pacquiao, billiards legend Efren "Bata" Reyes, World Pool Champion Ronnie Alcano, basketball star James Yap, and many other athletes who made news in 2006.
"I was so happy and my whole family was there. They didn't expect that even if I have a disability, I could give pride, not only to my family but to the whole country," he said.
He dreams of one day being able to coach basketball to give back and share his knowledge and skills to the next generation of athletes.
However, Mingarine resents the fact that despite being a part of the national team, AWDs are still not being supported by the government. He said bigger incentives are given to athletes without disabilities who win in international sporting competitions.
International and local policies uphold the rights of PWDs in sports, as well as other aspects in life. These include equal participation in sport and the availability of state-provided training in sports and physical fitness, as stated in the UN Convention on the Rights of Persons with Disabilities and the Magna Carta for Persons with Disabilities.
Despite these policies, however, AWDs continue to experience discrimination because of the lack of laws protecting their welfare as athletes.
In 2001, Republic Act 9064, or the National Athletes, Coaches and Trainers Benefits and Incentives Act, set aside cash awards for national athletes who will bring home medals from international competitions. The law does not include AWDs in the definition of "national athletes," making them unable to receive equal cash incentives if they won in international competitions.
Had AWDs been included in the law, Mingarine would have been entitled to P1 million for his first place win in the 2006 FESPIC Games, which is now known as the Asian Games. However, he only received P100,000, a mere 10 percent of the cash award for athletes without disabilities who brought home a gold medal from the international competition.
"We hope one day it (the cash incentive) becomes equal because we represent the same country," Mingarine said.
Aside from advocating for AWDs, Mingarine is starting up the Philippine Central Axis for Persons with Disabilities, which aims to provide a home and offer jobs to PWDs. He is also co-founder of a start-up company called JAJEV Industry, which manufactures converts vehicles to help PWDs drive a car or tricycle without the use of legs.
His experiences in sports and his life have made Mingarine the person that he is today —humble and thankful for all the blessings that he continues to receive. Life may have been a bumpy ride, but, he said, it is the journey that makes it worth living.
(The author is a journalism major of the University of the Philippines-Diliman. She submitted this story for the journalism seminar class "Reporting on Persons with Disabilities" under VERA Files trustee Yvonne T. Chua.)