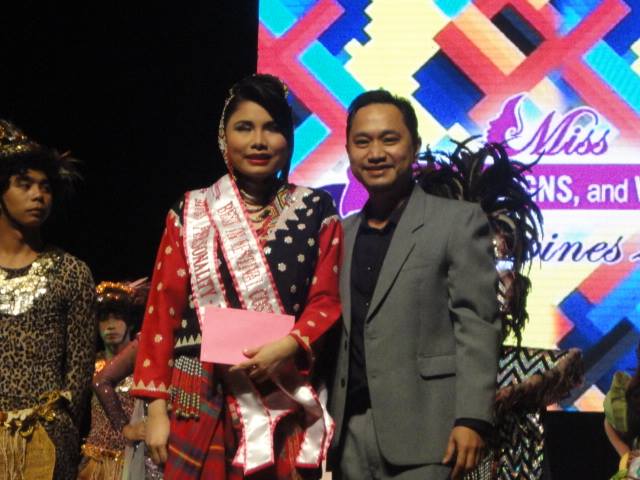 By YVETTE B. MORALES
CZARINAH Mercado was nervous. It was her first time to stand before a huge crowd. Clad in a persimmon dress made by a famous Filipino designer, she knew all eyes were on her.
Only she couldn't see them.
Guided by a white cane, Mercado confidently strutted down the runway to show off not only her dress but also her advocacy.
Modelling in the prestigious Philippine Fashion Week (PhFW) in May 2014 was a dream come true for Mercado. She and Arjhessa Espiritu became the first two models with visual disability to join the biannual event that showcases the works of famous Filipino designers.
Mercado was born with microphthalmia, a condition where one or both eyeballs are smaller than the regular. In some cases, children with microphthalmia can have limited sight. Mercado was partially blind as a child and now has weakened vision.
The 2000 census identified low vision as the most common disability in the country, accounting for 37 percent of about 942,000 persons with disabilities. This was followed by partial blindness at 8 percent.
Mercado is lucky to have seen every color; her favorite shades are hues of pink and purple. But with weakened vision, she said, "I can recognize bright colors better."
Like most people her age, she grew up being glued to the television. The shows did not only entertain her, they also made her dream of modelling dresses and joining beauty pageants.
"I imagined myself standing on the stage, surrounded by a huge audience (performing, and then answering judges' questions). I like that feeling," she said.
Before the PhFW last year, Mercado was an active member of Ambassadors of Light, a choir composed mostly of persons with visual disability. Even as a singer, Mercado would always pray for opportunities in other areas not only for herself, but for fellow PWDs as well.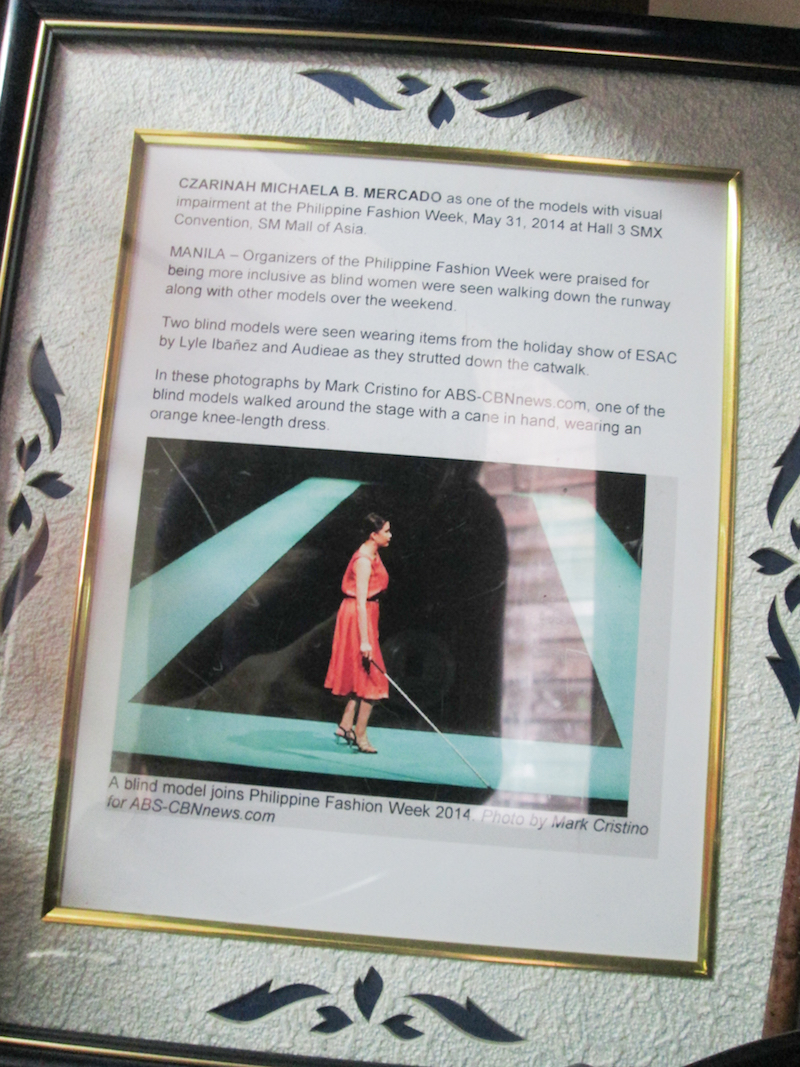 "Usually, music is the only opportunity not only for blind people but also for other PWDs," she said.
The United Nations Convention on the Rights of PWDs, to which the Philippines is a signatory, aims to "ensure and promote the full realization of all human rights and fundamental freedoms for all persons with disabilities without discrimination of any kind on the basis of disability." This includes the right to participation in cultural life, recreation, leisure and sport.
Indeed, Mercado's was an answered prayer.
In November 2013, she placed second in the first Miss Philippines on Wheels, Signs and Vision organized by Tahanang Walang Hagdan and Women with Disabilities Leap to Social and Economic Progress, advocacy organizations aiming to enhance the lives of PWDs, focusing on people with orthopaedic disability and women with disabilities, respectively.
The pageant, unlike the traditional beauty contests, does not only look for the most beautiful and talented PWD, but also one who can best represent the sectors and showcase her talents to people without disabilities.
Despite the special awards she took home, Mercado said the preparations did not go as planned. The human props who were supposed to enact Taylor Swift's "Speak Now" had an emergency.
"I just looked for people who can replace them, and we only rehearsed the night before (the pageant). I never expected to win Best in Talent that time," she said.
In addition to being her winning piece, the song is one of her favorites as, she said, it reflects her personality.
"I picture out a world where everyone tells the truth, or aren't afraid of what they're doing, as long as it's right. I think it would be a better place," she said.
"Speak Now" tells the story of a woman who decided to take her possibly last chance at true love by objecting in a wedding. Eventually, the groom ran away with her after she told him her feelings, thus giving the song a happy-ever-after ending.
Mercado also bagged two more special awards in that pageant: Best in Festival Costume and Miss Personality in Visions.
But her answered prayers did not stop with the pageant. Through the collaboration of Nationwide Organization of Visually Impaired Empowered Ladies (NOVEL), Philippine Blind Union and PhFW organizer Runway Productions, Mercado landed in the catwalk of the prestigious event with Espiritu, who placed first in the same pageant she joined.
NOVEL is a young organization that aims to empower women with visual impairments while the PBU is a national federation of people with visual disabilities.
"It was an overwhelming responsibility. We focused our minds on the fact that we're doing it for the PWD community, to show people that we are not limited by our disabilities," Mercado said.
Contrary to stereotypical models, there were neither diet tricks nor skin enhancements for Mercado.
"We're just on our best. We took the confidence and the lessons we got from the pageant," she said.
Mercado said she did not even have the chance to try the runway except a day before the show.
"We asked if we could roam around the place just so we can estimate how big it is," she said.
On May 31, 2014, she confidently conquered the catwalk in an orange belted dress designed by Audie Espino and Lyle Ibanez. Although she did not get the chance to talk to her co-models, their unspoken encouragements lifted her spirits.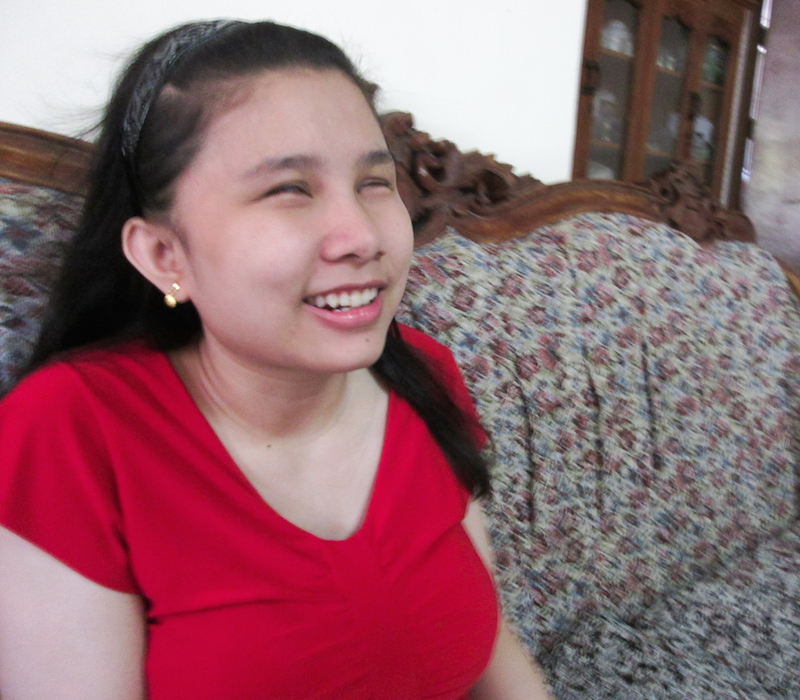 "I didn't know what was going on in their minds. But before and after the show, someone said their (co-models) faces say, 'You can do it,'" she said.
A year after the exhilarating experience, Mercado conquered another stage. Instead of a dress or a gown, this time she wore a black toga as she marched to get her undergraduate diploma on Business Management in STI Fairview. She nows works as a telemarketer at a software company in Quezon City.
Despite seeming to be poles apart, Mercado's chosen professional path and her past as a model coincide in terms of interacting with other people: something the self-proclaimed extrovert has always loved.
Regardless of her exposure to the world measured by physical attributes and style preferences, Mercado said what others see does not really matter.
"When you're sighted, it's easy to judge. You neglect people when they don't meet your standards. That's the reason why people miss out on the things we can still discover: only by judging, and expecting something far from reality," she said.
Instead of being a disability, Mercado claimed visual impairment could actually be an advantage.
"We get to know (people) without judgment: We don't care whether they have dirty nails, a dark complexion, or are fat. We focus on their character, not by what they can give us."
Having said that, Mercado proudly introduced the most beautiful woman for her.
"The prettiest woman is me. You don't have the right to ask others to believe in you when you yourself doubt it," she said.
(The author is a journalism major of the University of the Philippines-Diliman. She submitted this story for the journalism seminar class "Reporting on Persons with Disabilities" under VERA Files trustee Yvonne T. Chua.)