By YVONNE T. CHUA
WHEN he delivers his sixth and final State of the Nation Address on Monday, President Benigno S. Aquino III will predictably present a glowing report of his accomplishments, what with only a year left of his presidency.
To be fair, Aquino has delivered on a number of his promises.  To name a few: The economy is growing. Government has struck a peace deal with Muslim rebels.  Graft and corruption cases have been slapped against big fish.
But his government's own statistics show that Aquino has barely delivered on less than half of the targets he himself set at the beginning of his term. And what are the chances he meets all of them in the year he has left?
Aquino's goals for economic and social development are clearly laid out in the Philippine Development Plan (PDP) 2011-2016.  They are broken down into 223 indicators in nine sectors: macroeconomy, industry, finance, agriculture and fisheries, social development, governance and the rule of raw, environment and natural resources, peace and security and infrastructure.
The National Statistical Coordination Board on Friday declared that the Aquino administration stands a poor chance of reaching the targets on 56 out of the 151 indicators—that's 37 percent—that have data up to 2014.
It has a really good chance of making it on only 63 indicators, or 42 percent.  The rest fall in between.
When indicators with pre-2014 data are counted, the areas where Aquino is faring poorly rises, to 40 percent.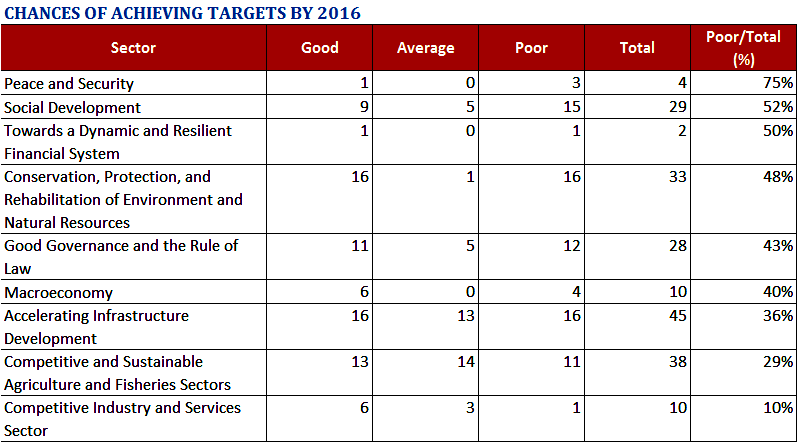 The data comprise the Statistical Indicators on Philippine Development 2014 (StatDev 2014) the NSCB has been using to monitor and measure the country's economic progress and social change under the Aquino presidency. And because the figures are sourced from government agencies themselves, it would seem strange for anyone in government, including Aquino, to question or assail their reliability.
The NSCB's latest StatDev singles out three sectors as areas of concern.
The macroeconomy: "The real GDP growth rate registered an annual growth rate of 6.1 percent in 2014 and 5.2 percent during the first quarter of 2015.   This figure is near but below the target set in the Plan at 7.5 percent to 8.5 percent."
Peace and security: "(T)he number of private armed groups and other threat groups as well as the resolution rate of immigration fraud and deportation cases exhibited low probabilities of achieving their respective targets."
Conservation, protection and rehabilitation of environment and natural resources: "(T)he number of threatened species for both fauna and flora, showed poor probabilities of attaining their respective targets."
Macroeconomy, industry and finance
It's not only the GDP growth rate where the Aquino administration is off-target. It has also fallen behind its goal to improve exports to GDP ratio and, more important, to reduce the country's poverty incidence.
The President's target is to bring down poverty incidence, or the number of households with incomes below the poverty threshold, to below 18 to 20 percent by 2016.  The figure stood at 25.2 percent in 2014.

Government still has to address a $37.2 billion gap in merchandise exports to reach the $91 billion target by next year.

The current national saving rate of 16.6 percent is also a way off the target of more than 30 percent. 

Peace and security
StatDev 2014 shows one bright spot in the peace and order situation: The number of crime incidents is down and the crime solution efficiency up.
Recalling how nine officials of the National Capital Region Police Office underreported crimes by as much as 60 percent in 2013, the accuracy of the information can come into question.
Despite the reported strides against criminality, the Aquino administration hasn't been faring well in its campaign to dismantle private armed groups.  Eighty-four are said to be operating.   The count in 2010 was 83.
Resolution of immigration fraud and deportation cases is also poor, undermining the country's ability to uphold its sovereignty and territorial integrity, according to StatDev 2014.

Environment and natural resources
By next year, the government hopes that the number of threatened species, both flora and fauna, will drop to zero. But available data show the zero target is a long shot. The latest available data show 211 threatened species of fauna and 526 species of flora.
The government been equally unsuccessful in reducing air pollution in three major areas: Metro Manila, San Fernando City in Pampanga and Mandaue City in Cebu.
Biochemical oxygen demand (BOD) values indicate the extent of pollution of rivers and other bodies of water. The lower the numbers are, the better, such as below 1mg/L for clean rivers, and 2 to 8 mg/l for moderately polluted ones. Municipal sewage that is said to be treated efficiently would have a value of about 20 mg/L or less.
In the Philippines, BOD values remain high for eight priority rivers: Meycauayan, Marilao, Bocaue, Calapan, Iloilo, Manila Bay-SB Balili, Paranaque and Pasig.
And the reverse has happened to the government's target to decrease the average annual damages and losses to properties arising from natural disasters, environmental hazards, human-induced and hydro-meteorological events.
Damages and losses leapt from P19.2 million in 2010 to P39 million in 2012.  The estimate precedes the 7.2 magnitude earthquake that shook the Visayas in 2013 and supertyphoon "Yolanda" that pounded also the Visayas a month later.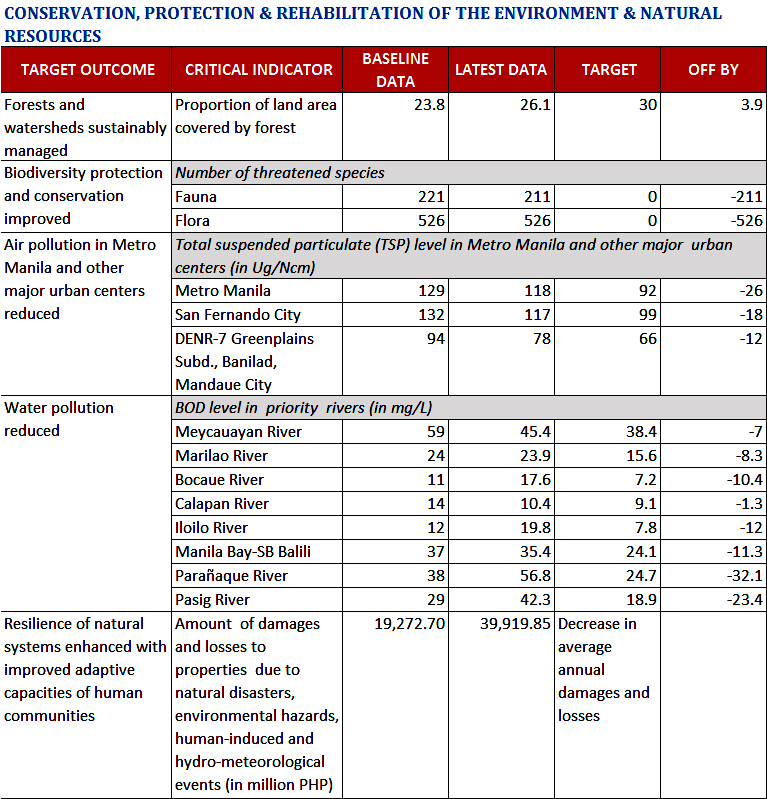 Social development
Under Aquino's watch, government has been pouring vast sums into social services.
The Department of Education enjoys a P367.1 budget this year; the Department of Health P108.2 billion; and the Department of Social Welfare P103.9 billion.  The Pantawid Pamilyang Pilipino Program (4Ps) alone, the government's flagship antipoverty program for 4.3 million poor families, received a P62.3 billion budget; the Basic Education Facilities for classrooms, water and sanitation facilities, and seats, P53.9 billion; and Philhealth, P37.1 billion for subsidies to 15.4 million poor and near-poor families.
But figures from StatDev 2014 show government's continued inability to reduce the number of maternal and infant deaths, under-five children who are underweight and families that fail to meet the dietary energy requirement. It also needs to work harder to increase usage of contraceptives and enrolment in the National Health Insurance Program.
In basic education, achievement rates in both the elementary and high schools are below target.  So is the proportion of teachers with master's degrees and Ph.D.'s in higher education.
The Aquino administration has also been lackluster in expanding the number of poor senior citizens covered by social pension and the number of overseas workers by social security. Getting Filipinos employed locally likewise remains a big challenge.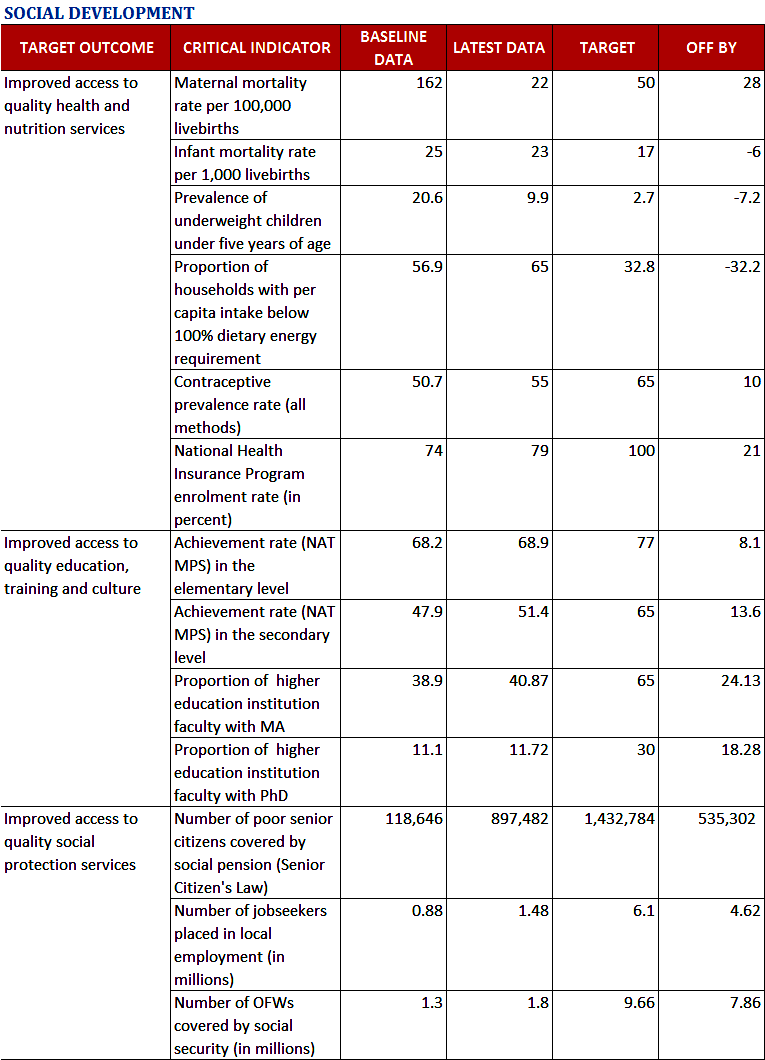 (We have corrected a typo in the table for Social Development.  The achievement rate in the secondary level is not "5.4′ but "51.4".  We apologize for the error. — Ed.) 

 Infrastructure
Infrastructure wise, the government has a lot of catching up to do for both water and land transport.  Its major gateways receiving foreign vessels remain ridiculously few, 29.2 out of a targeted 100.
Road density, or road length over land area, is barely 10.46 when the goal is 81.91.  And the number of vehicular accidents that happen in Metro Manila stands at a high 248 a day; the target is 148 by 2016.
Local governments have a poor Web presence: 63 percent for towns and a really low 32 percent for provinces.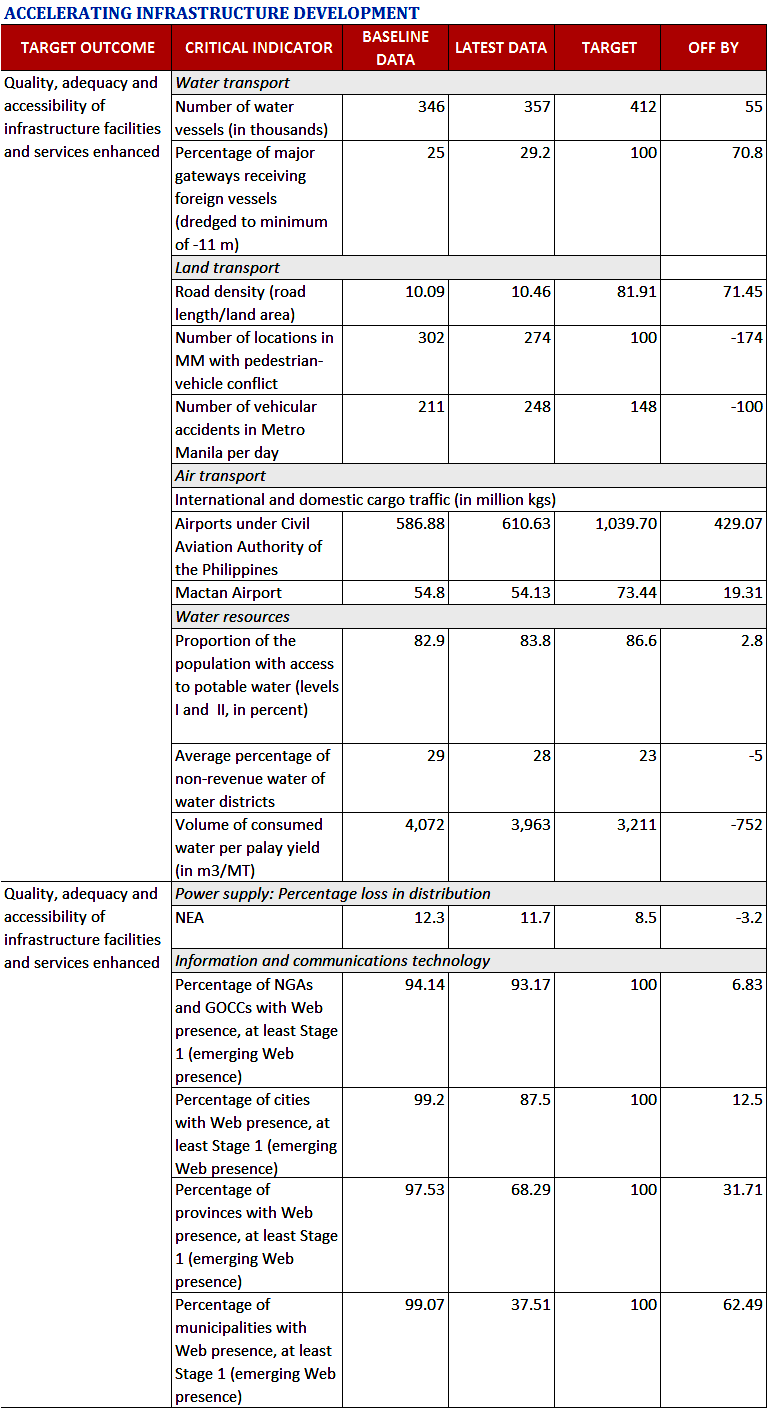 Agriculture and fisheries
The yield of major commodities such as banana, rubber and cabbage has been below par.  So has the volume of fisheries production, both inland municipal and aquaculture.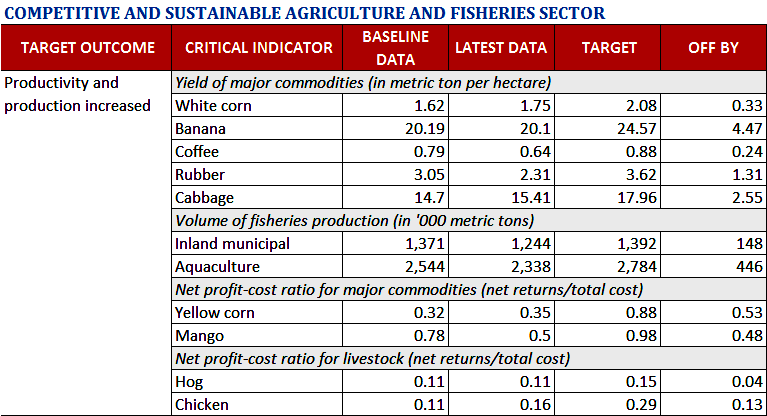 Governance and rule of law
Lifting data on the Philippines' performance in the Millenium Challenge Corp. scoreboard, StatDev 2014 identified the following indicators as having a low probability of meeting the 2016 targets:
Ruling justly: Control of corruption and rule of law
Economic freedom: Business startup and access to credit
People:  Immunization rates, primary education expenditure and girls' secondary enrolment rate
The Millenium Challenge Corp. is an independent U.S. government foreign aid agency that advocates for good governance, economic freedom and investments in people.  The Philippines has a five-year $434 million grant to reduce poverty through economic growth. The grant will end in May next year.
Using data from the World Justice Project Rule of Law Index, the NSCB said the Aquino administration has to work harder to enhance access to justice.  This includes providing order and security, ensuring an open government, extending access to civil justice and administering effective criminal justice.
The World Justice Project Rule of Law Index provides original, impartial data on how the rule of law is experienced by the general public in 102 countries, including the Philippines.