Before he leaves office next year, President Rodrigo Duterte should keep his promise to set up a Public Education Network (PEN) and bring back to school over three million students who have failed to enroll due to the ongoing coronavirus disease 2019 (COVID-19) pandemic, a former education secretary said on Wednesday.
In a July 28 forum conducted by 1Sambayan Coalition, former Education secretary Armin Luistro expressed frustration that Duterte made little mention of the administration's plans for the education sector in his State of the Nation Address (SONA) on July 26.
Luistro pointed out that the chief executive promised in his 2020 SONA that the PEN, which would connect all public schools nationwide and the Department of Education (DepEd), would be "realized" before he steps down in 2022 to ensure uninterrupted learning. (See: SONA 2020 Promise Tracker: Social Services)
"Malaking malaki ang magagawa niyan doon sa mga 3.5 million out-of-school. Kung mapu-push niya 'yan, lagyan niya ng pondo… kahit isa, isa na lang na plano at kahit labas sa ilong, gawin na lang niya para pag baba niya meron naman siyang maipapakita, meron man lang siyang nagawa para sa edukasyon," said the former education secretary.
The president was silent about the PEN project in his 3-hour final SONA despite the recent signing of a memorandum of agreement, based on a DepEd report.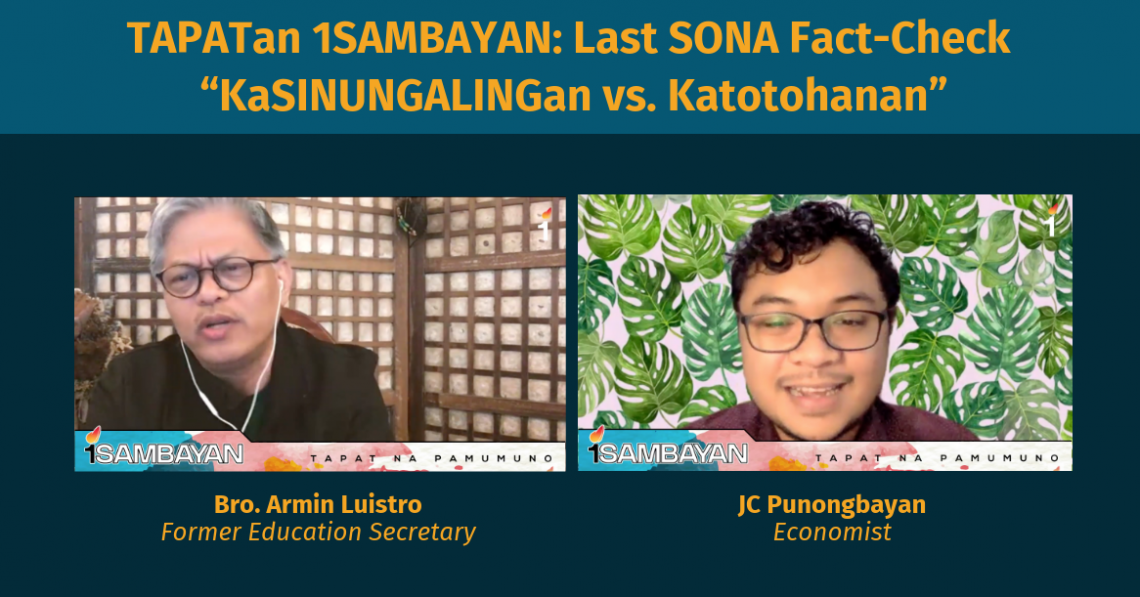 Former Education secretary Armin Luistro and economist JC Punongbayan propose solutions for the economy and education sector in 1Sambayan's July 28 Online Forum on President Duterte's 2021 SONA. They are joined by 1Sambayan convenor and retired Supreme Court associate justice Antonio Carpio, former Health secretary Esperanza Icasas-Cabral, retired Rear Admiral Rommel Ong, and former Communications undersecretary Manuel L. Quezon III.
"Wala sa isip, wala sa puso, wala sa plano ng pangulo ang krisis na hinaharap ng edukasyon. Wala sa kanyang bibig, wala sa kanyang gawa," Luistro noted. "Hindi ko man lang narinig — lahat pinalakpakan na — na binigyang pansin ang mga guro, ang mga naghihirap doon sa pinakamalalayong isla para pangalagaan at nagmamalasakit sa mga mag-aaral natin."
Luistro lauded DepEd's Basic Education Learning Continuity Plan which provides "essential learning requirements" during this health crisis but said the system needs improvement, given that 4.4 million students failed to enroll late last year, according to a Social Weather Stations survey last February.
The PEN is supposed "to fast-track the digital connectivity" of the public education system amid the growing pains of the distance learning set-up necessitated by the pandemic. The project seeks to increase nationwide access to DepEd TV, DepEd commons, and establish sites where sectors can pool and share their resources under the public education system.
Both teachers and students are struggling to cope with the new learning program, according to a survey of the Alliance of Concerned Teachers. According to the survey of 6,731 public school teachers, 96% of educators in Metro Manila and 81% of teachers in other regions can barely cope with distance learning, mainly because of the cost of gadgets and unstable internet connection.
To address this problem, DepEd is working with the Department of Information and Communications Technology and internet service providers to improve the connectivity of public school teachers and students, especially in far-flung areas.
During the forum which analyzed Duterte's SONA, economist JC Punongbayan urged Congress to increase DepEd's budget for 2022.
"Puwede ring mag-realign ng pondo galing sa ibang mga budget items. For example, doon sa infrastructure, sa NTF-ELCAC (National Task Force to End Local Communist Armed Conflict ) na nabanggit nga na P19 billion ang pondo, even sa dolomite beach," he suggested.
The government allocated P19 billion for the NTF-ELCAC, of which P16 billion was allotted for the Barangay Development Program. The rehabilitation of Manila Bay, on the other hand, included P389 million for a beach nourishment project which saw the installment of white-sand dolomite in a portion of the shore. (See SONA 2020 Promise Tracker: Peace Agenda; VERA FILES FACT CHECK: Photo of 'new Manila Bay' with wider, longer dolomite beach FAKE)