Text and video by GRAZIELLE CHUA and VERLIE RETULIN
AS a Deaf student, Ana Kristina Arce had to transfer from one school to another, trying to find the best one to accommodate her needs—a costly undertaking that consumed both her time and effort.
Now a professor at the De La Salle-College of Saint Benilde (DLS-CSB)'s School of Deaf Education and Applied Studies (SDEAS), she joins other members of the Deaf community in advocating for the declaration of the Filipino Sign Language (FSL) as the national sign language for the Filipino Deaf, recognizing it as the language of their identity and that which will allow them greater access to education.
"There is a struggle for language development here in the Philippines. Having a national language for the deaf, and using this in the K to 12 would be such a big help in learning. I really think it is best that the national sign language for the deaf is FSL," Arce said.
The appropriate medium of instruction to be used in educating deaf students, however, is not the only concern posed by Deaf advocates. The problem with deaf education in the country also has to do with the availability of instructional materials, teacher preparedness and environmental accessibility. All these factors require attention in the long run, especially to ensure that education is inclusive.
Arce cited the lack of interpreters, insufficient training of teachers, and the exclusion of deaf students from the mainstream—with outright disregard for their needs—as some of the barriers that had hindered her access to a proper education.
As a kid, she was enrolled in several oral schools in an effort to make her speak. She admits, however, that she was a slow learner in oralism. She was not picking up her lessons nor was she learning to speak well.
So her parents decided to transfer her to a mainstream setup, where she got to interact with hearing students. The school, however, lacked an interpreter to facilitate her learning. "The teacher would just be speaking, and I would not understand what was going on," she said.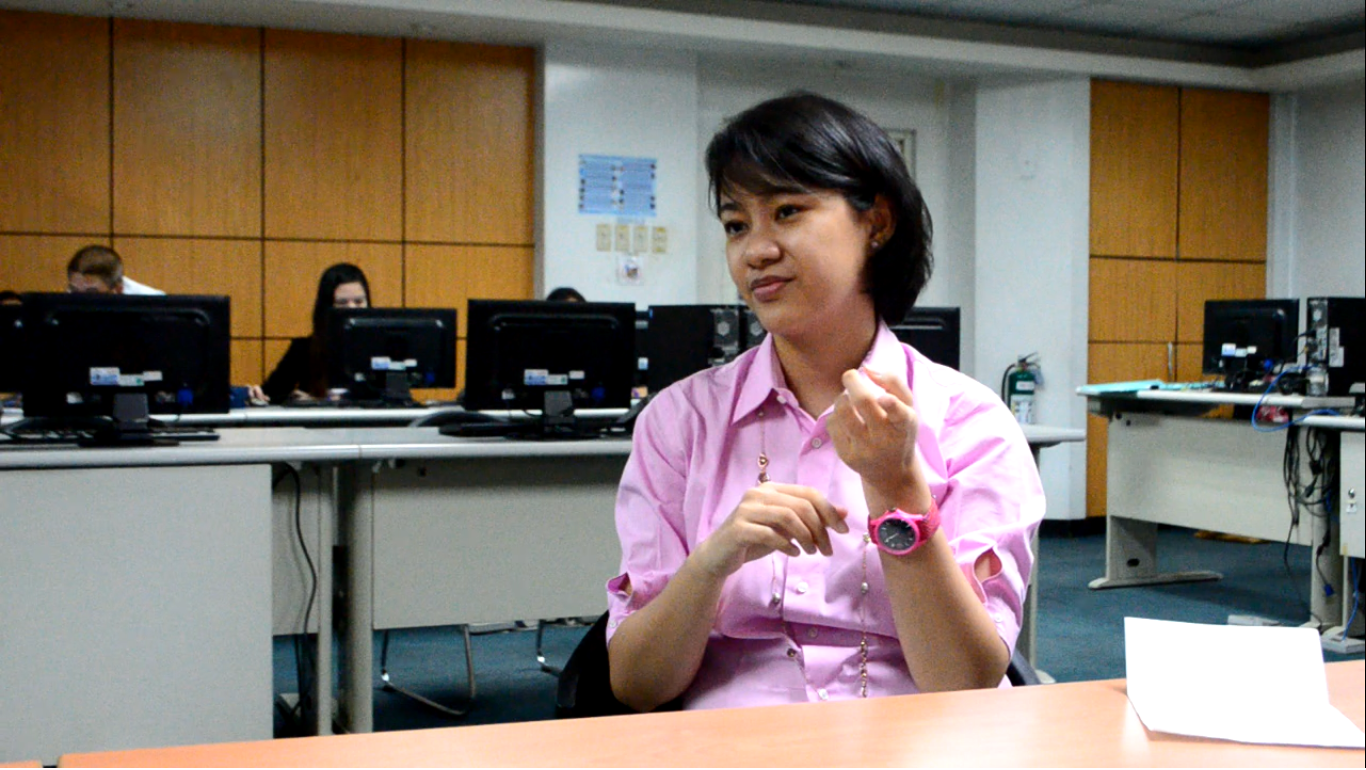 Arce then moved to another public school where total communication (speaking and signing done simultaneously) was the means of communication used from primary to secondary level. However, she said there were times when the teacher would speak too fast and the interpreter—who was using Signed Exact English (SEE)—would fail to catch up. They were not provided with note takers, either.
Then in her third year, she realized that the same lessons were being taught. Oftentimes, these only required memorization and failed to hone her other skills—reading, in particular.
John Baliza, also a professor at SDEAS, said most of the Deaf students he has taught were falling behind in terms of learning and blames this on the practice of teachers making them just copy notes from the blackboard back in elementary and high school. Ultimately, he said, they survived basic education by memorizing facts.
"The challenge is how to help them unlearn the wrong facts they learned in elementary and high school, and how we can fit in four years…new learnings that they should have (already) learned," he explains.
Arce said she also experienced exclusion and discrimination in group activities and even from school teachers and officials.
"Everyone in that school did not know how to sign. We would have to bring paper and pen to communicate, to write to each other. There is no access. There were barriers to learning," she said.
Enshrined in the United Nations Convention on the Rights of Persons with Disabilities (UNCPRD) is a mandate to all State Parties, including the Philippines, to ensure an inclusive education system for PWDs at all levels. Specifically, it mandates State Parties to facilitate the learning of sign language and the promotion of the linguistic identity of the Deaf community.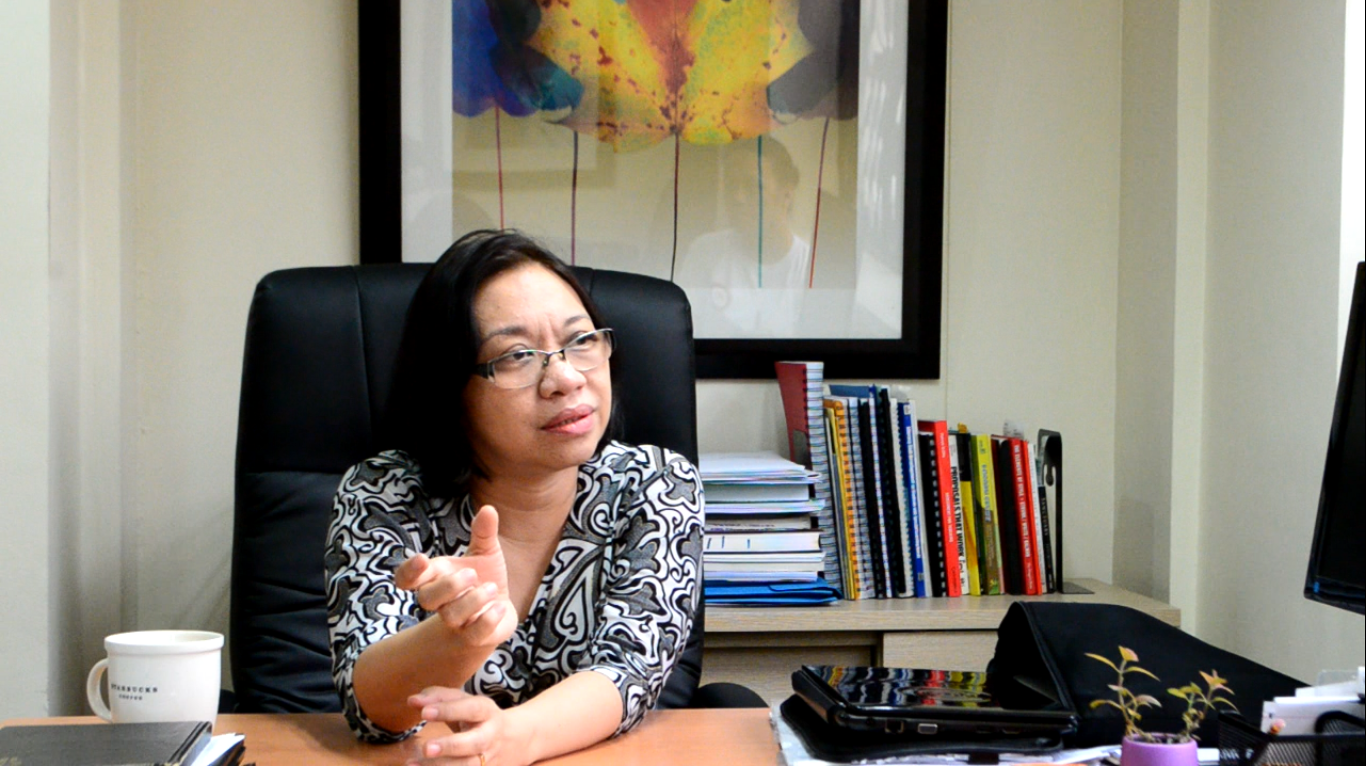 This provision forms the basis for House Bill 450 or the "The Filipino Sign Language Act of 2012," which seeks to designate FSL the medium of official communication in all transactions involving the Deaf and the language of instruction of deaf education. It envisions FSL as the medium of instruction in all national and local agencies involved in the education of the deaf.
Alliance of Concerned Teachers party-list Rep. Antonio Tinio said, however, only a few special education (SPED) teachers have been trained to use FSL. Others use the American Sign Language (ASL), SEE, and other sign systems when teaching.
Once enacted into law, the bill will include FSL as a separate subject in the curriculum of training programs for teachers in Deaf education. It will also promote the licensing of Deaf teachers as users of FSL.
"One thing the bill wants to address is to have more deaf teachers educating deaf students," Tinio said.
To improve the quality of teachers in Deaf education, the bill also proposes periodic trainings and evaluation programs.
"There are a lot of things that we need to change, starting with teacher training and education. Some things need to be reviewed and changed in the teacher training curriculum," Tinio said.
Therese Bustos, Deaf education specialist from the University of the Philippines Diliman, agrees, saying the sign language to be used as medium of instruction must not only work for the teachers but more so for the deaf students.
Bustos said most deaf educators today are trained using SEE because of their familiarity with the English language, making the sign language easier to learn. Its advantage stems from deaf students' proficiency with written English.
However, in her 10 years of experience in handling deaf kids, Bustos said a student's ability to write well in English does not depend only in SEE, but also on their learning environment.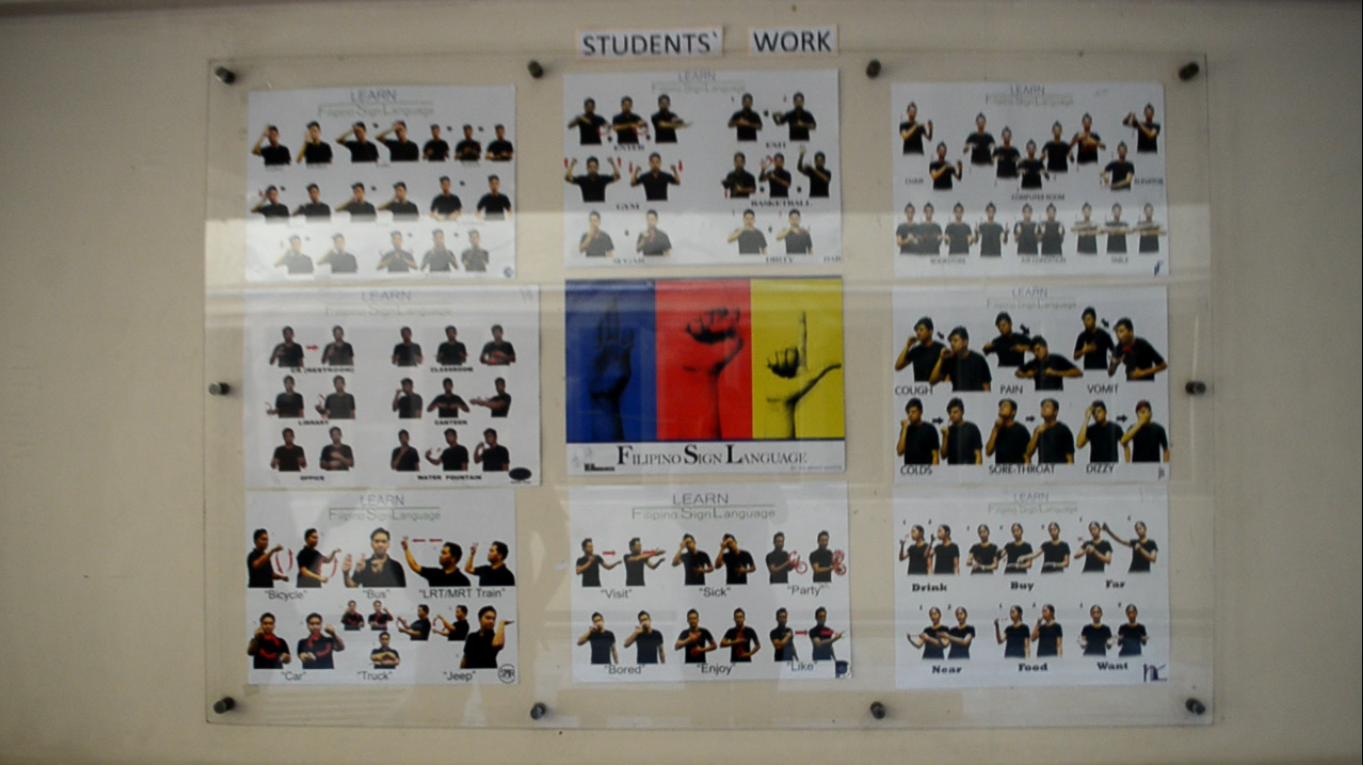 She said most students who write well in English had tutors, parents who checked their homework, and teachers who took their teaching responsibilities seriously.
"What we are seeing now is that it does not matter whether FSL or SEE was used. What matters was being part of the environment where education is important," Bustos said.
Republic Act 7277 or the Magna Carta for Persons with Disabilities, which was amended by Republic Act 10524, requires the State to consider the special requirements of PWDs in formulating education policies and program, and encourages learning institutions to take into account the special needs of PWDs such as the use of school facilities, class schedules and physical education requirements.
At present, the K to 12 program of the Department of Education recognizes FSL as the medium of instruction to be used in educating deaf students in the mother-tongue-based multilingual education (MTB-MLE) from kindergarten to Grade 3.
Bustos, who is also a member of the Deaf Education Council (DEC) tasked by DepEd to look into issues in deaf education, said inclusion on FSL in the mother tongue curriculum shows that DepEd recognizes the language used by the Deaf community in accordance with the UNCRPD. It will also raise awareness among teachers that sign language is also a language that should be used as a medium of instruction, she said.
"We are thankful for DepEd because…the mere act of incorporating that single page into the curriculum took a lot of work," Bustos said.
But she said the road map toward multi-literacy among deaf students is still a work in progress.
"How do we transition from what is mandated by the law and declared in the curriculum to get to a point wherein it's true on paper and true on reality? Our (next) task is to map that out," Bustos said.
Deaf advocates push for more inclusive education system video script
 (The authors are journalism majors of the University of the Philippines-Diliman. They submitted this story for the journalism seminar class "Reporting on Persons with Disabilities" under VERA Files trustee Yvonne T. Chua.)