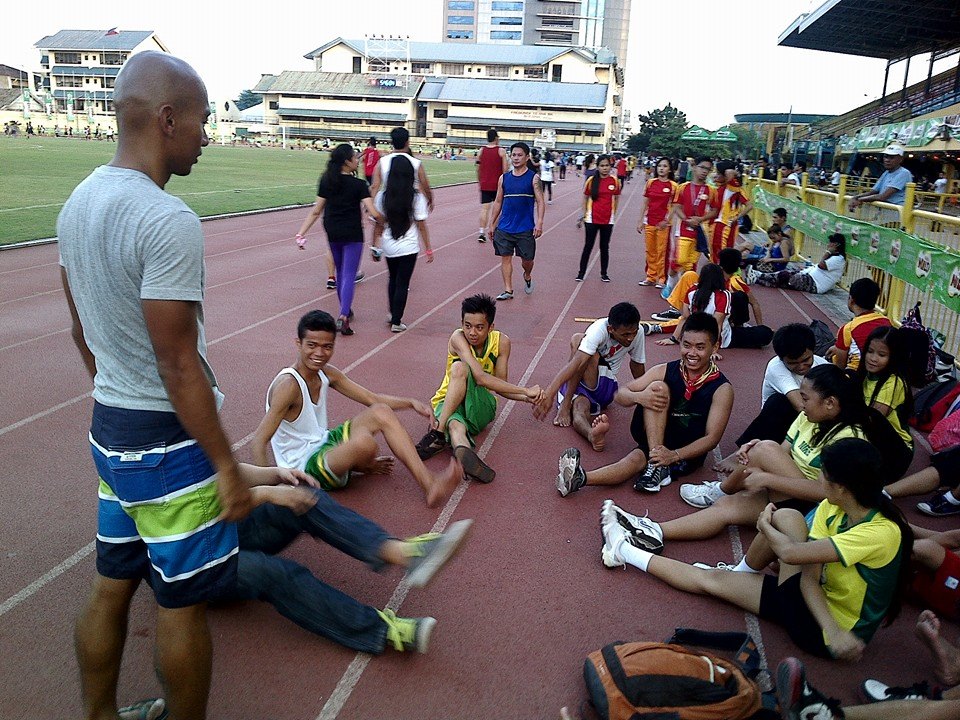 By JOHN PAUL ECARMA MAUNES and JAKE SORIANO
CEBU CITY – Deaf triathlete Lester Lagos remembers that afternoon in Cebu very well.
Visiting a training session of deaf student athletes after taking part in an international triathlon competition in Cebu, he was deeply disheartened to see them practice barefoot, and without the proper sports gear or even a coach to provide mentorship.
An accomplished athlete, the 31-year-old Lagos was convinced the young runners had immense potential but were hindered by inadequate facilities and lack of institutional support.
So he quickly gathered the students with hearing disability and gave them advice about proper running form and techniques.
"Just be you and do what you want to do," he told them.
"Never think of yourself as inferior or as a disabled person."
Lagos shared his own story to the student athletes that afternoon. He was five years old when he got sick, he told them. What started as high fever eventually led to his deafness.
"As a deaf person, I am blessed," he tells VERA Files. He recognizes that not everyone had the same family support that he had growing up.
This family support is what he credits for his being an accomplished athlete, and having an impressive academic record as well.
Without needing a sign language interpreter, Lagos finished secondary mainstream college at the Assumption English School in Singapore.
After this, he took three more courses, first in multimedia arts, then in culinary arts and finally in anti-gravity yoga, a type of fitness exercise that combines yoga and aerial acrobatics.
He became the first-ever internationally certified deaf anti-gravity yoga instructor in the world, counting among his clients local actress Judy Ann Santos.
But it was in sports that Lagos truly made his mark, both as an athlete and later as an advocate for giving support to athletes with disabilities.
He has been a competitive swimmer for 20 years both locally and internationally, and was part of the Philippine Swim League coached by former Olympian Susan Papa.
He also excels in triathlon, and is in fact the only deaf triathlete to participate in the prestigious international event Iron Man 70.3 in Cebu and in Subic Bay.
Because of his achievements, Lagos was awarded in 2013 Most Outstanding PWD by the government of Makati City, where he now resides.
Not content with those accomplishments, he founded in January 2014 his own non-profit, the Philippine Aquatic Sports Federation, to properly train deaf children in swimming and running by providing them with access to much needed training equipment, among others.
On top of this, he also gives free training to impoverished deaf children in special education (SPED) centers in Manila.
In doing all these, Lagos says he hopes to help the next generation of athletes who are hindered not so much by their disabilities but by the lack of financial and institutional support.
In 2012, VERA Files reported that the Filipino Paralympians who participated in the games in London had to scrounge for monetary support after receiving only P2 million from the government. (Read No medals for Ph Paralympians)
In a forum last January, Sen. Sonny Angara said that he would push for sufficient government funding for the country's paralympics athletes.
"Kaso ang problema, iyong regular na atleta, hindi nakakakuha ng suporta. Pano pa kaya iyong mga atletang may kapansanan (But the problem is that even athletes without disabilities do not get enough support; what more athletes with disabilities)," the senator said.
Also earlier this year, athletes participating in the Special Olympics in July sought help for their roundtrip air tickets to Los Angeles. In previous years, financial woes had led to athletes dropping out of the competition. (Read LA-bound 'special' Olympians seek help for airfares)
For deaf athletes meanwhile, besides financial worries is the problem of being excluded and not being able to compete at all in national sports events as the Palarong Pambansa.
That afternoon Lagos spent with the deaf athletes from Cebu ended with high fives and warm hugs.
Along with other advocates, he submitted a proposal to the Cebu City government to fund swimming trainings for deaf students. He says he has yet to hear back from local officials.
Lagos says that he simply cannot bear to see young athletes with so much potential left to train all by themselves.
"This situation is adding insult to injury," he says.
"Setting the disability aside, you will see athletes with full potentials."