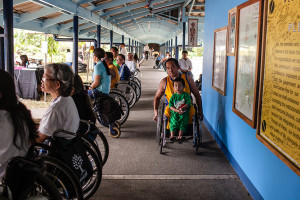 Text by TRACY IGNACIO
Photos and Video by MARIO IGNACIO IV and MARIO ESPINOSA
CAINTA, Rizal— Forty years ago, Sister Valeriana Baert, a Missionary Sister of the Immaculate Heart of Mary, had dreamed of putting up a home where persons with disabilities could live and train after undergoing rehabilitation.
That home became Tahanang Walang Hagdanan, Inc. (TWH), which is now not just a haven for PWDs. It has expanded and now provides livelihood opportunities and other services for PWDs nationwide.
TWH currently houses around 50 PWDs, and has sheltered close to three thousand  over the past four decades. But within its premises, it provides livelihoods and education to about 300.  At TWH, PWDs manufacture wheelchairs, educational toys, bags and other novelty items, and assemble packaging items for pharmaceutical companies.