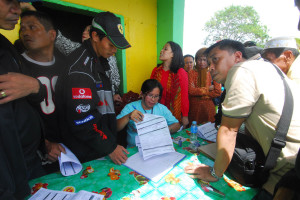 BY CAROLYN ARGUILLAS, MindaNews
DAVAO CITY – Of the country's 52 million voters, the Autonomous Region in Muslim Mindanao's 1.3 million voters will spend the longest time in the polling precincts in May because they will not only elect national and local officials but regional as well.
While voters in other towns nationwide need to shade only 30 or 31 ovals on the left side of the candidates' names for 12 senators, one party-list representative, one Congressional representative, one governor, one vice governor, four or five provincial board members, one mayor, one vice mayor and eight municipal board members, ARMM voters have to shade five more for the regional governor, regional vice governor and three members of the Regional Legislative Assembly (RLA) per district.
Lawyer Ray Sumalipao, regional director of the Commission on Elections (Comelec) in the ARMM, told MindaNews the estimated shading time for each ballot in the ARMM is five minutes.
Voters in Basilan and Tawi-tawi need to shade 35 ovals because Basilan has only eight provincial board members and voters elect four per district. But a voter in Lanao del Sur, Maguindanao and Sulu, need to shade 36 ovals because they have a ten-member board and voters elect five per district.
ARMM is the only region in the country where voters will experience synchronized elections at the national, local and regional level.