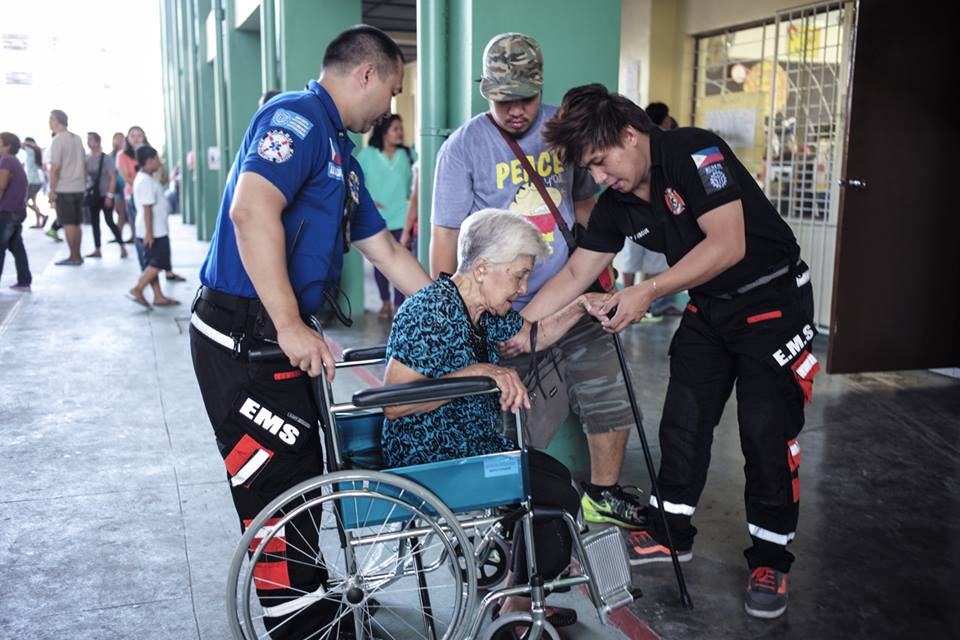 By FEONA IMPERIAL
ADVOCATES are pushing for absentee voting for persons with disabilities (PWDs) in the next elections.
Given the option to vote way ahead of polling day, PWDs no longer have to endure polling places and inaccessible physical environments on election day, Carmen Reyes-Zubiaga, executive director of the National Council on Disability Affairs told VERA Files.
The new scheme is hoped to increase the voter turnout of PWDs and senior citizens, which has remained consistently low due to inaccessibility and lack of information dissemination, among others.
As of July 27 data, Comelec reported an 82.99 percent PWD voter turnout — an increase from 74.52 percent in the 2013 polls.
Zubiaga, however, said it should not be mandatory for PWDs. For her, it should be a choice because not all PWDs have mobility and accessibility problems.
Lawyer and disability advocate Jessica Magbanua of the Alyansa ng may Kapansanang Pinoy (AKAP-Pinoy) shares the same sentiment.
"Probably there are some PWDs who have minimum discomfort or difficulty in casting vote so system should voluntary basis," she said.
Aside from a longer period to vote, Zubiaga said the Comelec would also have more flexible time to prepare accessible polling places and support services. "Hindi na kami kasali sa gulo (We won't interfere with poll preparations)," she said.
In his inaugural speech, House Speaker Pantaleon Alvarez said PWDs and senior citizens should have the option to avail of local absentee voting.
"The fact that you are elderly or in a wheelchair should not disenfranchise you from participating in the most sacred exercise of a democratic nation – electing your leaders into office," Alvarez said.
At present, absentee voting privileges are afforded only to those unable to vote in their respective polling places on election day "by reason of public functions and duties," according to Executive Order No. 157, s. 1987.
They include government officials, police and armed forces, and members of the media. Election inspectors, meanwhile, are allowed to vote in the polling place where they are assigned on election day.
Local absentee voting is done a week before election day at designated polling places or field offices of the Commission on Elections. Voting is limited to national elective posts such as president, vice president, senators and party-list representatives.
Pushing for legislation
In 2014, House Bill No. 4958, which sought to provide local absentee voting for PWDs, was filed in Congress but it never got past the Committee on Suffrage and Electoral Reforms.
This time, Alvarez's proposal is expected to gain backing from more than 200 allies, having secured a "super majority" in the House of Representatives.
If the proposed scheme is implemented, Magbanua said Comelec has to make sure the polling places to be used would be accessible and equipped with latest assistive devices while still being given secrecy.
This includes headphones for people with visual disabilities, which were used to give voting instructions to PWDs but without the voter verification feature. (See No more vote verification for PWDs through headphones)
Under Republic Act No. 10366 or the accessible polling places law, the state shall ensure PWDs and senior citizens are able to exercise their right to political participation without discrimination or restrictions.
This means designing systems and procedures that will enable PWDs and senior citizens to register and vote by themselves.
Both Magbanua and Zubiaga eye the use of schools that have accessibility features. Magbanua, meanwhile, is also keen on exploring the option of postal voting, which is adopted overseas.
In July, an international nonprofit found this year's elections "disability-inclusive" compared to previous ones. (See Despite shortcomings, int'l nonprofit lauds Comelec for PWD-inclusive polls)
Reports of PWDs taking a flight of stairs to vote, or opting out of their privileges to vote in emergency accessible polling places, still abound, though. (See Despite EAPPs, voting not any easier for many PWDs and senior citizens)
In the meantime, Magbanua reminded PWD voters to make sure they are eligible to vote to avoid instances of missing names resulting to disenfranchisement, which some PWDs experienced in the May 9 polls.