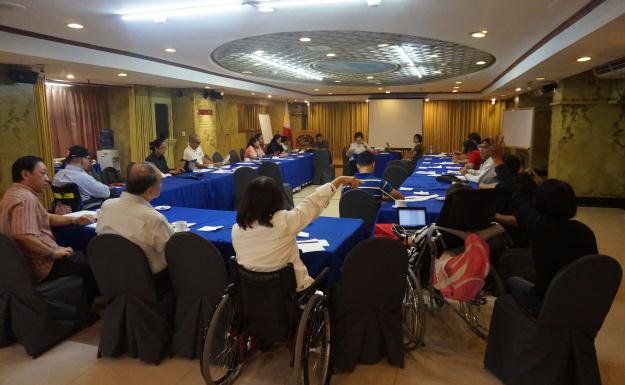 By DANIEL ABUNALES
THE disability sector still faces a host of challenges, but at least when it comes to voting, persons with disabilities (PWDs) are getting some help.
In a recent survey, Alyansa ng may Kapanansanang Pinoy (AKAP-Pinoy) said the Board of Election Inspectors (BEIs) in the May 9 polls were sensitive enough to the needs of PWDs.
It found that 76 percent of the precincts it monitored gave PWDs proper assistance from the moment the voters entered the polling places until they finished voting.
AKAP-Pinoy deployed 493 registered PWD voters to monitor the conduct of elections in 1,724 precincts in different parts of the country last May.
Serving as BEIs, teachers in 75 percent of the sites monitored were courteous to PWDs. Majority of the BEIs also used politically correct terms on disability.
But AKAP-Pinoy still noted there were a few instances, 27 percent, when BEIs did not use PWD-sensitive language.
However, the monitoring results showed there was significant improvement from the 2013 mid-term elections. (See: Comelec failure shuts PWD out of 2013 polls, but volunteers fill the gap).
The survey revealed that three years ago, deaf voters were mocked when they communicated with signs.
Back in 2013, another PWD voter was denied priority and was not assisted by a BEI who said there were many others who arrived earlier than the PWD voter.
Other voters complained why PWD voters were given special treatment. Some also reported cases of discrimination when exercising their right to vote.
The survey is part of AKAP-Pinoy's project called, Enhancing Collaboration for Disability Inclusive Election (ECDIE).
It began with focus group discussions held early this year in eight different regions. Seventy-seven PWDs and parents of children with disabilities, and 95 others including Comelec and PPCRV representatives, PWD assistors, and sign language interpreters participated in the consultations.
The regions included Ilocos, Central Luzon, National Capital Region, Calabarzon, Bicol Region, Western Visayas, Northern Mindanao, and Davao Region.
Accessible polling places
Among the other problems identified during the series of consultations were limited physical accessibility, inadequate materials including chairs and tables, lack of assistive devices leading to communication barriers, and poor transportation and mobility.
Another issue raised during consultations was the absence of priority lanes in some voting centers. In some cases, signages in priority lanes were not visible.
Participants observed most PWDs in rural areas have low awareness about their right to vote.
The ECDIE also project monitored this year's elections in terms of environment accessibility, voting process itself, and election official's sensitivity in dealing with PWDs.
Of the monitored precincts, 57 percent had smooth and level pavements from the street to the main entrance. Central Luzon reported the highest percentage of precincts with smooth and level pavement at 75 percent, followed by NCR at 67 percent, while Davao region reported the least at 35 percent.
Thirty-six percent of the polling places were reported to be elevated. While 25 percent of the sites monitored had ramps but not all of them had rails on each side.
Ramp availability is mostly seen in NCR precincts. Low percentages on ramp availability were observed in Davao and Northern Mindanao regions.
In terms of transportation provision, only 12 percent got transportation assistance, while 39 percent of traveled on their own.
AKAP-Pinoy volunteers recorded in nine percent of the cases, politicians provided transportation for PWDs. Section 261 of the Omnibus election code prohibits such action.
The Commission on Elections reported of 213,971 registered PWD voters, a total of 177,581 voted last May 9. In 2013, 149,315 of the 200,358 registered PWDs exercised their right to suffrage.