DDS NEWSINFO, a pro-Duterte YouTube channel with a history of publishing falsehoods, erroneously claimed that President Rodrigo Duterte gave an order last week to replace election technology provider Smartmatic.
Branded as "breaking news," its untrue Jan. 22 video bore the headline: "BREAKING NEWS TODAY JANUARY 22, 2021 PRES DUTERTE MAY BAGONG UTOS SMARTMATIC TATANGGALIN (Pres. Duterte has a new order, Junk Smartmatic)."
But a cursory Google search revealed Duterte made no such order this month.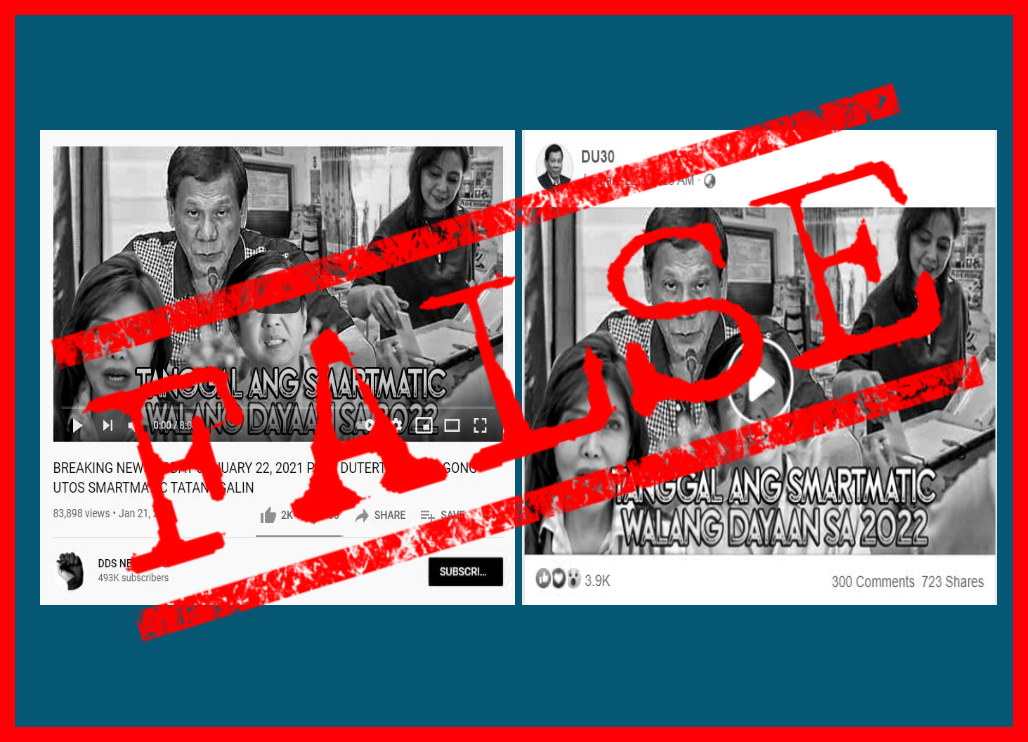 DDS NEWSINFO's content did not support the claim in its headline.
It featured an eight-minute clip from an hour-long Bombo Radyo newscast that day, where Sen. Imee Marcos, chair of the Senate committee on electoral reforms and people's participation, talked about the potential challenges in preparing for the 2022 elections amid the COVID-19 pandemic. She suggested that the country put in place a hybrid polling system, but nowhere in the interview did Marcos mention Smartmatic.
It was nearly two years ago when Duterte called for the replacement of Smartmatic. He advised the Commission on Elections (Comelec) during a May 30, 2019 speech in Tokyo, Japan, to replace the company as the country's vote-counting machine (VCM) provider in the next presidential polls.
The London-based company has been the local VCM provider since the 2010 automated elections. It faced graft and corruption charges alongside former Comelec officials in 2013, and a lawsuit in 2016 after changing an election-related hash code in the polls without Comelec's permission.
To convince viewers about its false headline, DDS NEWSINFO's thumbnail carried a similar message: "TANGGAL ANG SMARTMATIC | WALANG DAYAAN SA 2022 (Smartmatic removed | No fraud in 2022)." The graphic also included a photo collage of Duterte, Imee Marcos, Vice President Leni Robredo, and former senator Ferdinand "Bongbong" Marcos Jr.
DDS NEWSINFO's video got over 84,000 views on YouTube and 538 interactions on Facebook (FB). A reuploaded version by FB page DU30 got 3,900 reactions, 300 comments, and 322 shares.
DDS NEWSINFO was created in December 2012, DU30 in May 2020.
(Editor's Note: VERA Files has partnered with Facebook to fight the spread of disinformation. Find out more about this partnership and our methodology.)