Behind President Duterte's curse-laden talk is a man in panic.
And the one subject that drives him up the wall is his alleged huge bank deposits first exposed by Sen. Antonio Trillanes IV in April 2016, just weeks before the presidential election which Duterte won.
The latest development is the receipt by the Office of the Ombudsman of Duterte's and his family's bank records from the Anti-Money Laundering Council, in connection with the plunder and graft complaints filed by Trillanes.
In his complaints, Trillanes attached records of accounts of the president and his family members in several banks, which the senator said totalled more than P2 billion. Trillanes said Duterte had at least P211 million in the bank in 2014, which the latter did not declare when he filed his Statement of Assets and Liabilities and Networth (SALN) the same year.
From the start, all counteractions of Duterte regarding the bank accounts were to confuse the people, starting from the non-waiver that he issued to his lawyer, Sal Panelo.
Last month, Duterte resorted to manufacturing lies. He released a list of alleged bank accounts of Trillanes overseas. It was so crudely done they got the name of the senator wrong, the names of the banks wrong, and the address of one bank wrong.
When Trillanes, accompanied by reporters, went to Singapore and proved that the bank accounts were non-existent, Duterte admitted that he just invented those bank accounts to put one over the senator. "Produkto ng isip ko to," Duterte said.
Duterte's frustration that he is not able to kill the issue is becoming obvious.
The AMLC, now headed by Mel Georgie B. Racela, who replaced Julia Bacay Abad, whom Duterte suspected as the source of the records of his bank accounts obtained by Trillanes, has denied giving the Office of the Ombudsman Duterte's bank records.
Racela, a Bedan like Duterte, maybe saying the truth that he did not transmit to the Ombudsman records of Duterte's bank accounts. But the fact is, documents, about 70 pages, from AMLC, were delivered to the Office of the Ombudsman last week. Who facilitated the transmittal?
Racela's denial is understandable. He must also be panicking.
Duterte has threatened to form a body that will investigate alleged corruption in the Ombudsman, which the Integrated Bar of the Philippines said is "constitutionally suspect" and "effectively defeat the independence and flexibility needed by the Ombudsman in the discharge of her duties."
Duterte warned that officials who will not heed the summons of that body will be arrested.
Ombudsman Conchita Carpio-Morales stood her ground."Sorry, Mr President, but this Office shall not be intimidated," she said, adding, "If the President has nothing to hide, he has nothing to fear."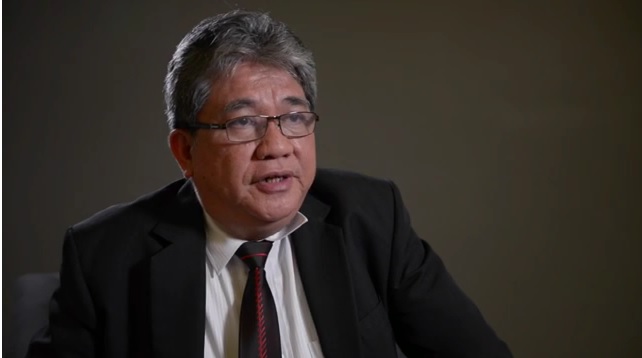 Overall Deputy Ombudsman Arthur Carandang
This angered Duterte even more. Speaking before the IBP Davao Chapter Saturday, he flailed like a drunken boxer for 45 minutes. He again lashed out, not only at the Ombudsman but also at Supreme Court Chief Justice Lourdes Sereno. He challenged the two to resign from their positions together with him.
"I now challenge Carpio to resign with me at itong si Supreme Court Justice, sige nga! Ikaw, may kaso. Morales, unahin mo 'yung mga kaso noong nai-file nang matagal na! You are in on a selective justice ****. Bakit nauna 'yang mga… 'yung amin na hindi pa totoo? I said it to your sorrow. May—mabuti pa, may kaibigan man kayo, Central Bank, **** silipin na lang ninyo. Kaya sabi ko talaga, isampal ko 'yan sa mukha ninyo, tingnan mo. Kami, taga-probinsiya lang. Hindi kami **** hindi ako pitsugin na pagkatao, letse kayo. Ba't kayo lang ba may pamilya? Eh kung sabihin ko ****, ikaw? You're a rotten lawyer also. I have talked to your clients. You are no better than the others.

"Magsalita kayo parang onion-skinned. Why? What thick of my skin do you prefer, the skin of the bull? You know, that is a oft-repeated Supreme Court decision. So kung wala nang iba, do not be too onion-skinned, okay! But whoever thought that I would be bargaining even my honor, eh kung sabihin ko sa'yo "****ka, daldal ka nang daldal. Wala ka naman sinasabi! Eh anong grado mo sa bar?" Kung magsalita kayo ng… hoy, hindi ako mamatay 'pag hindi ako presidente. I said, I challenge you two. Eh kami man nagpapagulo, nagpapagamit 'yang dalawa eh. Oh 'di mag-resign tayo! I challenge the two, we will go to Congress, in a simple ceremony, we sign the letter of resignation. Sige nga! Then let us open all the books pati inyo. Bakit ka magsalita na…"
But the most chilling threat was directed to Overall Deputy Ombudsman Arthur Carandang, who said the documents attached by Trillanes in his complaints and the one from AMLC, upon cursory look, is "more or less the same."
Duterte warned Carandang: "Carandang, mag magdasal ka lang, Carandang. I'm not threatening you. Pagka nagkaletse-letse ang Pilipinas, uunahin kita."
Trillanes issued a statement calling support for Carpio-Morales and Carandang:
"Nananawagan ako sa ating mga kababayan at mga cause-oriented groups na ipahiwatig nila ang kanilang suporta kay Ombudsman Conchita Carpio Morales at Deputy Ombudsman Arthur Carandang upang magampanan nila ang kanilang tungkulin na panagutin ang mga tiwali sa ating gobyerno."
Threats should not be taken lightly. Especially from someone powerful whose state of mind does not seem to be rational.