By ELLEN T. TORDESILLAS
WE are glad that Facebook has restored the account of journalist Inday Espina-Varona after it was erroneously blocked last Monday morning.
What happened to Inday's FB account shows how things have gotten out- of -control with Facebook, the social media  phenomenon with over 1.79 billion users, almost a fourth of the world's population.
Monday evening, when I visited Inday's vibrant FB page, I got this advisory: "Sorry, this content isn't available right now.
"The link you followed may have expired or the page may only be visible to an audience you're not in"

Inday said she was informed by Facebook Monday that "Someone asked us to review your profile because it might not be following our Community Standards. We'll need to review your name of Facebook with you by Sunday Dec. 4, 2016.
"We'll walk you through the review process in your Support Inbox. That's where we'll keep all of the messages with you."
She was surprised because Sunday evening she wrote FB Philippines executive asking why complaints about online abuse were being dismissed by FB.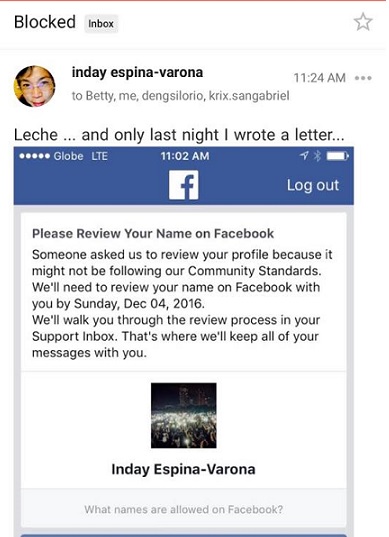 One can imagine that there are those who are not pleased with Inday's posts against the burial of Marcos at the Libingan ng mga Bayani. Inday was also strong in her stand for the Lumads that didn't please the military.
What's the policy of FB on complaints? Do they just go by numbers without even evaluating the sense and quality of the complaints?
A number of concerned Facebookers denounced FB's blocking of Inday's account. The National Union of Journalists of the Philippines issued a statement asserting that Inday, former NUJP chairperson, "has never violated any professional and ethical standards as a journalist and blogger and can attest that she, in fact, is among the most tolerant when it comes to conflicting thought and opinion on her social media accounts, although she does not tolerate outright abuse such as threats, personal insults and hate speech."
NUJP urged FB "to be more circumspect and engaged in determining whether an account is or is not liable for violating their community standards instead of relying solely on mindless algorithms to separate the chaff from the grain. To allow the silencing of reasonable voices again and again does not reflect well on their company's avowed aims."
Yesterday, Inday was back in FB.
Inday said she got an email from Elizabeth Hernandez, Facebook's head of public policy in the Asia Pacific saying: "Thanks you for your patience, as we investigated this matter. It seems your account was incorrectly enrolled in a fake name checkpoint. Your account has been cleared from this checkpoint, so you should be able to access it now."
Hernandez's explanation does not  quite re-assure FB users that they would not be the next victim of cyber bullying which was what happened to Inday.
It's worth mentioning though  that Facebook is doing something to advance responsible social media behavior.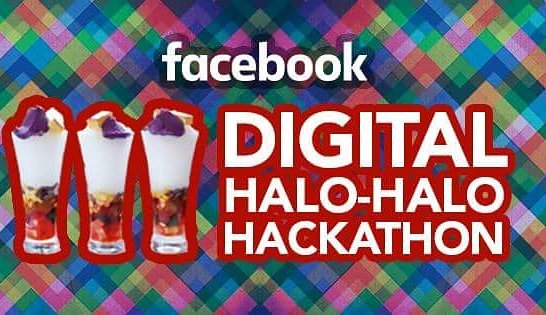 Last Saturday, I was one of the judges of the Digital Halo-Halo Hackathon, a project of Facebook with Affinis Labs to promote online literacy and responsibility.
Shahed Amanullah, co-founder and chief technology officer of Affinis Labs, said  conscious of the power of Facebook, they want to promote responsibility borrowing a quote from Spiderman, ""With great power comes great responsibility."
To  help achieve that, they invited proposals from individuals and groups offering  cash prize of $5,000.
The proposals that made it to the finals were advocacy-based reflecting the social consciousness of the young proponents.
Ahon, by Team Ahon is a video platform that will create awareness and empower persons with disabilities by telling their success stories, showcasing and maximizing their skills & talents, and eventually help them have access to job opportunities.
AskPIA (Public Information Assistant) by Team Binignit is a service-oriented chat bot that provides one-on-one conversations allowing its users free access to HIV-related information, services, and programs.
Infolytics by  Team Logic  is a web platform that rates credibility and reliability of news information found online.
MError by   In The Mix is  your Facebook personal analytics. It's  a Facebook plug-in that highlights words and phrases you use in social media to alert you to language that could be interpreted as hostile.
Paglaum.com by Team  Paglaum is a digital crowdfunding platform that produces content on the diversity of cultural communities, their practices, and experiences, including prospective activities that require support.
Project 97 by Team Project 97 is an online platform that seeks to build a positive image of Mindanao by sharing the stories of the people visiting the region.
Declared  winner was  MError.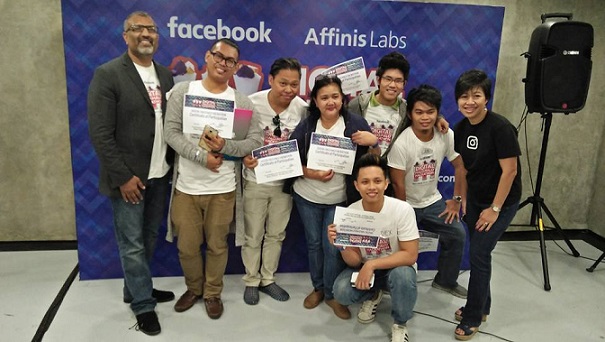 (Related article how the team did it http://www.theyouthfulgrannyva.com/digital-halo-halo-hackathon-a-unique-unforgettable-experience-for-this-filipino-freelancer/)
Congratulations! We wish you the best in implementing your wonderful idea.