The Association of Southeast Asian Nations (ASEAN) is veering away from the practice of deciding by consensus that has been in place in the last five decades, former President Fidel V. Ramos said.
"There are now very strong moves for members of ASEAN to get out of so called ASEAN way," Ramos said Oct. 12 in Makati City, at the first leg of the ASEAN leaders' forum that aims to discuss challenges facing the 10-member organization which is celebrating its 50th anniversary this year with the Philippines as host.
Ramos was with former Prime Minister of Malaysia Mahathir Mohamad.
Article 20 of the ASEAN Charter requires that, as a basic principle, decision-making among countries be based on consultation and consensus. This means all countries must support the group's formal decision.
However, in a situation that consensus cannot be reached, the charter said the issue should be tackled by the leaders in the ASEAN summit.
Ramos, who is a member of the ASEAN Eminent Persons group, an advisory body to the ASEAN, said the regional organization may be transitioning from the consensus rule to adopting the majority rule instead.
He said back then, in their discussions in EPG, they agreed that it is time to adopt the majority rule and replace the consensus rule.
The consensus style of decision-making, which analysts say is reflective of Asian temperament that Westerners may have difficulty understanding, has been credited with forging unity among members – Brunei, Cambodia, Laos, Indonesia, Malaysia, Myanmar, Philippines, Singapore, Thailand and Vietnam – with diverse economic levels, culture, dominant religion, and historical background.
Founded Aug. 8, 1967 with Indonesia, Malaysia, Philippines, Singapore and Thailand as original members, ASEAN has grown into a dynamic grouping of roughly 630 million people. The ASEAN Economic Community is the third largest economy in Asia, after China and India and the fifth largest in the world.
The consensus style, however, is also seen by analysts as inefficient and no longer realistic.
"That is almost now impossible with the makeup of our societies," Ramos, who was president from 1992 to 1998, said.
Mahathir, who led Malaysia from 1981 to 2003, looked back and said when ASEAN was founded in 1967, "we then have the Communist rebellion." Communist Vietnam was still in the thick of driving the Americans out and Cambodia was embroiled in a civil war.
Mahathir, who is known as anti-American, said things are different today. "The old formula doesn't seem to work anymore."
"China is buying a lot of countries," added the Malaysian leader, who is known for his candor.
ASEAN's senior leaders: Malaysia's former Prime Minister Mahathir Mohamad and Philippine's former President Fidel V. Ramos in the first of the series of ASEAN Leaders Forum. Rappler's Maria Ressa moderated the forum.
One example of lack of consensus in ASEAN is on the issue on China's reclamation and construction of facilities in the South China Sea, parts of which are also claimed by four ASEAN countries – Philippines, Vietnam, Malaysia and Brunei.
In 2012, no joint communique was issued at the end of the 45th ASEAN Foreign Ministers Meeting, the first in the history of ASEAN, because host Cambodia, a known China ally, refused to include the issue of China's incursion into Scarborough Shoal, which is within the economic exclusive zone of the Philippines.
The Philippines and Vietnam also refused to approve Cambodia's version of the communique.
Last month, Malaysia protested vehemently to the ASEAN statement on the Rohingya crisis in Myanmar calling it "a misrepresentation of the reality of the situation."
Foreign Secretary Alan Peter Cayetano, this year's chairman, issued a statement after a meeting with ASEAN foreign ministers in New York on the sidelines of the United Nations General Assembly, expressing concern over recent developments in the Northern Rakhine State of Myanmar, condemning the attacks against security forces last Aug. 25 as "all acts of violence which resulted in loss of civilian lives, destruction of homes and displacement of large numbers of people."
Cayetano's statement did not mention the word Rohingya, which refers to the more than 450,000 Muslims fleeing Myanmar due to persecution by the government.
Malaysian Foreign Minister Anifah Aman said Cayetano's statement on the situation in the Rakhine State in Myanmar "was not based on consensus."
In reply, the Department of Foreign Affairs said it respects Malaysia's dissent, as it shows "a new level of maturity on how we implement the ASEAN's consensus principle when confronted with issues affecting national interests."
At the forum, Mahathir said the foundations of ASEAN's foreign relations are weaker now.
During his term, he would meet other leaders such as Ramos and late Singaporean leader Lee Kuan Yew, he said. "We were great friends and we solved our problems."
The current ASEAN leaders "don't have the kind of relationship that we had at the beginning," Mahathir said.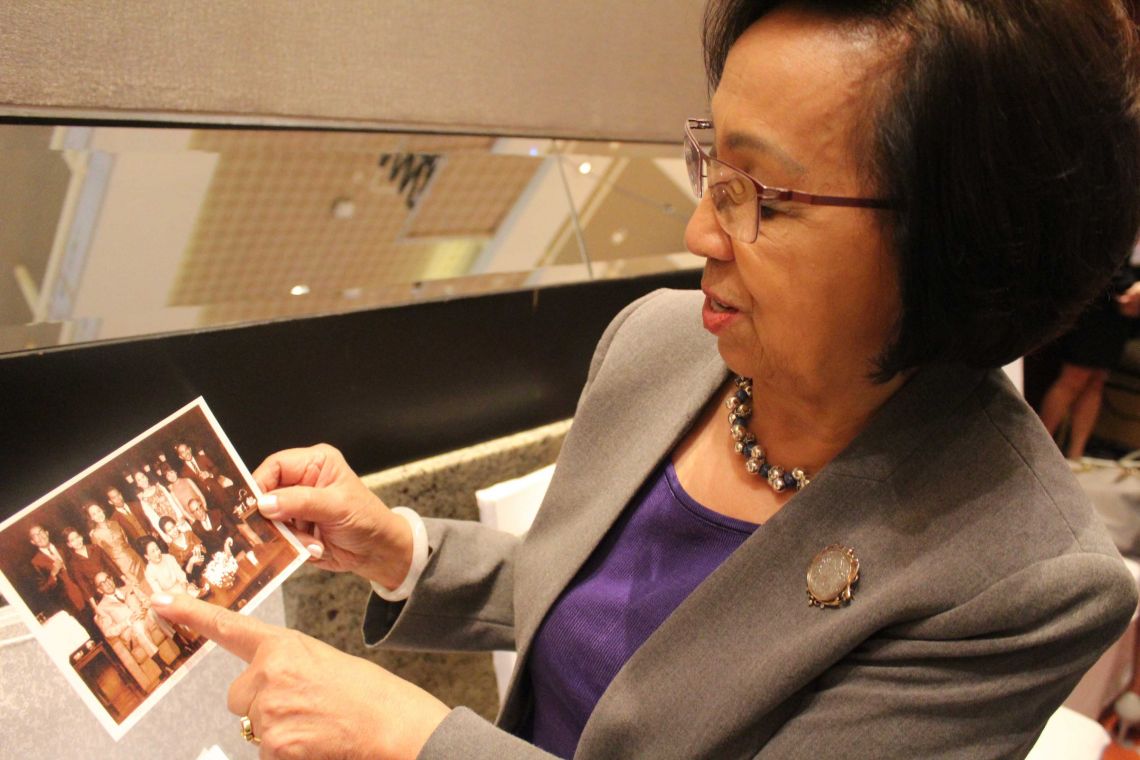 Former Foreign Secretary.Delia Albert shows an old photo with Malaysia's former prime minister Tun Abdul Razak and Philippine's Narciso Ramos in a meeting at the Baguio Country Club which she arranged as a young foreign service officer.
Former Foreign Affairs Secretary Delia Albert, chair of the ASEAN Society, said the presence of Mahathir and Ramos together on stage as the Philippines hosts the 50th year of ASEAN takes special meaning because Malaysia's former prime minister Tun Abdul Razak and Philippine's Narciso Ramos were two of the five original founders of ASEAN.
Narciso Ramos is the former president's father. Razak's son, Najib, is Malaysia's current prime minister.
Mahathir said, "We expected him (Najib) to be like his father. Unfortunately he is not. I'm working hard to get rid of him."
Ramos also had his own complaint about his president. Although he is acknowledged to be instrumental in the election of Rodrigo Duterte to the presidency, he has become critical of him. "Please don't try to do what I'm doing because you might be put in jail," he quipped.