Images courtesy of Art Lounge Manila
Check out Toym Imao's exhibit titled Analog Childhood (Or How a Toym Imao Children Book Would Look Like If He Were to Make One) at the Art Lounge Manila, The Podium until Sept 15, 2022.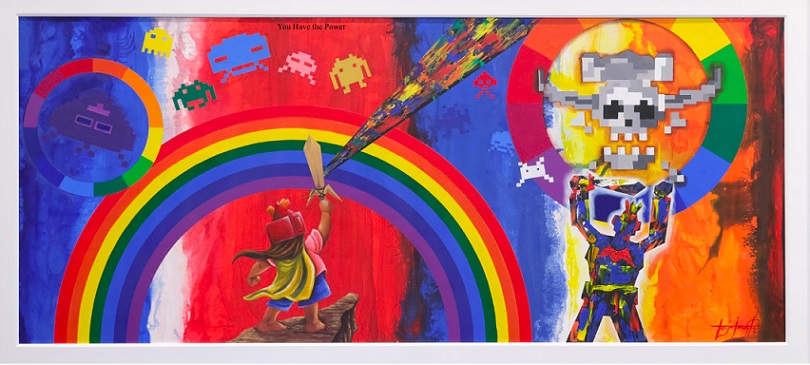 Analog Childhood evokes Toym's childhood under martial law, when his three favorite Japanese super robot TV anime series, Voltes V, Mazinger Z, Daimos, and arcade games, were banned for "excessive violence" by the Marcos regime in 1979. Voltes V was the most popular among Filipino kids then —an anime series that revolved around themes of resistance and rebellion.
The artist uses these anime stories to tell about the continuing battle of good vs. evil and the persistence of hope amidst the siege against human rights, freedom of the press, and disinformation. By coincidence, this year marks the 50th anniversary of the imposition of martial law.
"Let's Volt in!"
Comprising of 58 paintings in acrylic on canvas and vibrant colors of red, yellow, and orange, and 24 tabletop sculptures in cast bronze, brass, cast iron and steel, the exhibition narrates stories of innocent children enjoying traditional games and at the same, ready to fight and defend their place in the universe of the imagination.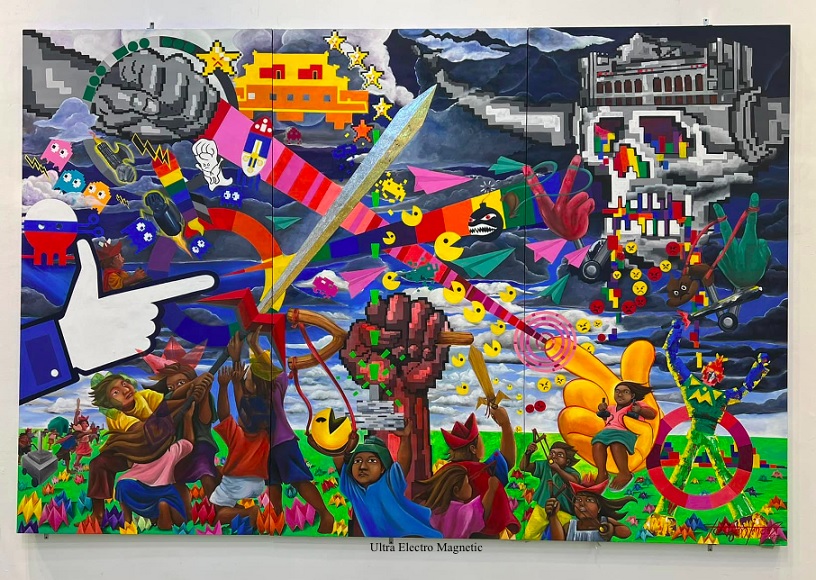 A triptych, Ultra Electro Magnetic Mural is filled with yellow gobbling Pac-Man of various sizes, a group of children raising a giant silver laser sword high into the sky; some other children carry their slingshots and toy swords amidst a looming Boazanian skull ship, a reference to Voltes V.
In another painting titled Resistance in 8-bit, a girl in a pink blouse armed with a sword and a slingshot, prepares bravely to battle it out with unseen villains; in the topmost part of the painting, looms a structure that resembles Malacañan Palace. Yes, the country's youth, the next generation, have the power to dream and to continue the fight for true freedom and democracy.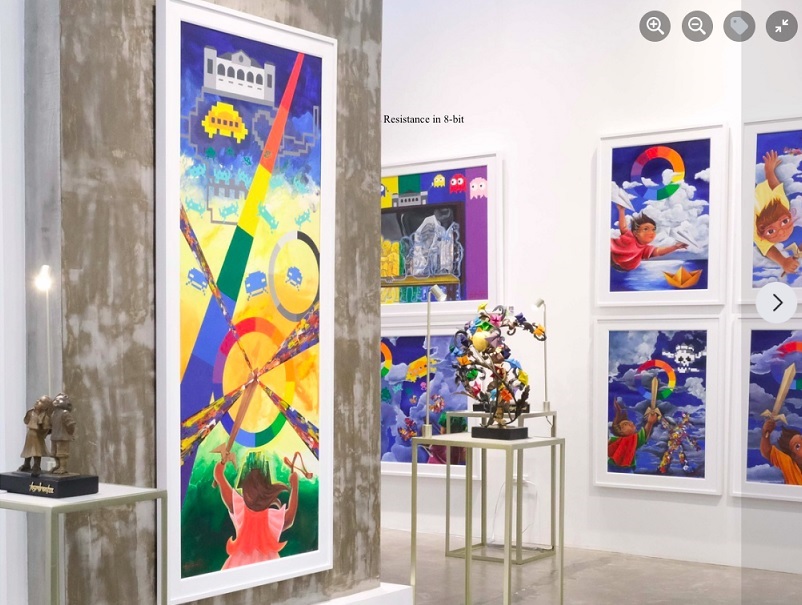 Play Power
Children at play are the focus of the tabletop sculptures, adorned with colorful origami flowers or birds.
Children playing traditional games such as kite flying, hide-and-seek, or the Filipino version of piñata such as pabitin and hampas palayok or even sword play. In Pabitin ng Kapalaran, a poignant reminder that luck or fate hangs over the youth, in these uncertain times.
At first glance, the whimsical and the quirky that characterize Toym Imao's artworks serves as an antidote against the tired mind, and brings a fresh way of looking at age-old problems and issues. Behind the visual play and fun, embedded are nuanced layers of references to Philippine culture and history that make us rethink what it means to be Filipino.
Using his works to engage, provoke, and inspire—the artist has been consistent in expressing visually his love for the nation, and his pride in being Filipino, depicting the best in Filipino values and culture through his art practice. He reminds us to rise above the fracas, and to do the same.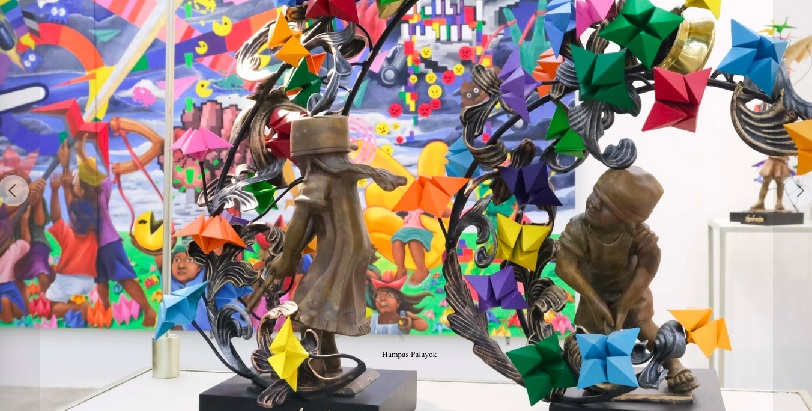 Public Art and Installations
Known for public art, embedded in Toym Imao's monuments and shrines (such as Tandang Sora National Shrine, Quezon City, Andres Bonifacio National Shrine, Maragondon, Cavite, and Dr. Jose P. Rizal Statue, Carson City, California) are narratives of history and nationalism, following the tradition of Guillermo Tolentino, Napoleon Abueva, and Eduardo Castrillo, our great sculptors.
Known also for his large-scale art installations, recent ones include Barikada (2021) that marked the 50th anniversary of the Diliman Commune and Desaparecidos (2021), a tribute to those lives lost under martial law, both in UP Diliman, and Whispering Flower Beds (2021), an installation using 12 old and broken PGH hospital beds filled with plants and flowers as a tribute to the fallen frontliners of the COVID-19 pandemic in the country.
And for the last eight years or so, Toym Imao has been the master artist who mounts the annual UP Pailaw, a lighting ceremony that signals the Christmas season in the university campus such as Parola in 2020, and Sambabaylan in 2021.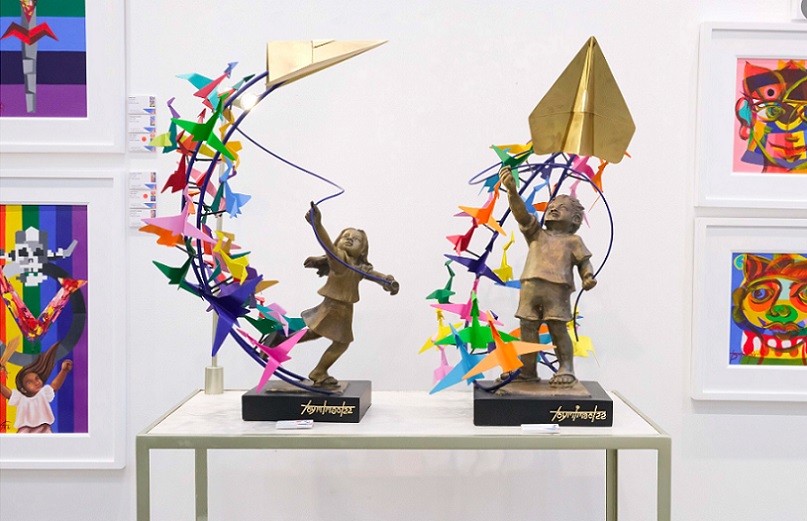 Toym Imao, Irrepressible
An architecture graduate of UP Diliman, and a member of its fine arts faculty, Abdulmari Imao Jr. (b. 1968) has a master of fine arts degree in sculpture from the Rineheart School of Sculpture, Maryland Institute College of Arts under a Fulbright Scholarship.
He is the son of Abdulmari Imao (1936-2014) National Artist for Visual Arts, 2006 and Grace de Leon and given the nickname of Toym by his father who was awarded the Ten Outstanding Young Men in 1968, the year of Toym's birth.