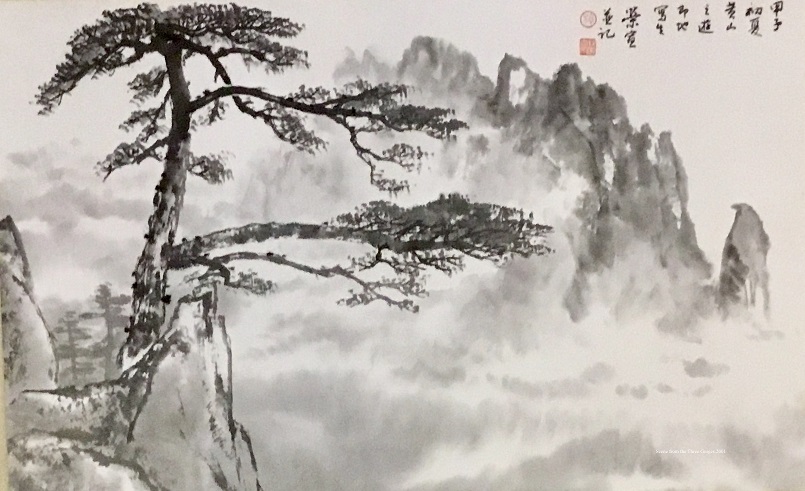 Scene from the three gorges, 2001
Coalescences: 60 Years of Hau Chiok is on show at the Metropolitan Museum of Manila until January 15, 2019. Reaching 60 is a significant milestone in Chinese culture and the exhibition celebrates Hau Chiok's 60 years of work, embodying his lifelong dedication in exploring Chinese brush-and-ink painting as an artist and as a teacher.
Some one hundred scrolls are on display, with nature as its central theme. It is believed that the world of nature as seen in plants and animals reflects the workings of a higher order that the artist seeks to understand and express its vitality and qior life-force.
The Lingnan School: Flowers, Birds, and Insects
The region south of the Five Ridges in Guangdong is known as Lingnan where at the turn of the 20th century, a group of local artists who studied art in Japan were exposed to Japanese and Westernrealist painting and the use of bright colors.Returning to China, they led a movement for "balancing Chinese and foreign, blending ancient and modern" towards "a New National Painting."
Hau Chiok (b. 1932), exhibits works with traditional bird-and-flower and fish-and-insects subject matter as well as landscapes as part of the repertoire of artists belonging to the Lingnan School of Chinese painting. His mastery of the brush is seen his wide and powerful strokes and in a range of thin and delicate lines that depict a dragonfly flying towards some flowers, bees whirling its wings, or ants moving its antennae on pea plants.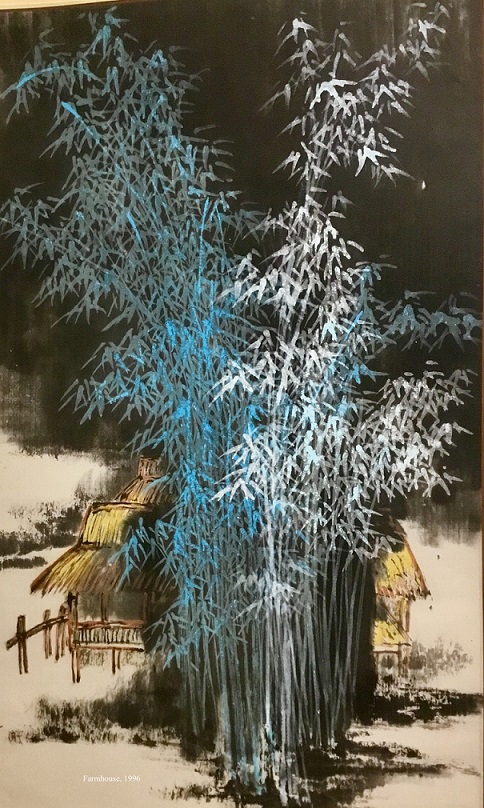 Farmhouse, 1996
Other themes include landscapes in the tradition of shan-shui or literally, mountain-water paintings. Hau Chiok's landscapes range from the craggy peaks soaring above the clouds of Three Gorges along the Yangtze River, the Yosemite in California, or Taal Volcano in Batangas. His landscapes induce a strong sense ofcontemplation through gentle brush strokes and faint, almost faded ink washes, including the presence ofwide swathes of white space, referencing the Daoist concept of emptiness, a state of mind in quietude and restraint.
Closer to home, Hau Chiok paints a number of Philippine scenes, with seemingly familiar views and yet, distinctly different— ink on paper. Manila landmarks include the Manila City Hall overshadowed by a gnarled tree, an Intramuros Gate, Muelle de Binondo, and the Binondo Church. In his Fishing Village (2001), he depicts nipa huts huddled under a giant tree, a banca sailing from afar and in the foreground, two tiny figures using bamboo traps. Set against the vastness between the sky and the earth, the puny human beings underscore the fragility of human existence.
The Four Treasures
Known as the Four Treasures of The Study —brush, ink, ink stone, and paper — are used in Chinese painting. The pointed-tip brush is made of animal hair with a bamboo handle. The ink, the traditional painting medium of China, is a solid stick made of pine soot and animal glue, rubbed against an ink stone with a little water to liquefy it; liquid ink is also available. It is said to contain an "infinite gradations of color." Instead of canvas, xuan paper or silk is used. Xuan paper, also known as "rice paper," is made from the inner bark of the blue sandalwood tree fromXuancheng, Anhui. Highly absorbent, xuan paper has no room whatsoever for erasures or corrections.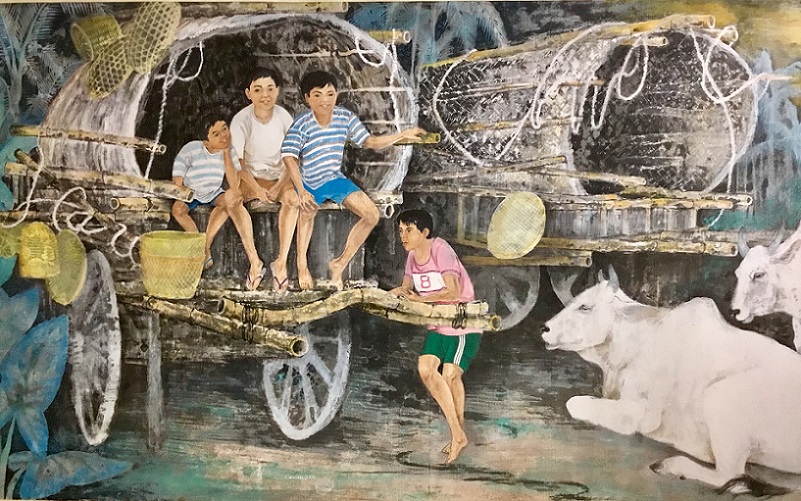 Caravan, 2001
A Journey into Artistry and Education
A first-generation Filipino-Chinese from Jinjiang, Fujian, Hau Chiok copied endlessly drawings from art books as a child. Despite his father's objections, he pursued his interest in painting. Mostly self-taught, he studied in the 1960s under Zhao Shao Ang of Hong Kong, a Lingnan School master, andWu Zai Yan, an esteemed artist of finger painting in Singapore. Later, Hau Chiok and his wife, also an artist, Sy Chiu Hua (b. 1946), taught at Gallery Bleu in Rustan's Makati and Silangan Art Gallery, Rizal Park. By 1970, they opened their own workshop until 2000 in Greenhills. Since 1965, some 3000 students from 56 nationalities have taken art lessons from them. They moved to Canada in 2007.
Du Hua
In the process of du hua, or reading the paintings, one revels in the twists and turns of the brush that bring a rooster or a praying mantis to life as well as the many symbols of Chinese art based on the rich homophones of its language.A gold fish or a carp signify wealth, abundance, power; a frog denotes fertility; the bamboo, which bends and sways with the wind but does not break, represents moral virtue, or a person's inner strength. Hau Chiok'sworks allow us to bask in the stillness that such paintings evoke before we plunge, once more, into the cacophony of life.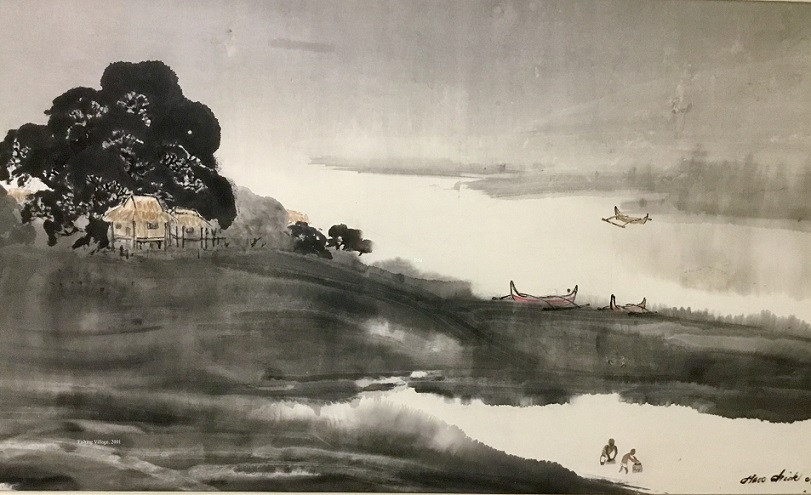 Fishing village, 2001