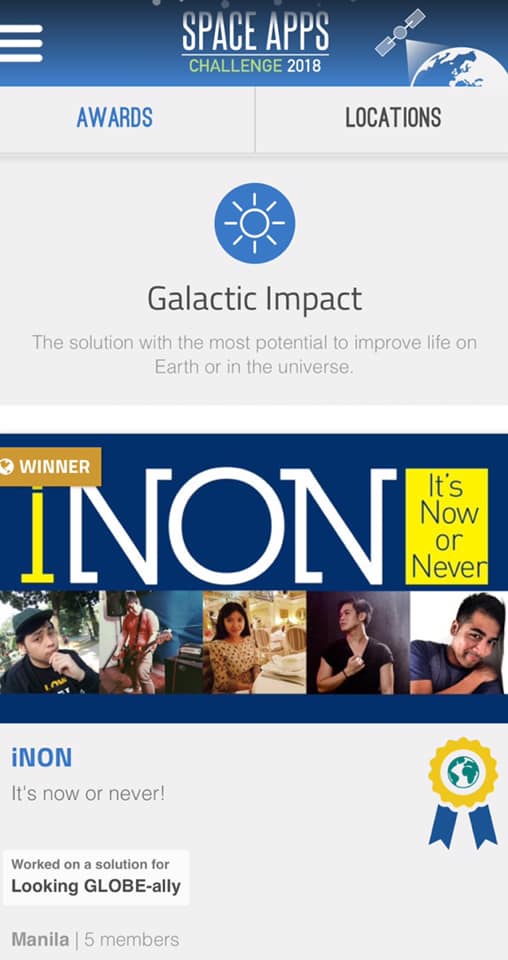 An app developed by a group of Filipino information technology professionals to assist local fishermen in their daily work has been named one of six global winners in the NASA Space Challenge, an announcement made on Feb. 16 said.
The much-awaited announcement was delayed for weeks because of the U.S. federal government shutdown.
ISDApp, an app that would enable fishermen to receive scientific data without Internet connection, was declared winner in the "Galactic Impact" category besting co-finalists from, India, Italy, Romania, and Slovenia.
It was developed by a team of Filipino IT professionals who call themselves iNON (It's Now or Never) composed of Revbrain G. Martin, Marie Jeddah Legaspi, and Julius Czar Torreda.
"Team iNON is truly overwhelmed with this achievement since most of our members are first time joiners of a hackathon. We are a mixture of IT and creative professionals who harmoniously worked together to build ISDApp," it said in a statement.
"From the bottom of our hearts (and the sea) we thank everybody who believed in us and prayed for our success — our families, friends, officemates, DLSU and the US Embassy."
Taking off from the Tagalog word "isda" meaning fish, the app sends useful information to fishermen such as real-time weather, sunrise and sunset, wind speed, and cloud coverage to plan their fishing activities using the NASA GLOBE Observer app, a data collection from citizen scientists around the world used in concert with NASA satellite data to identify or communicate information, and educate the public about planet Earth.
"When ISDApp comes to full fruition, it will help our less privileged fishermen by giving them more accurate and localized weather and sea information, vital to their day to day work." INON said.
In an online message, Patricia Jacobbeger, senior adviser, Earth Science Division of the National Aeronautics and Space Administration, said it was extraordinarily difficult to winnow the list down to just six (one award in each category – Best Use of Data; Best Use of Hardware; Best Mission Concept; Galactic Impact; Most Inspirational; and Best Use of Science) from nearly 18,000 participants and 1,395 winning teams from local events worldwide.
"The quality of all of the projects was astonishingly high, and we are delighted and honored that so many of you came together in teams around the world to respond to the challenges that we posed. You thought deeply and worked hard to produce solutions that use NASA data across an astonishingly wide range of problems, from deep space exploration to solving real and immediate problems here on Earth, "she said.
The winners are supposed to visit NASA's Kennedy Space Center in Florida but the government shutdown, caused by tensions between U.S. President Trump and Congress over border security which delayed the announcement of the winners by a month, has made the trip uncertain.
iNON's Martin said the De La Salle University, which hosted the hackathon last October, is coordinating with NASA in finding sponsors if the space agency would be unable to fund the space center visit.
The Filipino IT team said: "Winning the competition is just the beginning. The real challenge is finding investors who believe in the vision of our team — giving the less privileged access to data and information to help them improve their lives."
"ISDApp represented the country with a simple solution but with a deep purpose, which we believe helped it swim to success. This is proof that even technology needs a heart," INON further said.
(This story is produced by VERA Files under a project supported by the Internews' Earth Journalism Network, which aims to empower journalists from developing countries to cover the environment more effectively.)