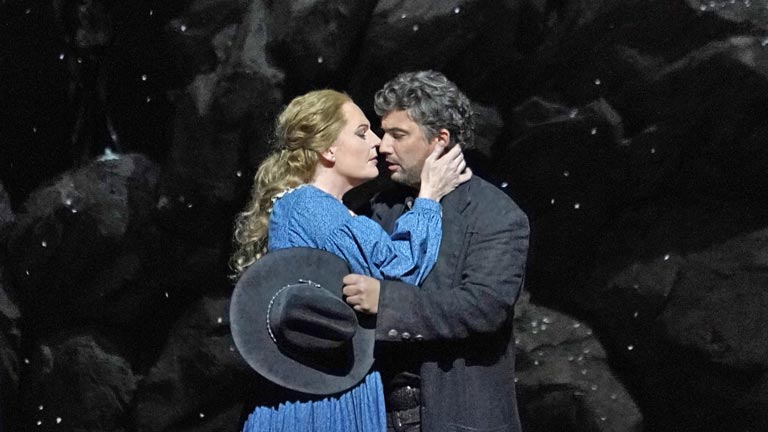 German opera star Jonas Kaufmann is Dick Johnson in Puccini's Fanciulla del West with the Minnie of Eva-Maria Westbroek in the closing season offering of the CCP-Met HD cultural partnership.
It is set on Tuesday, March 7, 2023, 5:30 p.m. at Greenbelt 3.     
 "Singing Dick Johnson is cool," said the tenor interviewed by host Susanna Phillips before he went onstage for the Met opening night. "I like it because it is not all the time that you can play American cowboy in the so-called wild, wild West."
 The tenor said Fanciulla is really one of the best works of Puccini but has remained underrated through the years. "I guess it is because of the Wagner effect. People don't easily get to like Wagner but once they get to the core of his music, they are hooked. Same with Fanciulla. I loved it after studying its score and finally singing it onstage."
The Met Fanciulla under conductor Marco Armiliato will have Željko Lučić as Jack Rance.
 Kaufmann is noted for his sterling portrayal as Don José in Carmen, Cavaradossi in Tosca, Maurizio in Adriana Lecouvreur, Don Alvaro in La forza del destino, Siegmund in Die Walküre, and the title roles in Parsifal, Werther, Don Carlos, and Lohengrin.
Unknown to many, Kaufmann watched Filipino tenor Arthur Espiritu as Elvino in La Sonnambula in Munich some years back.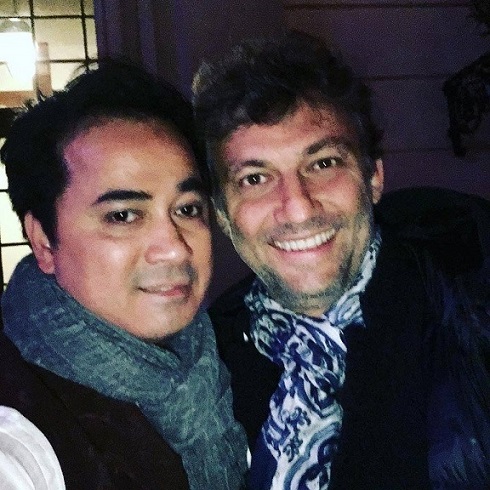 Performing in Baden-Baden's largest opera house and concert hall in Germany, Espiritu wondered when he would cross path with the German tenor.
Singing Alfredo in Oper Klosterneuburg's staging of La Traviata in Vienna with the Violetta of Russian soprano Eugenia Dushin, Espiritu was surprised to see Kaufmann in the Vienna rehearsals.
It turned out Kaufmann was the husband of the Vienna Traviata director Christiane Lutz.
The Vienna Traviata directed by Lutz was so well-received the production had to add one more additional performance.
Espiritu said Kaufman could not come on opening night because of his busy schedule. "His girlfriend, Christiane Lutz, our stage director, took him along."
 "Kaufmann told me I was pretty good in Sonnambula which he saw in Munich. I was a bit speechless," the Filipino tenor recalled. "So, Günter (our Giorgio Germont) just said to him he knows it! Followed by laughter. (Jonas) is so down to earth. It was very inspiring for me to see him. He does set the bar high for us tenors."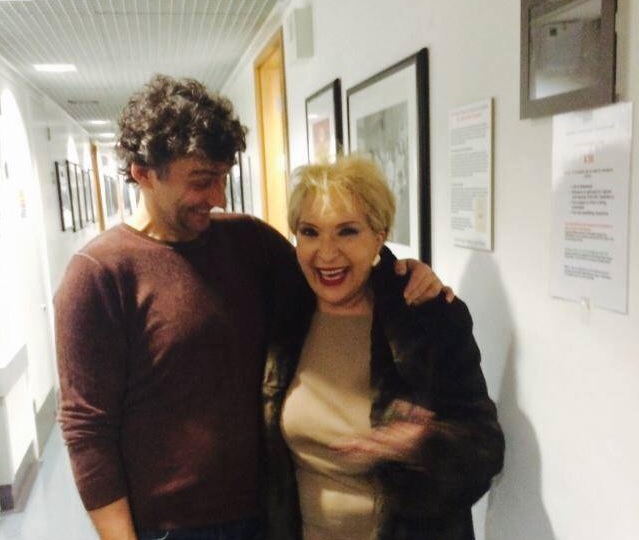 In one Vienna staging, the opera is transferred from the frontier gold diggers' camp to the modern-day world of penniless miners earning a pittance and finding out the meaning of life the hard way.
Kaufmann said he is a fan of his Fanciulla Minnie (Eva-Maria Westbroek) with whom he had earlier appeared in Andrea Chenier and Die Walküre.
In the Met production of Fanciulla, New York Times critic Anthony Tommasini wrote of the Kaufmann-Westbroek opera tandem: "Mr. Kaufmann and Ms. Westbroek seemed to feed off each other during the crucial scene in Act II when Johnson arrives at Minnie's cabin for a humble meal. Tension stirs below the surface of the music as a blizzard builds outside and a posse of miners led by Jack Rance, the town sheriff (the husky-voiced baritone Zeljko Lucic), closes in. But the real tension came from the hints of attraction and emotional need that Mr. Kaufmann and Ms. Westbroek conveyed, even while exchanging seemingly innocent phrases."
 A moving love story set in 1850s Western mining community, Fanciulla ends the seventh season of the CCP Met Opera in HD recreating the live experience of watching an opera production at the Met.
Fanciulla Del West, a three-act opera is based on David Belasco's The Girl of the Golden West. It was first performed at the Metropolitan Opera in New York in 1910 with opera stars Enrico Caruso and Emmy Destinn playing the lead roles of Dick Johnson and Minnie.
 Complete with whiskey-drinking cowboys, gunplay, a poker game, and a snowstorm, La Fanciulla del West is Puccini at his most colorful.  While the opera never gained the same popularity as the composer's other works, Puccini dubbed La Fanciulla as "one of his greatest works."
 Italian conductor Arturo Toscanini called it a "great symphonic poem."
Kaufmann once said: "Opera is a power house, a unique sort of magic and excitement. There is nothing like the thrill of an exciting live performance, with all those risks, and surprises, and that special chemistry between stage and audience; the combination of performed music, theatre and stage design … that's something you don't get in any other genre.'
The Greenbelt 3 opera screening is a special program of the CCP Film, Broadcast and New Media Division, under the Production and Exhibition Department in partnership with the Metropolitan Opera of New York, the Filipinas Opera Society Foundation, Inc., and Ayala Malls Cinemas.
For tickets and other inquiries, call the CCP Box Office: 8832-3704 / 8832-1125 local 1409.