An herbalist incorrectly claimed in a Facebook (FB) Reel that putting sliced onions on the soles of one's feet cures high uric acid levels and rayuma (rheumatism) within a week. 
He also said that the same method treats cough, colds and flu in three days. None of this health advice is true, according to health experts. 
VERA Files Fact Check, Snopes, Healthline, and Buzzfeed News have debunked similar claims as false.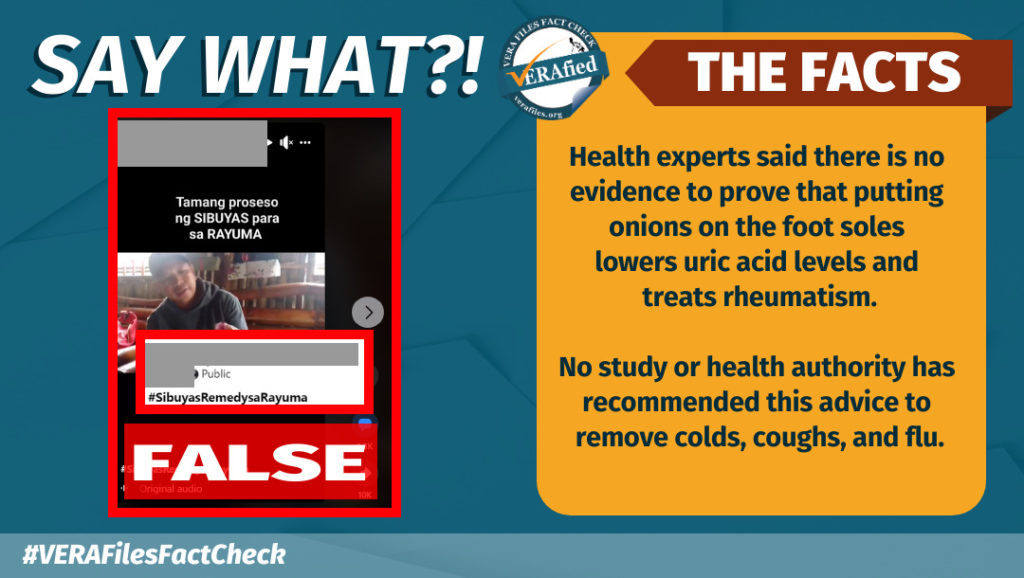 Onions under one's soles to treat uric acid, rheumatism 
"There is no evidence at the moment that putting sliced onions on the soles of one's feet would  remedy high uric acid levels or treat rheumatism in seven days," Cecilia Maramba-Lazarte, director of the Institute of Herbal Medicine at the National Institutes of Health in UP Manila, told VERA Files Fact Check via email. 
Studies done on laboratory rats noted a decrease of serum uric acid levels after they were fed onion juice. Other studies done on animals found that fresh onion juice and onion peel extract in hot water could help reduce inflammation. These results have not been tested on humans. 
Health experts from the Health Desk of non-profit organization Meedan emphasized that onions should not be used to replace any treatments recommended by a doctor. 
"There are no recorded anecdotes in traditional medicine supporting the claim of putting sliced onions under the soles of the feet as treatment for high uric acid or rheumatism," the Philippine Institute of Traditional and Alternative Health Care (PITAHC) told VERA Files Fact Check.
There are anecdotes, however, of practices from Eastern Samar, South Cotabato, and Lanao del Norte where onion is made into a poultice and then applied to a body part affected by rheumatism, PITAHC said. 
Onions to treat cough, colds, and flu
Putting onions on one's feet is not listed as a type of treatment for cough or fever, according to the Cleveland Clinic. There is no cure for colds, although it usually goes away within a week or two. Onions are not mentioned either in Johns Hopkins Medicine's and the U.K National Health Service's advice on managing and treating the symptoms of a cold.
"There is no research that has specifically been done to assess the benefit of putting onions on your feet or anywhere else on your body," the health experts from Meedan said. 
Onions would have no impact on a virus inside the body because viruses need a human host to spread, health experts from Meedan added.
In traditional medicine, patients are asked to drink a decoction of boiled onions to treat colds and cough, PITAHC's Philippine Traditional Knowledge Digital Library on Health shows. 
The erroneous FB Reel appeared four days after the Department of Agriculture announced a suggested retail price of P125 for every kilo of imported red onion. It is a shortened version of a Jan. 29 video posted by the same netizen, which has been taken down as of Feb. 28.
Both videos got a total of over 42,532 interactions.
Have you seen any dubious claims, photos, memes, or online posts that you want us to verify? Fill out this reader request form or send it to 'VERA, the truth bot' on Viber.
(Editor's Note: VERA Files has partnered with Facebook to fight the spread of disinformation. Find out more about this partnership and our methodology.)