A Filipino netizen's Facebook (FB) post wrongly claimed that sliced onions placed under the soles of the feet or in an open jar near a sick person are effective in curing colds, coughs, and fever. 
The FB post, which first appeared on Sept. 3, 2021, recently gained traction among Filipinos, Argentinians, and Colombians. It specifically claimed that:
Slicing a red or white onion and putting it in an infant's soles every six hours or overnight for adults is an effective cure for colds and coughs;

Sliced onions in an open jar near a person who has fever, cold, or cough will help them heal; and 

Onions effectively suck toxins out from one's body immediately after placing these under one's feet.
These claims are false, said health and alternative medicine experts consulted by VERA Files Fact Check. 
Foreign fact-checking organizations Snopes, the Associated Press, and The Healthy Indian Project (THIP.Media) have debunked similar claims.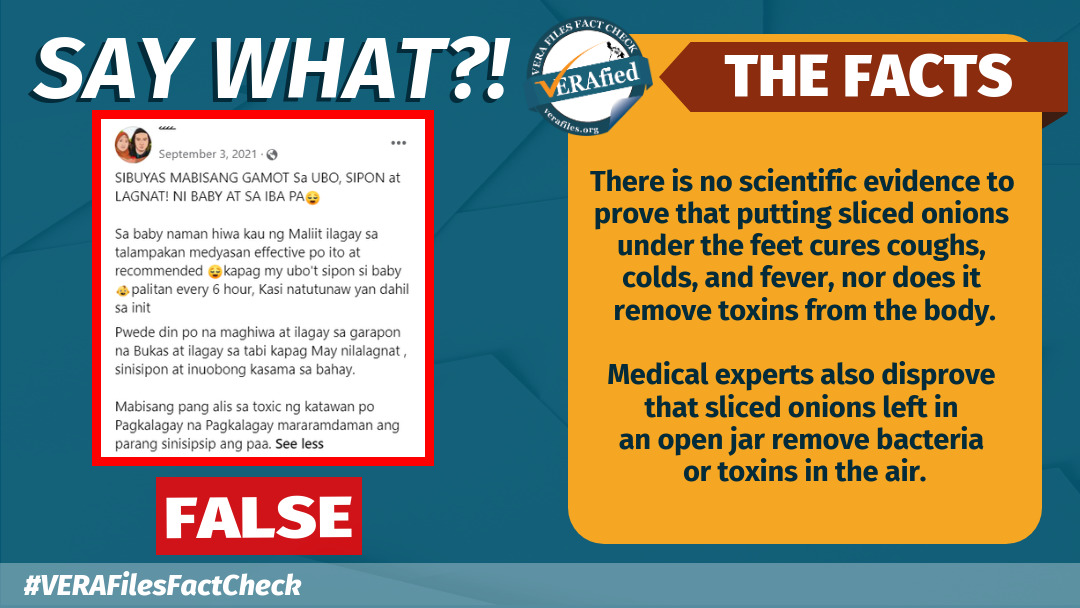 Onions under the foot to absorb toxins
Studies have shown several health benefits of eating onions, but research on the efficacy of putting onions under the feet or in any other part of the body to cure ailments has not been conducted, according to health experts working under the Health Desk of international non-profit organization Meedan.
In an email to VERA Files Fact Check, Dr. Cecilia Maramba-Lazarte, director of the Institute of Herbal Medicine at the National Institutes of Health in UP Manila, said: 
"There is no biological explanation [for putting onions on your feet] to work because how would the onion remove toxins with just a small area of skin contact with the onion."
There are three mechanisms to remove bodily toxins: via the kidneys, the liver, and the gastrointestinal tract, Maramba-Lazarte explained. "Very little toxins are removed through sweat or the skin," she added. 
"Eating onions for its nutritional value would probably be more helpful than putting it in your sock or in a jar," the doctor advised. 
Onions in a jar 
"There is no scientific evidence that a cut raw onion absorbs germs or rids the air of toxins/poisons," according to the United States National Onion Association (U.S. NOA). 
Experts from Meedan's Health Desk have concurred with this, adding, "There is no scientific evidence that an unpeeled onion can absorb germs and protect people in the room from bacteria or viruses." 
The health myth dates back to the 1500s as people claimed that placing a cut raw onion in rooms could protect its occupants against the bubonic plague, the U.S. NOA stated. 
In the early 1900s, people believed that putting raw cut onions in a room fought off epidemics such as smallpox, flu, and other infectious diseases, a 1953 article in the Western Folklore journal explained.
What are onions? 
Onions are root vegetables from the "Allium" family of flowering plants, according to Meedan's Health Desk. Rich in vitamins B and C, potassium and fiber, onion is a common ingredient in cooking dishes. 
A 2021 article in the Frontiers in Nutrition journal summarized several studies which found that onions contain bioactive compounds that prevent inflammation, oxidation, and inhibit the growth of bacteria, microbes, lung cancer cells, and ovarian cancer cells. 
Laboratory studies have concluded that a high consumption of onions is associated with lower bad cholesterol and a lower risk of heart attacks and colorectal cancer.
In traditional Philippine medicine, onions, in the form of paste, were applied for skin infection, itching, wounds, and boils, according to the Philippine Institute of Traditional and Alternative Health Care (PITAHC).
Anecdotes from Eastern Samar and Maguindanao show that onions were mixed with other plants and applied to an affected area to treat rheumatism, sore throat, and intense crying of infants, the Philippine Traditional Knowledge Digital Library on Health recorded.
Have you seen any dubious claims, photos, memes, or online posts that you want us to verify? Fill out this reader request form.
(Editor's Note: VERA Files has partnered with Facebook to fight the spread of disinformation. Find out more about this partnership and our methodology.)