A recent online post claiming the Supreme Court (SC) junked a corruption case against the late strongman Ferdinand Marcos and his family carries false and misleading information.
Published by a netizen on Feb. 16, the post carried a photo of Marcos with two blurry screenshots of an SC decision and text that read:
"Breaking news: Kaso ng mga Marcoses sa Supreme Court, ibinasura! Ill gotten wealth at iba pang kaso, napatunayang gawa gawa lamang ng mga Aquino (Breaking news: Cases of the Marcoses with the Supreme junked! Ill gotten wealth and other cases, proven to be made up by the Aquinos)."
In the caption, the netizen also said the SC that day affirmed a Sandiganbayan decision declaring the Marcoses "innocent," and that they "did not steal even one peso from the government."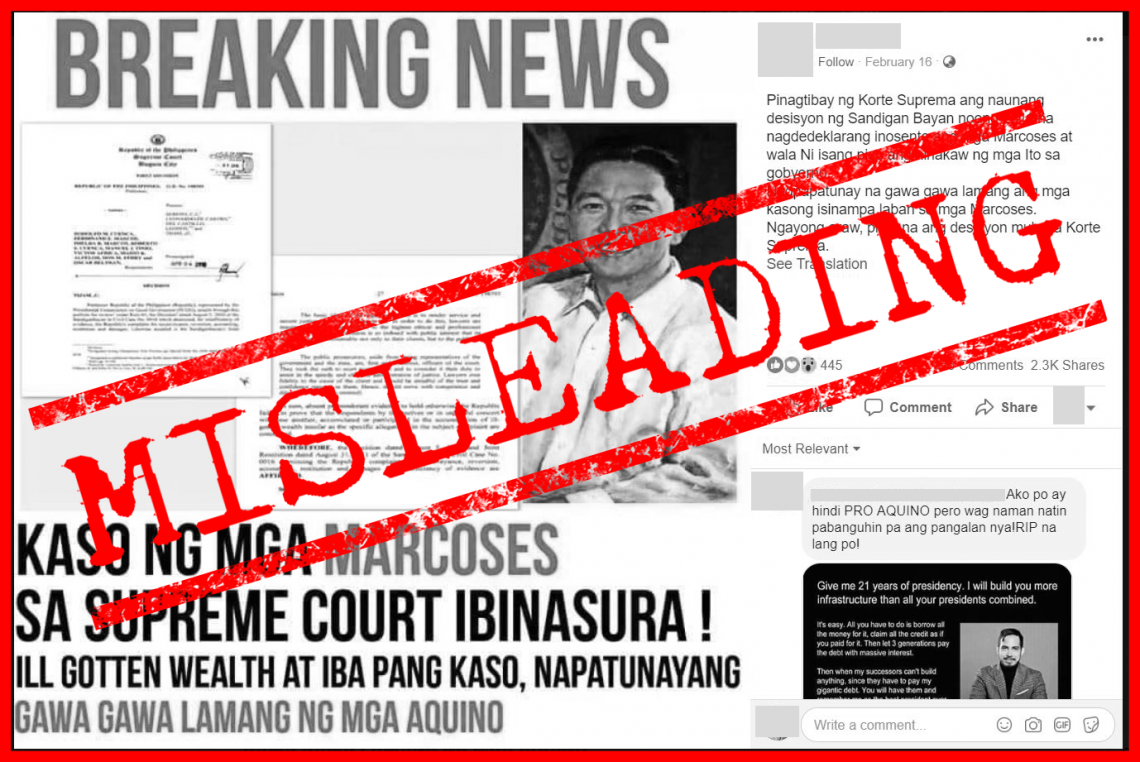 The SC has not ruled recently on any complaint concerning the Marcoses' ill-gotten wealth.
A closer look at the screenshots shows that the netizen's misleading post refers to an April 2018 SC decision that upheld the Sandiganbayan's dismissal of a civil suit filed in 1987 against Marcos, his wife Ilocos Norte Rep. Imelda Marcos, and their alleged cronies for supposedly amassing ill-gotten wealth from government contracts during the strongman's term.
Contrary to the netizen's post, the Sandiganbayan and the high court's rulings did not indicate that the Marcoses "did not steal even one peso from the government." Instead, it ruled that the petitioner – the Presidential Commission on Good Governance (PCGG) – had insufficient proof of the couple and their alleged cronies having "accumulated or participated in the accumulation of ill-gotten wealth."
More, the netizen's claim that the Marcoses' stolen wealth is just made up, is false.
The Sandiganbayan last November 2018 found Imelda guilty of seven counts of graft, for creating and maintaining seven Swiss bank accounts using her position in his husband's Cabinet. The court said their family benefitted from the earnings derived from those bank accounts.
In 1986, the Presidential Commission on Good Government was created specifically to recover the ill-gotten wealth amassed by the Marcos family, their relatives and close allies during Ferdinand's 20 years in office. The PCGG has recovered more than P170 billion as of 2016. The ill-gotten wealth is estimated at around US$ five to 10 billion.
The netizen's misleading post, which has been shared over 2,000 times, was published less than a week after the Sandiganbayan maintained it would rule on a P1.052-billion suit that includes Imelda and her late husband.
(Editor's Note: VERA Files has partnered with Facebook to fight the spread of disinformation. Find out more about this partnership and our methodology.)