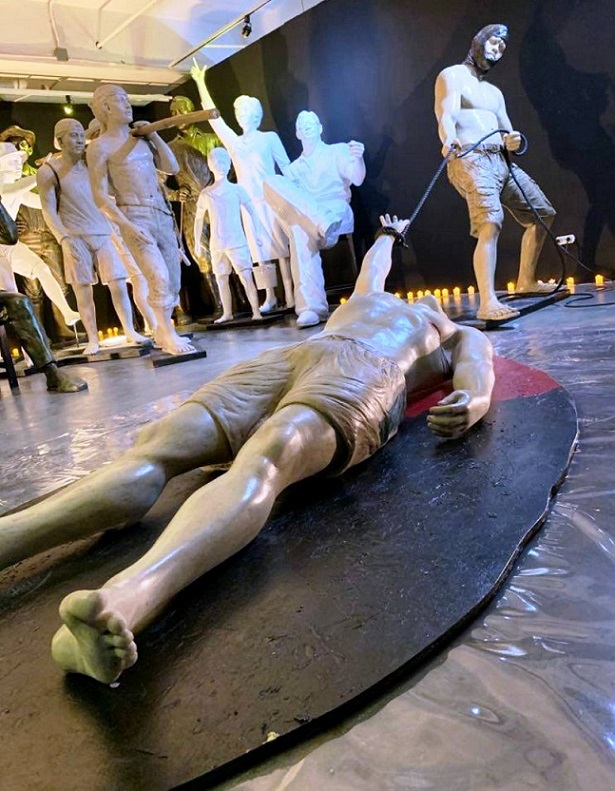 The installation Irresistible Grace by Julie Lluch
Sculptor Julie Lluch apologized for her "awful habit of being preachy." Nevertheless, her latest solo show "Irresistible Grace: In the Regime of the Plague" at Galerie Stephanie at Art Fair Philippines, The Link, Ayala Center, Makati also has a powerful political content, a protest in fact aimed at the face of strongman Rodrigo Duterte.
Her secondary title to the exhibit is her denouncement of the Duterte administration, explaining, "I thought that this is my chance. I want to grab it. That's exactly what Kairos means—God opening doors and windows at an opportune time. We have to grab the opportunity, or the doors and windows close forever."
Lluch first fell in love with the medium of clay before she realized that she was doing sculpture. She also used to paint, saying, "Painting is not a bygone love; it frequently beckons." She loves clay because it is "sensuous to the touch, and I responded to it completely at a time of therapeutic urgency. Painting to me is more intellectually challenging. It allows abstraction and inclusion of unlimited elements. Color, of course, is beautiful. Sculpture has little color. I'd love to paint one of these days."
One of a handful of women sculptors in the country, Lluch remains steadfast with her artistic genre despite its physical demands. She said, "I did not experience them until I entered my seventieth year. There were times though that when building up the figure of Justice Jose Abad Santos, I was like massaging a giant person, and I almost collapsed from exhaustion. Women can choose lightweight materials, too, like David Cortez Medalla's bubble sculpture."
A classical music aficionado who frequently attends live performances, she "normally listens to my beloved symphonies and concertos, but with all the banging, grinding, welding and hammering around in later production, I just give in, grin and bear the kind of music my assistants enjoy. They, too, need some kind of soul edification while working. Once, I threatened to play Bach and Beethoven. They were mystified, and they grumbled."
Music filled the ancestral Lluch house in in Iligan City. She recalled, "I grew up in a house with music playing all day. I believe that music organizes, completes, makes a wholeness of all the swirling chaos in your heart and mind. It's like God declaring, 'Let there be light!' And you begin to see."
Sculpture of a woman reading list of victims extra judicially executed. In the background is a statue of human rights defender Jose W. Diokno.
At a tender age, she read the books Lust for Life, a biography of Vincent van Gogh, and W. Somerset Maugham's novel Of Moon and Sixpence about Paul Gauguin. From then on, she decided on becoming an artist. She declared, "I adore Van Gogh, almost hate Picasso, but there's no escaping him. Maybe he most influenced me. Offhand, I like the women artists—Georgia O'Keeffe, Tamara Lempicka."
The title "Irresistible Grace" is, she said, "a theological term familiar to Calvinists" of which she is one. She added, "It refers to God's absolute sovereignty in choosing His elect (believers) so that the chosen ones cannot resist His love or amazing grace. I love so much the sweet surrender to God's conquering love at such a cost. Jesus said, 'You did not choose me, I chose you.'"
With the spiritual very much a part of her process and finished works, Lluch admitted to praying all the time when she's in her studio. She said, "My Bible teacher says anything we do, if we do it for God, is not just a prayer, it is worship."
For the Art Fair exhibit, she takes off from Juan Luna's magnificent mural "Spoliarium" showing gladiators being dragged from a Roman arena. She said of her interpretation and of the controversial Luna: "The 'Spoliarium' is one of the high points in Philippine art history. The original concept of my exhibit was the encompassing spirituality in life and art. When I decided to switch to a political mode, I searched iconic images to resonate to. It was inevitable to find Luna's 'Spoliarium.' I feel humbly that my intentions run parallel to Luna's. I wanted to give my voice to protest the present political oppression and injustices, particularly the extra-judicial killings. Perhaps because of being short of originality, I appropriated 'Spoliarium.'"
Regarding the artistic temperament of Luna that led to him murdering his wife and mother-in-law in a famous crime of passion, she said she did not know if he had settled it with God. "Artists are human, morally and mentally flawed. Think of Caravaggio who killed a fellow artist in a sword fight. Or Bernini who slashed his perfidious mistress in the face with a sharp blade."
The show runs from Feb. 21 to 23 only.