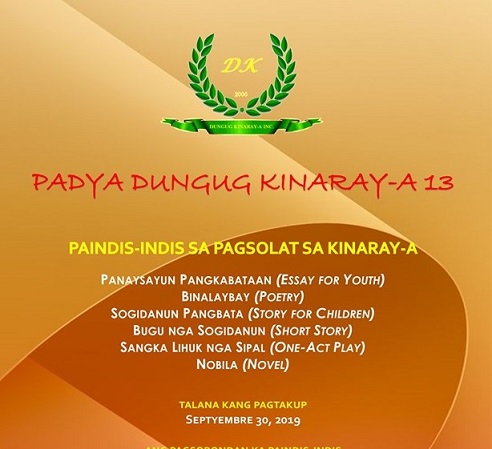 For those who have roots in Antique or those from the Visayas who can write in Kinaray-a, this should be of interest to you.
Dungug Kinaray-a Inc. is now accepting entries for this year's Padya Dungug Kinaray-a.
Kinaray-a is the language spoken mostly in West Visayas. It is the language in the province of Antique.
Dungug Kinaray-a Inc. is a non-profit organization composed ofKinaray-a writers, scholars, and advocates ( I am a member) for the preservation and promotion of the Kinaray-a language and literature.
DK believes that kinaray-a is a beautiful, true, profound and rich language: Ang Kinaray-a matahum, matood, matam-is, kag manggadan. Bukun dya ti labaw okon kubus nga harambalun, kag padayon nga nagapag-un, nagadalum, kag nagatayog paagi sa paghuman ka mga bag-o kag pag-angkun ka mga pangayaw nga mga tinaga kag hantup.
To celebrate the Kinaray-a language, which we believe is a vital part of our heritage, every year DK holds a competition for works in Kinaray-a. This year's contest has the following categories: (Panaysayun Pangkabataan) Essay for Youth, (Binalaybay) Poetry, (Sogidanun Pangbata) Story for Children, (Bugu nga Sogidanun)Short Story, (Sangka Lihuk nga Sipal) One-Act Play, and (Nobila) Novel.
Click the link for official contest rules and form
(http://www.dungugkinaray-a.com/padya-dk-13-2019.html).
Entries should be emailed to admin@dungugkinaray-a.com.
The deadline for submission of entries is on September 30, 2019.
The contest is open to all (Filipinos and non-Filipinos) of all ages, except current trustees, officers, and members of Dungug Kinaray-a Inc. Those who want to participate may join in multiple categories, but can submit only one entry per category.
This year's sponsors include Kagawaran ng Edukasyon, University of the Philippines in the Visayas – Humanities Division, National Commission for Culture and the Arts, Department of Education – Division of Antique, West Visayas State University, Provincial Tourism of Antique, UPV Sentro ng Wikang Filipino, Antique Diocesan Catholic Schools, University of Antique, The Daily Guardian, and Umaverde Corporation.
This is the 13th year that DK is holding this awards program and the participation is heartwarming. The times that I have attended the awards ceremonies, I'm inspired by the enthusiasm of the young people writing in Kinaray-a. The abundance of talent is amazing.
It is part of Dungug Kinaray-a's mission to encourage more extensive use of Kinaray-a. (Malapnagun nga ginagamit ang Kinaray-a sa mga pagsugidanun, pagsulat, pagpasundayag kag pagtuon; ginakilala ang Kinaray-a bilang linggwahe nga hamtung kag may kabug-usan; kag maabot ang tion nga ang kada Karay-a makabatyag kang bugal sa paggamit kang ana duna nga panghambal.)
In this age when the trend is to be a global citizen – as an immigrant, tourist, student, or an Overseas Filipino worker- and proficiency in English is definitely an advantage, it is important that one holds on to the language of his or her roots. Just like a tree that can grow high and have a dense foliage if its roots are deep, so is a person.
Amo ri-a ang Antiqueño.