Painter Kora Dandan Albano is a big believer in the importance of play in a child's development. Her works in her second solo show, "Lutu-lutuan sa Dua," at Café by the Ruins Dua in Baguio City, hark back to her childhood's summer vacations when she and her siblings engaged in games of patintero, moro-moro, taguan, lutu-lutuan, bahay-bahayan and siyato.
Albano recalled that during the rainy season, "we had sungka, scrabble, domino, chess, jackstones. We had paper dolls that we made ourselves—five out of us nine kids were good at drawing. We transformed our living room into a community of paper dolls complete with do-it-yourself dollhouses using soap and toothpaste boxes, sardine cans and other found objects."
This may explain the overall cheerfulness of her works. She said, "My childhood was far from ideal, but we were big on pretend play and street games. We didn't get a television set until I was fifteen so we spent summer vacations playing. Mine is a deliberate choice. I don't want my paintings to look back at me and say: 'Hey, we are depressed today.' And most paintings last a long time."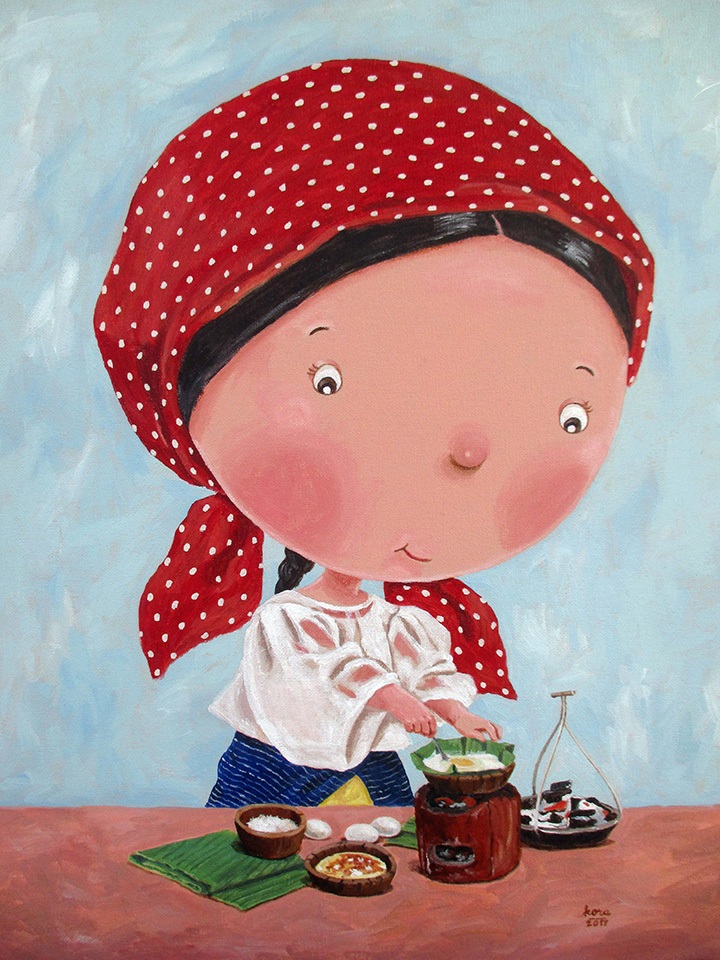 Bibingka, acrylic on canvas.
As a child, her creative ability was already her superpower. Albano said, "I was terribly shy and sickly. I wasn't good at making friends. But I won several art contests in grade school. That balanced my awkwardness. I remember my girl classmates lining up in front of my desk during recess so I can draw them their own paper dolls."
She'd like the current paintings "to remind viewers that there are things and activities that are innately good like cooking. Cooking is a positive experience, especially if one is cooking for loved ones. It's an act of service and gratitude at the same time. This is particularly true in cooking traditional dishes like suman or ginataang bilo-bilo because they take time, energy and special skills to make."
Queried if she, as a real-life cook, rates well, she answered, "My halayang ube and suman sa latik are all-time favorites in family reunions. I got the suman recipe from our kasambahay, a native of Leyte. The ube is my Nanay's recipe, but since she's already 90 she can't cook it anymore. I am kitchen literate in the sense that I can tell cumin from fennel seeds. I'm willing to try dishes I haven't cooked before such as ratatoullie."
Concerning the role of play, she said it is how "a child learns how things work, how to develop not only their fine motor skills by pretend cutting and mixing but also social skills such as taking turns when pretending with another child. Pretend play promotes language development and enriches kids' imagination."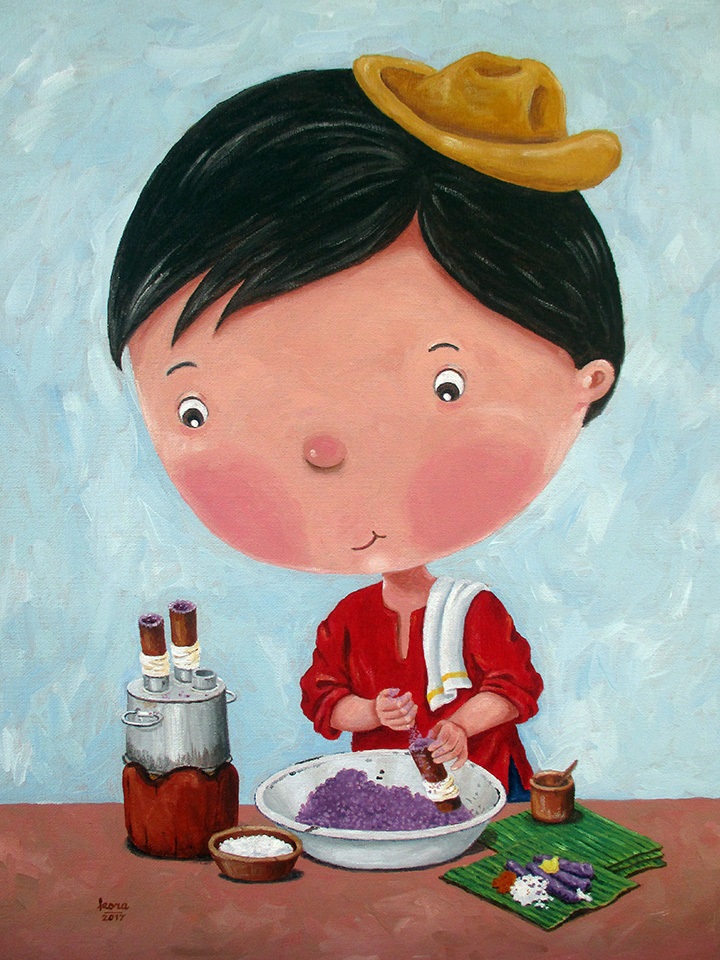 Puto Bumbong, acrylic on canvas.
Albano's characters are outfitted in traditional Filipiniana. Asked if she is reviving interest in these clothes, she answered, "Not consciously. I just want to paint subjects that bring back the past. I can sew simple patterns, a skill I learned from my mother by watching her when I was a kid. I made a Filipiniana top and wore it with a pair of jeans at the opening of my show at Prism Gallery (in Makati) last November. My friends were tickled when they saw the blouse. They brainstormed on the spot and came up with a garment line called Kora's Kamisas."
For her characters' clothes, she researched using books from Bookmark that have photos of them and looked at Amorsolo's women in the Internet. She copied the general cut of the clothes, then came up with her own fabric designs and color combinations.
Her interest in childhood games developed through the years that she has been illustrating children's books. She is the illustrator of 46 books, all with Filipino themes. But she got frustrated by the limited number of pages of a book. "Parang bitin," she said, "so I started painting a few pieces in oil in 2014 and brought them to the Art in the Park event in Makati. Three years later, I'm still painting."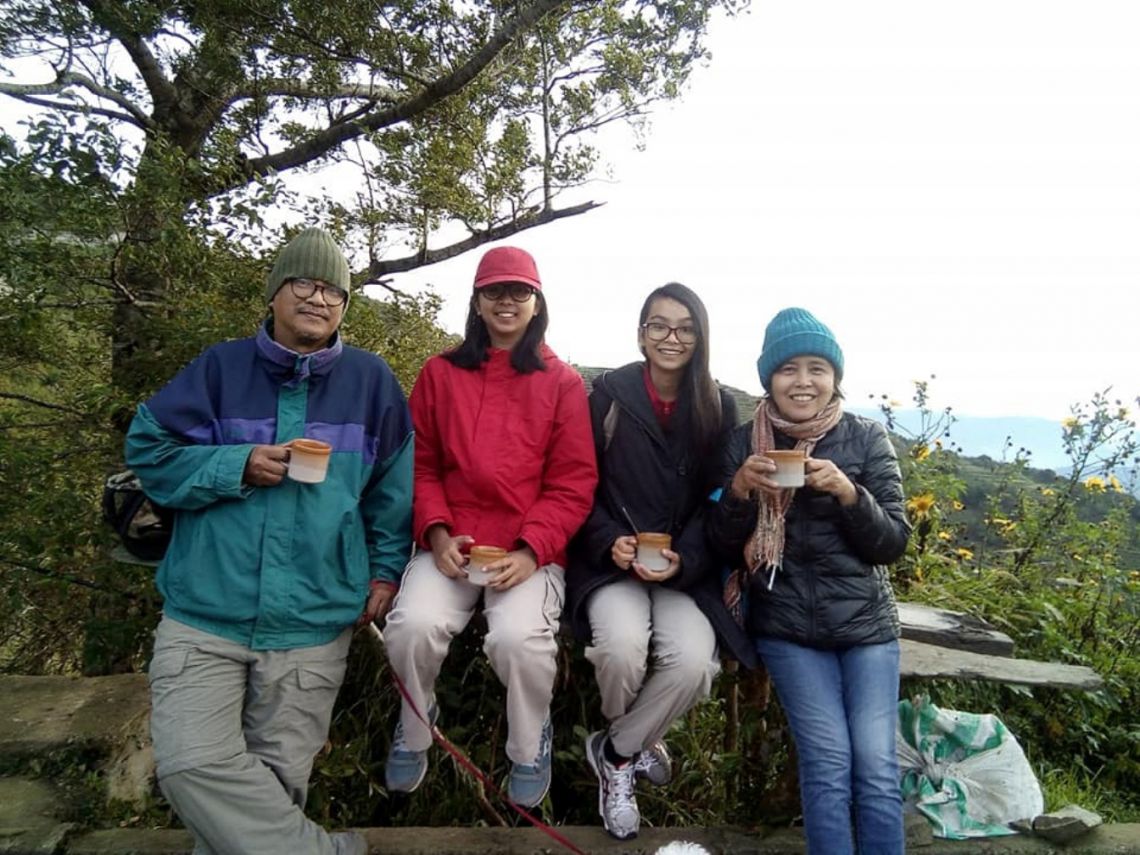 Kora Dandan Albano, right, with family members Jimbo, Sara and Nimai at the Mt. Santo Tomas Forest Reserve.
The move to Baguio in 2015 when her eldest was accepted at UP Baguio turned out for the best for her and husband Jimbo who's also an artist. "Since hubby and I both work from home, we decided to tag along together with our younger daughter. The idea is like an extended vacation for four years, but we might extend longer or stay for good. The past two years have been very productive for all of us. We love the creative community here. Fellow creatives are generally friendly and super supportive."
Albano counted Lisbeth Zwerger, an Austrian illustrator, and Lane Smith, an American children's book author and illustrator, as her foremost artistic influences. As far as her discipline and dedication to her craft are concerned, she attributed these to her father Pedro.
She described him as "a prolific writer who wrote only on weekends. He had a day job and raised nine children but managed to publish about 300 short stories, poems, essays and novels during his time." He won the Palanca literary award seven times from the 1950s to the'70s.
"Lutu-lutuan sa Dua" runs from Jan. 29 to Feb. 27 at Café by the Ruins Dua, 225 Upper Session Road, Baguio City.