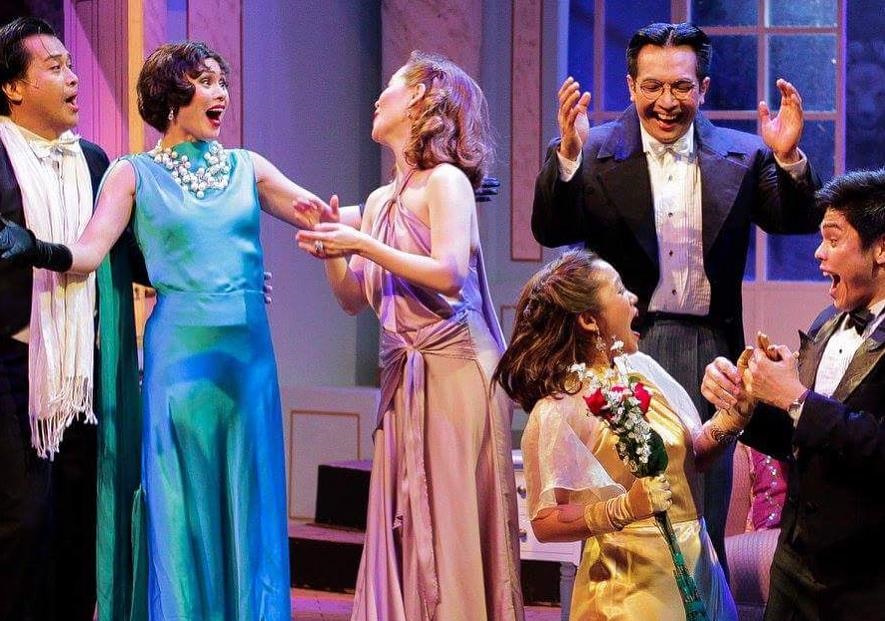 The ensemble in "A Comedy of Tenors." Laughter galore. (Photo by Jeremy Domingo)
When Placido Domingo was heard as Cavaradossi in Tosca at the CCP in 1979, Manila's opera luminaries came in droves and one of them said back stage before greeting the tenor "His singing was pure orgasmic relief."
Domingo's Manila debut attracted socialites from Manila's 400 and the CCP opening night looked like a fashion spectacle.
When Luciano Pavarotti debuted in Manila in 1994, his party occupied an entire floor of a five-star hotel.
When the tenor cancelled due to bad cold, poor organizer had to deal with traumatic scenarios which include reimbursing expensive tickets and borrowing money from another producer to cover the cost of returned tickets. Meanwhile, society matrons frantically consulted their fashion designers and ordered another set of gowns when the tenor finally sang after two days of rest.
This writer's front-page story in a 1994 issue of the Manila Chronicle went: "He came, he coughed, he cancelled."
When Jose Carreras debuted in Manila on the same year, he gently told a media person speaking in Spanish during a presscon, "Will you please speak in English? We all understand it right?"
Poor senorita who wanted to impress media crowd relented partly in shame. Carreras could see through human superficialities and was brutally honest about it.
To be sure, the country has it own stable of world-class tenors.
The late Otoniel Gonzaga, the first and the last Filipino tenor to sing Verdi's Otello, was a prize-winner in the RAD competition in Munich.
Noel Velasco was a winner of the Pavarotti Competition in Philadelphia, Arthur Espiritu was the first to sing at La Scala di Milan and a new generation of young tenors are fast being discovered in Manila.
Assorted characters in the opera world mainly in the territory of tenors came to mind in the opening night of Repertory Philippines production of Ken Ludwig's A Comedy of Tenors directed by Miguel Faustmann.
Favorite tenor arias served as background music and when the curtains went up, you see true-to-life characters in the concert scene given their funny stage counterparts.
The ladies (Mica Pineda as Mimi, Issa Litton as Maria and Shiela Valderrama Racon) provided the feminine touch and glamor of the opera world, Noel Rayos as Max was all conviction as an aspiring singer and Lorenz Martinez as Beppo spoofed the Italian connection of opera and what his secret calling really was.
(Needless to say, they all had funny counterparts in Manila.)
Martinez as Tito Morelli captured the highs and lows of opera legends and in the end, you conclude they are just as human like the rest of us.
Even as they acted very well, the lead cast also sounded passable as opera singers.
Arman Ferrer as the promising opera find Carlo Nucci is the real thing both as singer and actor. Although he looked cherubic and indeed boyish for his age, he became the tenor he really is when he intoned lines from Libiamo and O sole mio.
But one's highest compliment is reserved for Jeremy Domingo as the Cleveland-born, Paris impresario Henry Saunders. His characterization is real and so is his character's stage panic. He evolves as organizer and grandfather with equal focus and boy, his comic timing is unbeatable.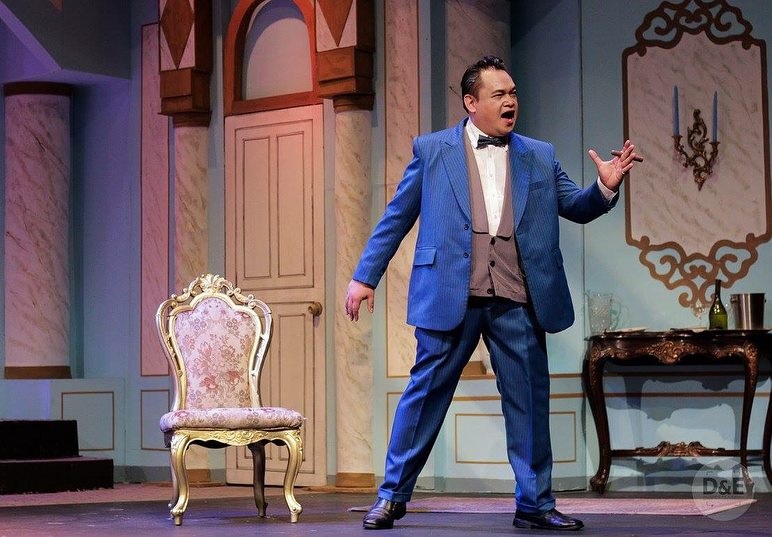 Jeremy Domingo with ensemble as Henry Saunders. The serious impresario as funny comedian.
Interacting with the ensemble, Domingo has no match.
Faustmann knows the play inside and out and his directorial flair for comedy is exceptional.In the open forum, Faustmann admitted cast and director collaborated in a lot of things.
In portraying an Italian Il Divo, Martinez said he got a lot of help from relatives who spoke Italian.
Ferrer said he got a lot of encouragement from both co-actors and director.
"I came from musicals where all I did was sing," he said. "In A Comedy of Tenors, I had more speaking lines than singing lines. My credential is mainly appearances in Pilipino musicals. Director Faustmann helped me improve my English diction. To be honest about it, this is my first straight play in English."
Repertory Philippines artistic director Joy Virata admitted Ken Ludwig is one of the company's favorite playwrights "This is his fifth play that we have done. All of them were hits because they all provided a few hours of uncomplicated, relaxing, hilarity. Our late founder, Zeneida Amador, once said that her vision was to make theater a social habit. We hope our plays will encourage this."
(A Comedy of Tenors will go onstage until February 18 at the Onstage Theater in Greenbelt 1, Makati City. Call Rep at 843.3570, or through TicketWorld at 891.999)