He was Julio Madiaga in the musical version of the Lino Brocka classic, Maynila Sa Mga Kuko ng Liwanag; he was Scrooge's nephew in A Christmas Carol and now he plays a promising tenor in Ken Ludwig's A Comedy of Tenors mounted by Repertory Philippines.
"They need a tenor with a comic timing and I got the part," he told Vera Files.
The contrasting characters he played at year's end made a critic sit back and take notice: "Arman Ferrer, who took the lead in Maynila: Sa Kuko ng Liwanag just few months back, abandons every trace of his Filipino farm boy role to portray Scrooge's nephew."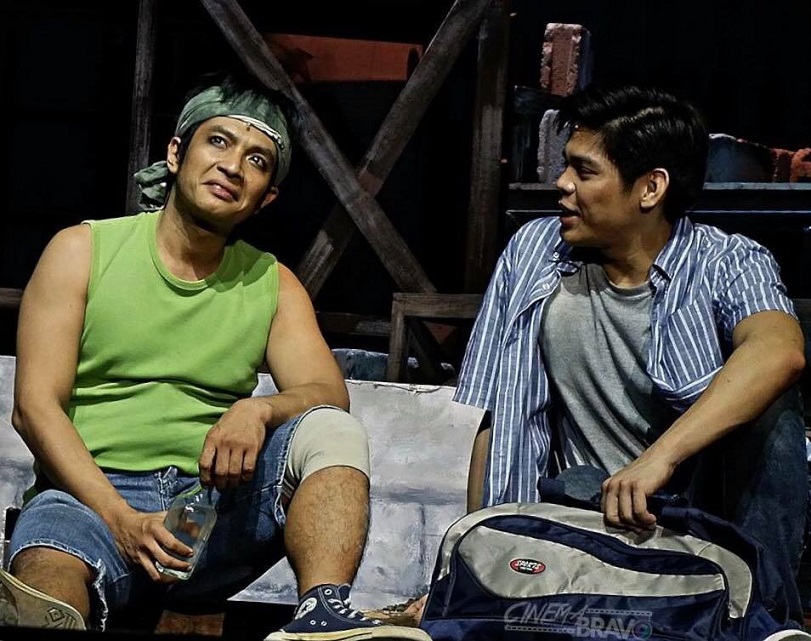 Arman Ferrer (right) as Julio Madiaga in Maynila Sa Mga Kuko Ng Liwanag with co-actor Noel Rayos.
The young tenor said he was happy with 2017 as it allowed him to play new and contrasting roles compared to previous years. "On top of that, I had four ASEAN engagements, I won gold medals in Bali in a choral competition and had a couple of guesting in a concert and some corporate events. It was a very fruitful year."
Still his most memorable was playing Julio Madiaga in Maynila Sa Mga Kuko ng Liwanag. "It is my most challenging role to date because I had to sing, dance, act and perform some stunts. After that, I had to sing after surviving the stunts. Having no alternates made it more tough on my part. Director Joel Lamangan wanted the play to be as real as possible so the cement bag that I lifted as a construction worker was real! The choreography of Douglas Nierras was totally new for me as I am more of a singer than a dancer. The training and dance classes that we had before rehearsals helped me a lot to cope with dance routines and stunts. On the other hand, Von De Guzman's music was beautiful. The emotion of Julio Madiaga was clearly reflected in his music. When it came to the highlight of the play, the singing requirement became more and more difficult with one song ending with a high B."
His most trying moment was when he hyperventilated and collapsed after the final chase scene. "It was our final technical dress rehearsal. I was so tired because of tech week that after the final chase scene I just collapsed. That was the first time in my life that I felt really exhausted because of the emotional, physical and mental requirements of the role. Direk Joel (Lamangan) called for a short break so that everyone could relax a little. After the break I went back, sang the reprise of Ligaya sa Piling Ko and I finished rehearsals. I survived.I suppose what doesn't kill you makes you stronger."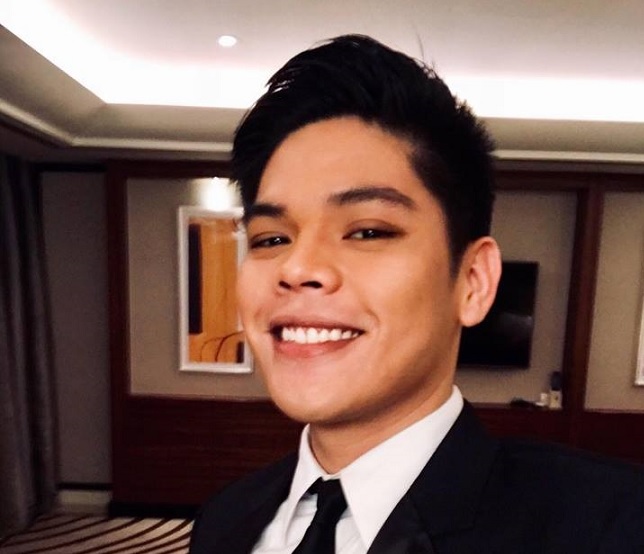 . Arman Ferrer as Carlo Nucci in "A comedy of Tenors." A fruitful 2017
The music of Alan Menken in "A Christmas Carol was for him like the music of old Broadway. "It is classical with some elements of contemporary chordal progressions but still the majority is bel canto.It had beautiful legatos and dynamics. That is why I did not adjust much when it comes to singing. My voice is well-placed and very classical just like when I sing Handel's Messiah. Maybe the main difference between the two is the way I sing the lines.In A Christmas Carol, it is still a classical sound but how I sing the phrase is more pop and Broadway unlike when I sing Handel.There is that discipline that you should observe when singing pieces like that."
His formal lessons started when he was taking a music degree at the UP College of Music. Among his early mentors was Raymond Leslie Diaz but he had to transfer because he was going to study abroad. He had a semester with tenor Ramon Acoymo then moved on to soprano Camille Lopez Molina and stayed with her for three years. Later, she had private lessons with tenor Arthur Espiritu and Bill Schuman in New York.
From 2015 to the present, he was under Korean baritone Park Byeongin. "I learned from him the importance of support, singing in the 'mask' and natural 'easy' singing."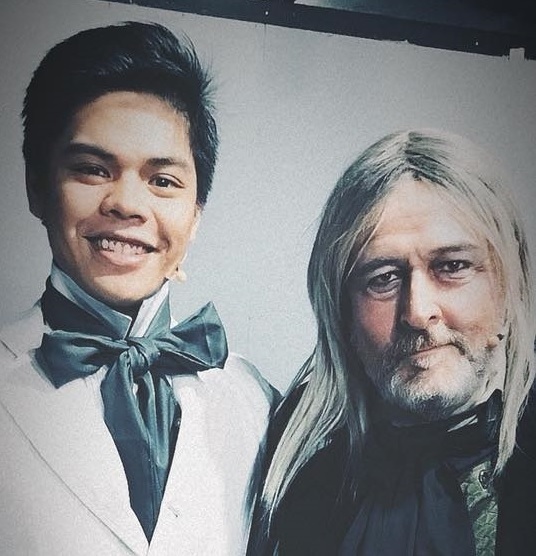 Arman Ferrer with Miguel Faustmann in "A Christmas Carol."

For now, he is happy where his voice is. "It still needs a lot of work, but I feel that it had matured and improved a lot. Byeongin Park helped a lot in 'placing' my voice in the right spot where I can sing easier and freer. It gave me more freedom and ease in singing long phrases and high notes."
For the young tenor, the new year should be about love as it should reign in everyone's heart. "When we love, then there is no room for hate, negativity, misunderstanding and conflict. What's the use of being successful if you are not loved? Our world now is full of conflicts. If we can just put aside our hatred and differences and let love reign, then there would be peace which is what I want for everyone in 2018."
("A Comedy of Tenors" where Arman Ferrer plays Carlo Nucci opens at Onstage, Greenbelt 1 Makati on January 26 and will run until February 18, 2018. Directed by Miguel Faustmann, the play also stars Loy Martinez, Jeremy Domingo, Noel Rayos, Issa Litton, Mica Pineda and Sheila Martinez. For tickets, call TicketWorld at 8919999.)