By AMER R. AMOR
(First of two parts)
It was an image Butanding Interaction Officer (BIO) Allan Amanse swears he will remember for the rest of his life.
A 28-year-old fisherman had joined him swim with a whale shark, the world's largest fish, off the waters of Pamilacan Island in Bohol. The fisherman saw how the whale shark, popularly called butanding, glided gently beside Amanse and marveled at the fascinating bond between them. The fisherman, recalling how he would join his father hunt for whale sharks when he was only seven, wept upon realizing there is a better way of coexisting with the gentle giants of the deep.
"When I saw that fisherman cry after we swam with the whale sharks, the more that I wanted to continue with my job. I didn't know I have a chance to change other people's lives, too," he said.
Amanse, the country's most experienced BIO, thanks the abundance of whale sharks in Donsol, Sorsogon from December to May for the kind of life he now lives. The once sleepy fishing village has become known as the "Whale Shark Capital of the World."
Amanse's work as a BIO requires him to not only be a guide to guests participating in Donsol's Whale Shark Interaction Tour, a project that aims to conserve whale sharks through ecotourism, but to also extend concern over the environment.
Amanse has been invited too many times to speak in tourism fairs and conduct workshops on proper whale shark interaction around the Philippines. In 2009 the Ayala Foundation sent him to Bohol to train fishermen to interact with whale sharks.
Whale sharks used to be poached in the waters of Pamilacan Island in the early 1990s. It was a lucrative business in the Visayas, as whale shark meat and fins commanded a high price in the Taiwanese market.
Then came the discovery of a large pod of whale sharks in Donsol in 1998, which led to the signing of Fisheries Administrative Order 193 (FAO 193) that made it unlawful to catch, sell, buy, possess, transport and export whale sharks and manta rays in the country.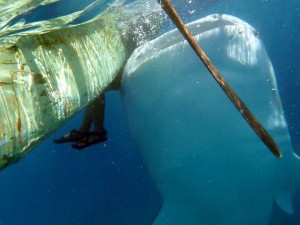 The killing has stopped since, thanks to the growing effort to conserve the whale sharks, in general, and Donsol's ecotourism program, in particular.
That is why news of whale sharks being fed, touched and treated as pets in the fishing village of Tan-awan, Oslob in Southern Cebu alarmed Amanse and other environmentalists and whale shark conservation experts. A photograph published by The Daily Mail in London in December even showed a local fisherman riding a whale shark, known in Cebu as tuki.
"Whale sharks are really amazing animals. They are very gentle. But people should remember that they are wildlife animals and feeding them could pose more harm than good," said Amanse, who was president of Donsol's Butanding Interaction Officers Association from 1998 to 2010.
Elson Aca, one of the most experienced whale shark researchers in the country, went to Oslob in December on the invitation of a television network and described the whale shark feeding and petting in the Cebu town a "disaster waiting to happen."
"The fishermen touch the whale sharks the way humans would pet a dog. They should be aware of precautionary principles that when they feed the whale sharks, that could alter their behavior and could have a harmful effect on them. Now it appears like the whale sharks are begging the fishermen to feed them whenever they see the boats approaching," said Aca, who has been in and out of Donsol since 2004, first as a researcher for an independent whale shark research group until he served as World Wildlife Fund for Nature Philippines (WWF-Phil) program manager in Donsol from 2007 to 2009.
But fisherman and Tan-awan barangay kagawad James Marimat explained that the practice of feeding the whale sharks was not forced on the animals but was incidental.
Uyap (small or brine shrimps) abound in the area, and fishermen use them as bait. "A lot of us have observed that we weren't able to fish anymore because a whale shark started to feed on uyap July last year. Until more whale sharks came. To divert their attention so we could continue fishing, we would take them out of the area by feeding them uyap in other parts of the sea," said Marimat who estimates at least 10 whale sharks are in Oslob.
The practice of feeding the whale sharks for tourists to see started in September when a fisherman led a whale shark in front of a diving shop in Oslob, said Tan-awan barangay captain Faustini Huder. Korean guests had a field day having their pictures taken with the creature. By December, tourists were flocking to Tan-awan not just to witness the feeding, but also to swim and have their pictures taken with the whale sharks.
In January, the local government of Oslob came up with Ordinance 091-S12, which provides measures on the protection and conservation of whale sharks. Before that, a private resort managed the whale shark feeding tour, charging tourists P200 for paddleboat rental and P100 for resort entrance. Now tourists pay P300 each, P180 of which goes to the boatman, P90 to the municipality of Oslob and P30 to the barangay of Tan-awan.
Fishermen in Oslob feed the whale sharks with uyap from 6 a.m. up to 1 p.m., so tourists can have a look and swim with them. A visit to Barangay Tan-awan this January showed the whale sharks going after the boats when fishermen, known as whale shark feeders, dangle the small shrimps.
"If these whale sharks get used to approaching boats, they can be seen as a threat by fishermen in other places who do not know what whale sharks are, and when their act of approaching the boat is seen as an aggressive behavior by these fishermen, that's alarming," said Aca. "What's worse is when they approach boats in areas where whale sharks are seen as a resource or food. They can get killed easily."
Darren Whitehead, a whale shark researcher from the United Kingdom who worked as a volunteer for WWF-Philippines' whale shark photo-tagging project in Donsol last year, saw the photographs in The Daily Mail.
He said the feeding activity is a "potential time bomb ready to explode" and observed that the Cebu fishermen appear like they do not see the long-term effects of their actions.
"Hand feeding the whale sharks in itself creates a level one problem by attracting the whale sharks to the boat as they relate the boats to easy food. Secondly, the image of a fisherman riding the whale shark is not the best example of the encounter codes they want to enforce," said Whitehead, who is now doing whale shark research in Djibouti in Africa.
During Aca's visit in Oslob, in which he was able to identify nine whale sharks through photo-tagging, he saw tourists feed the whale sharks themselves, further aggravating the situation.
Huder, however, maintains that only the fishermen who are called whale shark feeders should be allowed to feed the animals, as stipulated in their Whale Sharks 10 Commandments. It also prohibits the touching of whale sharks whether by hand, foot, or camera, as well as blocking whale sharks' path leading to the fishermen's boat.
But tourists could not refrain from touching the whale sharks. They also want to have their pictures taken and get too close, even after being briefed on the do's and don'ts of interacting with whale sharks. Done in less than five minutes, the briefing takes place in a makeshift tent by the beach.
On Jan. 17, from 7 to 8 a.m., this writer witnessed at least three incidents where tourists touched whale sharks. While some fishermen stop tourists from doing so, Huder admits that they lack a stronger way of enforcing their rules.
Roy Lagahid, a 16-year-old feeder, said the whale sharks are actually safe in Oslob since fishermen take care of them. "We don't know how other people would treat them in other places. They might get killed there," he said.
Reacting to observations that some whale sharks were wounded when they bumped into boats that fed them, Lagahid said the wounds were a result of the whale sharks bumping into rocks when they scour for food at night during low tides.
Boatman Santiago Llego, who started fishing as a child, is thankful that the whale sharks are able to attract tourists to their town and is confident that through proper management of these animals, the whale sharks would not have to leave anymore.
"It is a good source of income compared to fishing," said Llego, who explained that his earnings for a night of fishing could sometimes only buy a kilo of rice for his family.
Rico Durens, one of the 14 whale shark feeders in one of the two resorts that host the tour, said their earnings vary every day but could reach P900, a big leap from the P400 they make from fishing the entire night.
This early, small businesses have emerged in the area where the briefing tent is located. Life vests are rented out for P20 to P30, while stalls sell food and beverage. Two private resorts accommodate tourists who want to take a bath after swimming with the whale sharks. These resorts have their own boatmen who take the guests out to sea.
Although not yet a problem, Huder is aware that the setup of the two resorts can eventually pose a problem, especially since the boatmen and whale shark feeders from the two resorts have "divided" the sea into two to avoid overcrowding. (To be concluded)
(Disclosure: Amor's family owns the Amor Farm Beach Resort in Donsol. )