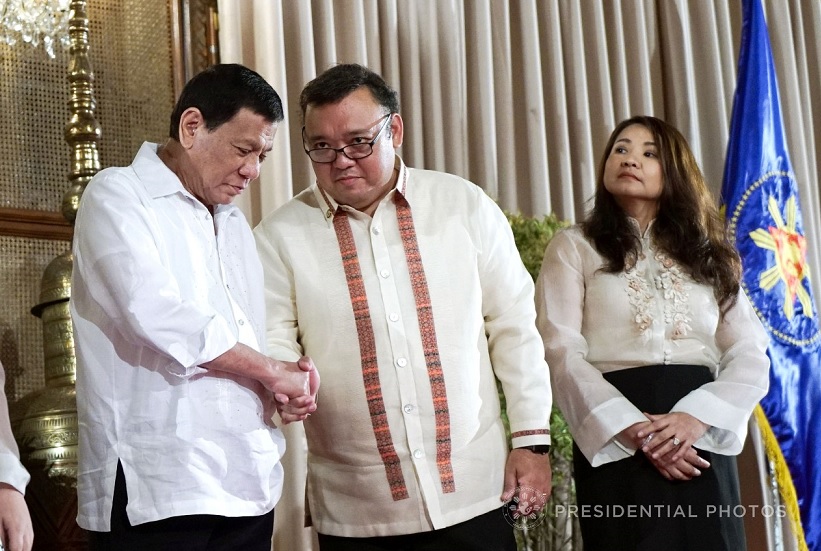 Pres. Duterte congratulates newly appointed Presidential
Spokesperson Harry Roque following the oath-taking ceremony in Malacañang, Nov.
6. Looking on is Harry wife, Mylah Roque. Malacañang photo by King Rodriguez.

It has not been a week since lawyerHarry Roque started speaking for President Duterte and he has effectively taken the heat off the President.
The last meeting of the President with media was upon his arrival from Japan last Oct. 31 where he was asked about his reaction to the statement of imprisoned senator Leila de Lima about not touching his son, Davao City Vice Mayor Paolo Duterte, and son-in-law Manases Carpio, whose names were mentioned in the Senate investigation of the 604 kilos of shabu that slipped through the Bureau of Customs during the watch of former Marines office Nicanor Faeldon.
Duterte was as usual defensive:" Who would believe me if I investigate my son and my son-in-law? Ikaw, can you investigate your mother or father? I leave it to the independent agencies — there's the Human Rights, which is making all the noise, and they have the NBI.
It was also in that presscon that he tried to douse cold water to the rumors that his daughter, Davao City Mayor Sara Duterte-Carpio has plans to succeed him in Malacanang.
He said: "Maniwala ka pala niyan? Istorya "yan… Wala "yan. (You believe that? That's nothing) No. Inday is not interested. You know, I'm telling you the truth. "
Duterte is not known for truth-telling. Remember he said several times before the 2016 elections that he didn't want to run for President.
Meanwhile, Roque is on a roll, having the print and broadcast media all to himself. He is savoring it to the max.
In an interview with Philippine Star columnist Jarius Bondoc and his wife, Marissa, in the couple's radio program last Nov. 4, Roque shared his realization of the power of speaking from the Malacañang podium.
He said in his first press briefing in Malacanang, he initially had qualms because in the House of Representatives, he enjoyed immunity. He could criticise other officials because they had to go to the congressmen for their budget. " Pero matapos noong Lunes, napansin ko… uy mas mukhang malakas na mikropono itong dito sa Press Briefing Room ng Malacañang (But after Monday, I noticed the microphone in Malacanang's Press Briefing Room is louder)," he said.
Bondoc asked ifwith "malakas na mikropono", he was speaking literally and figuratively?
Roque replied: "Oo, literally and figuratively… mukhang—maski wala akong kinalaman sa budget ngayon, eh mukhang mas hindi nila pupuwedeng isnabin ang mikropono ng Malacañang ano, kahit sino sa gobyerno ano. So sabi ko, nawala na iyong alinlangan ko. (Yes Oo, literally and figuratively. Even if I have nothing to do with their budget, they cannot snub Malacañang's microphone, anybody in the government. So I said, I have no more doubts.) "
Roque elaborated: "Siyempre ang pagkakaiba sa House, palagi kang may kasama 'no. Eh dito nag-iisa ka, at lahat ng media naroroon 'no. So kung mayroon kang isusulong para sa kabutihan ng bayan, eh magiging mas epektibo. Kaya nga for the first time, sabi ko tama talaga itong desisyon ko at wala na akong alinlangan, wala na akong panghihinayang doon sa aking pag-alis sa Kongreso. (It's different at the House where I was always with a group. Here, I'm alone and all media outfits are represented. So if you are pushing for something for the country's good, it's very effective. That's why for the first time, I said I made the right decision, I do not regret leaving Congress.)"
Roque said he will be holding four press briefings every week. Regular press briefingsare on Tuesdays and Thursdays. Wednesdays, he will hold it in Marawi and Fridays, he will go to the provinces.
Roque has not been shy about his senatorial plans and Duterte has already endorsed him during the Masskara Festival in Bacolod last Oct. 22.
The media mileage that he is getting as spokesman will assure him of almost 100 percent awareness to the voters come 2019. But he has to impress them to make them vote for him.
He has started working on the Diehard Duterte Supporters. Sixteen million voted Duterte to the presidency. If he gets majority of that, he has a good chance to make it for the Senate.
The hollow block statement was for them:"Binibigyan ko na po ng notice 'yung mga walang hiya diyan na naninira lamang. Kung dati-rati hindi kayo nababato bagamat kayo'y nambabato, ngayon po maghanda na kayo dahil kung kayo'y nambato, hindi lang po bato itatapon ko sa inyo, hollow blocks. (I'm giving you notice, those shameless one. If before you are not hit even if you throw stones, now be ready because if you hit us with stones, it's not only stone that I will throw t you. Hollow blocks)."
He explained: "I was addressing Mocha Uson. I was addressing the 5.5 million followers of the Mocha Uson blog, these are the DDS. It was not really intended for anyone else other than the DDS."
That's how he regards the DDS.
It seems Harry has finally found a position that suits his long-term objective.
I don't know. Harry knows Matthew 16:26: " What good will it be for someone to gain the whole world, yet forfeit his soul."