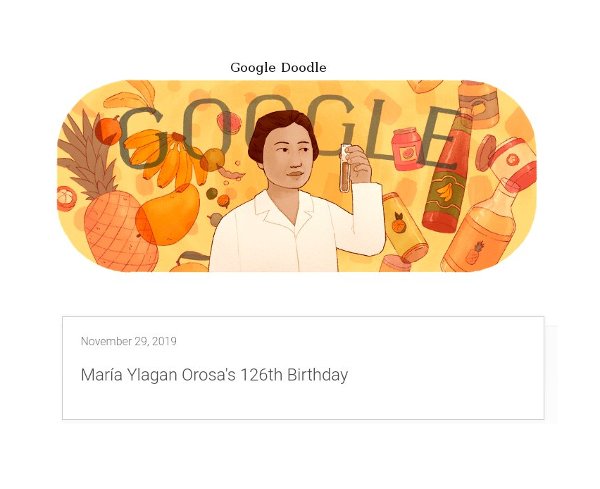 A "Filipino food scientist, war hero, and humanitarian," says Google Doodle in honoring Maria Ylagan Orosa on her 126th birth anniversary in 2019.
In the same spirit, the book titled, Apetite for Freedom, The Recipes of Maria Y. Orosa with Essays on her Life and Work, edited by Helen Orosa del Rosario and published by Ige Ramos in 2021 is a 50th anniversary edition of the 1970 book on Maria Y. Orosa.
The 2021 version updates the 1970 edition titled The Recipes of Maria Y. Orosa, with Essays on Her Life and Work by rewording some original chapter titles, rearranging the recipes into a cohesive cluster, and including relevant annotations within the text.
Additional essays are included such as "The Chemistry of Resistance" by Jessica Gingrich, reprinted from Lady Science or "The Entrepreneur" by Mario E. Orosa, a nephew.
Maria Y. Orosa

A pioneer in food preservation and an innovator, Maria Y. Orosa (1892-1945) is known for her invention of banana ketchup, powdered soybean, and palayok oven, among many others.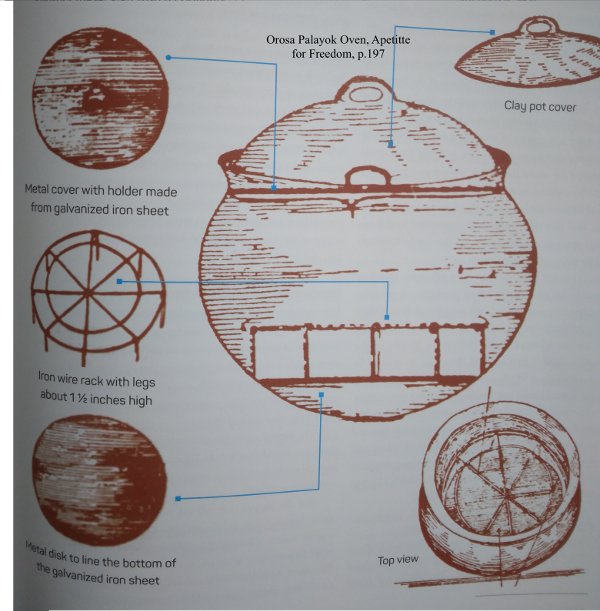 Born in Taal, Batangas, she went to the United States in 1916 as a partial government scholar, and no, she was not a "stowaway." No stranger to manual labor, she washed dishes, mopped floors, picked fruits, and worked in canning factories, to fund her studies. An outstanding student, she earned three bachelor of science degrees in pharmaceutical chemistry, food chemistry, and pharmacy and a master of science degree in pharmacy at the University of Washington at Seattle.
Offered a position as an assistant chemist in the state of Washington, she chose to come home and serve her people.
Back home in 1922, she organized the food preservation division of the Bureau of Science. Sent again to the United States in 1926, she studied food processing and canning technology and observed more than 50 canneries across Europe, China, Japan, and Hawaii. Upon her return in 1929, she was appointed chief of the food preservation division; later, she headed the plant utilization division of the Bureau of Plant Industry.
Using science, Orosa advocated food 'as an indispensable factor to health and strength of a people" in war or peace and the use of native plants towards food security. Her 700+ recipes made full use of common fruits and vegetable, within easy reach of every one.
Public service

In 1929, she visited rural areas, and demonstrated to housewives how to prepare cheap and nutritious meals for their families. She organized rural home improvement clubs, with members numbering 22,000 in 1924 that sent demonstrators all over the country, educating rural women in food preparation and planning, gardening, poultry raising, and handicraft.
She started the Home Extension Movement patterned after the 4-H Clubs in the United States and the Philippine Home Workers' Association.
Her ingenuity came to the fore with her palayok oven, making it possible for rural housewives to bake, without electricity.
Food and life

The most notable of Orosa's food inventions are the high protein powdered soybean, known as "magic food," and banana ketchup from banana, mango, and ripe tomatoes, commercially produced by private companies to this day.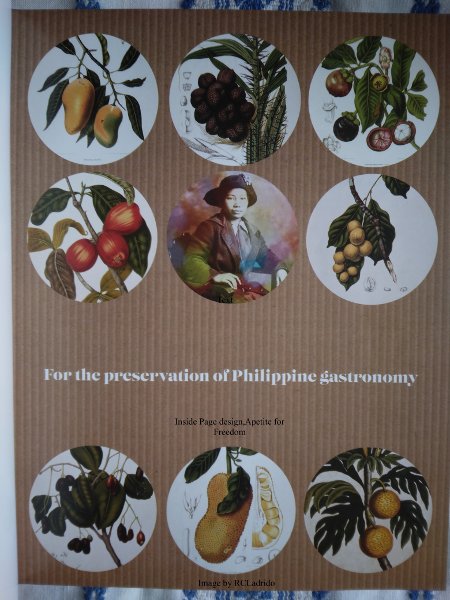 Through her numerous experiments, Orosa made jellies from guava, mango, santol and other tropical fruits, powdered calamansi juice, pineapple vinegar, mixed-sweet pickles using cucumber and green tomato, and dried candied fruits. When she exhibited her new products of conserves and pickles at the 1925 Manila Carnival, people were excited to try her recipes.
The first one to make frozen mangoes, Orosa also made wine from tropical fruits and flour from cassava and green banana. She made cookies out of rice bran (darak), effective in fighting beriberi, a disease resulting from thiamin or Bı deficiency.
War and sacrifice

When war broke out, she joined Marking Guerillas led by Colonel Marcos V. Agustin. Designated as a captain, she supplied food to soldiers. Her "magic food" of powdered soybean was sent to guerillas and prisoners of wars in concentration camps in Los Baños or University of Santo Tomas.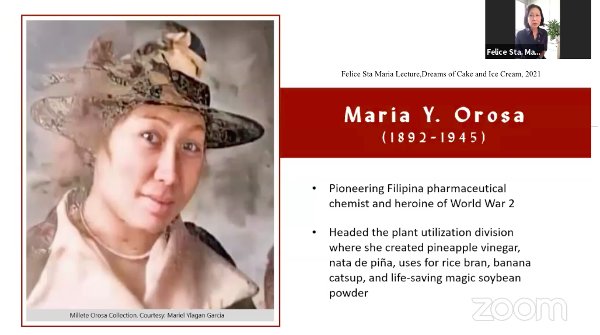 Despite mandatory evacuation, she chose to work and stay in Manila. "My place is here. I cannot in conscience abandon my work and my girls."
Amidst the Battle of Manila in February 13, 1945, shrapnel hit her fatally at the Malate Catholic School. In February 2020, her grave marker was discovered by accident, without her remains. It is believed that she was buried in a nearby mass grave.
Ige Ramos

Food writer, graphic, and book designer, Guillermo Ramos is the author of Republic of Taste: The Untold Story of Cavite Cuisine (2018) and Lasa ng Republika: Dila at Bandila (2019). He has won the National Book Award for Best Book Design thrice.
Aside from Apetite for Freedom, his book designs include Ayala Foundation's Transpacific Engagements: Trade, Translation, and Visual Culture of Tangled Empires (1565-1898), 2020, Asia Society's Kulinarya: A Guidebook to Philippine Cuisine (2008) and Felice Prudente Sta. Maria's The Governor General's Kitchen (2006).