A video of a submarine along the coast of Manila is making the rounds online, falsely claiming in its caption that the government purchased two Russian submarines as part of the Philippine Navy's modernization program.
Not true. In an email to VERA Files Fact Check, the Philippine Navy said it does not have any submarines in its fleet inventory. While there are plans to acquire two medium-sized submersibles to boost its fleet, it is not under the tiered acquisition timelines of the Philippine Navy Modernization program.
The 27-second video, uploaded by Facebook (FB) page Pangga Sean TV on Jan. 16, was captioned: "Philippine Flag is waving | Russian Submarine?" The original clip was posted by a TikTok user on Jan. 15.
A similar version of the clip, but with different music, was uploaded by another TikTok user on Nov. 18, 2021, just as the Russian Navy docked in Manila.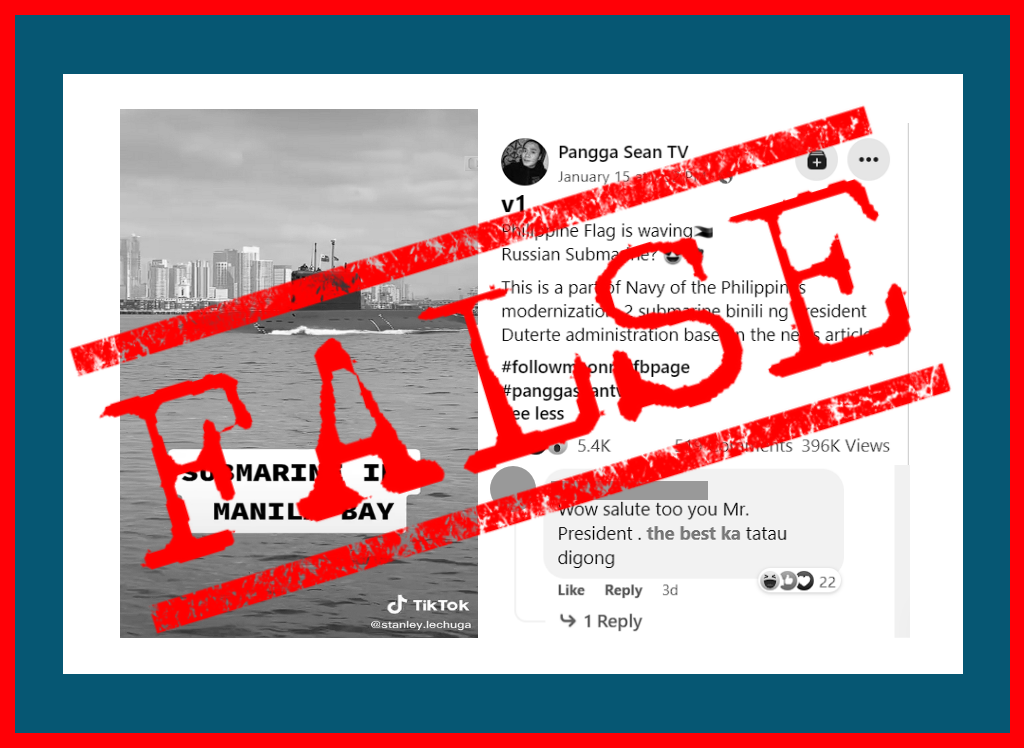 On Nov. 17, 2021, two Russian submarines along with a corvette (a small warship), a tanker, and a support vessel docked at Manila Bay for a friendly, unofficial visit to resupply, according to reports by the Russian Embassy in Manila, Esquire Philippines, and Inquirer.net.
Upon comparison, the flags flown by one of the docked Russian submarines appeared to be similar to those flying atop the submarine shown in the video.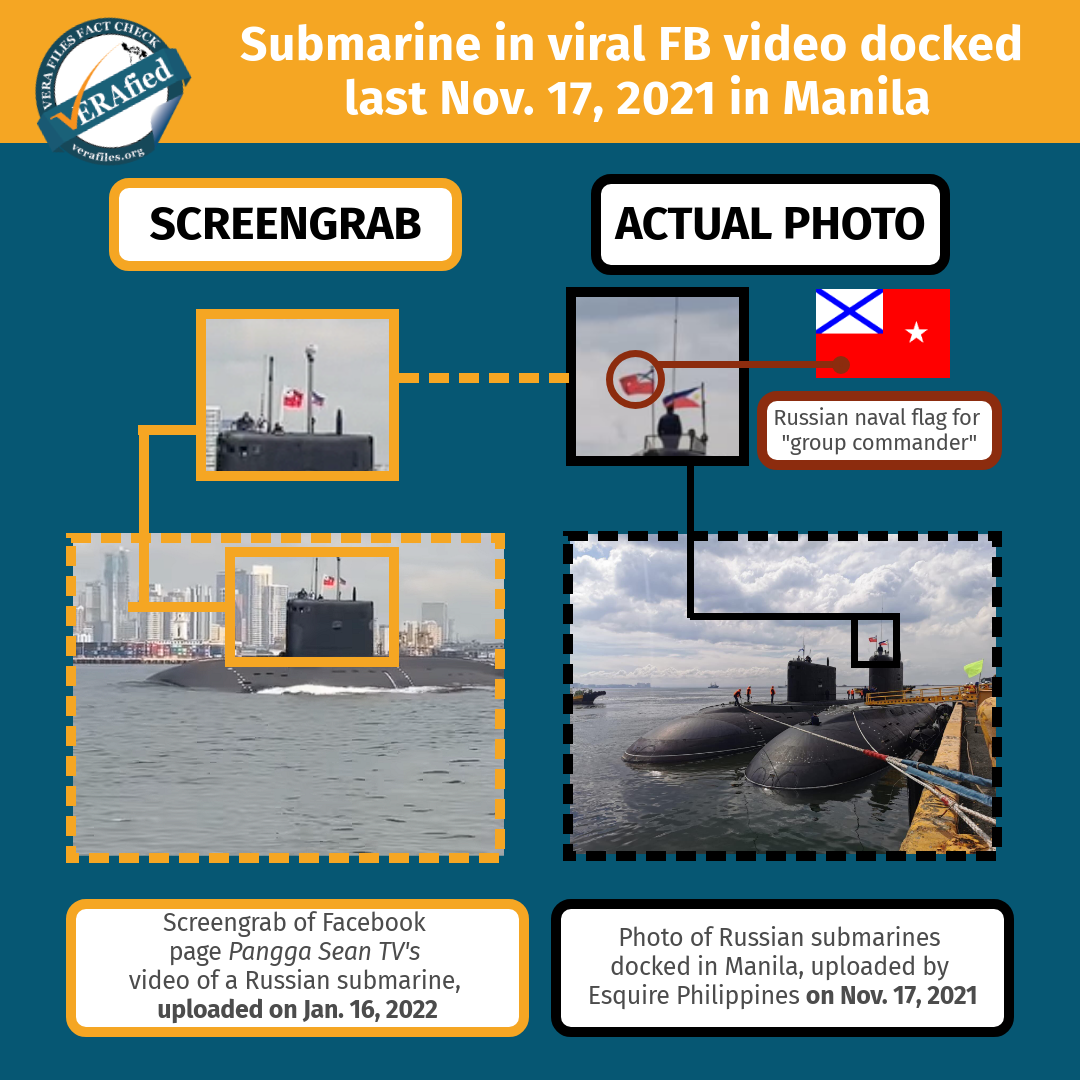 On July 31, 2018, President Rodrigo Duterte approved the acquisition of submarines for the Philippine Navy, according to news clips compiled by the Philippine Navy.
The former Philippine Navy chief, Vice Adm. Giovanni Bacordo, confirmed deals for multiple naval projects, including one for submarines, was to have been signed by 2021 or 2022 but not for the coronavirus disease (COVID) 2019 pandemic, multiple news articles reported on June 7, 2021.
Specifically, the Philippine government has allotted P70 billion to purchase two diesel-electric submarines to enhance the Navy's maritime defense capacity. "The ongoing [Philippine Navy] modernization program enables the Navy to perform and fulfill its various naval roles and tasks, especially in addressing territorial defense and maritime security," the Navy said.
Pangga Sean TV (created on March 30, 2020)'s false video got over 404,600 interactions. Among its top traffic generators were the FB page Philippine Coast Guard Auxiliary 110th Squadron (April 27, 2016), and FB groups Armed Forces of the Philippines AFP (March 24, 2016) and Modern Warships: Philippines Group (May 16, 2021).
The false post appeared a day before news organizations reported on Jan. 14 that the Philippine government secured a $370 million deal with India's BrahMos Aerospace Private Ltd. to acquire a shore-based anti-ship missile system.
Have you seen any dubious claims, photos, memes, or online posts that you want us to verify? Fill out this reader request form.
(Editor's Note: VERA Files has partnered with Facebook to fight the spread of disinformation. Find out more about this partnership and our methodology.)