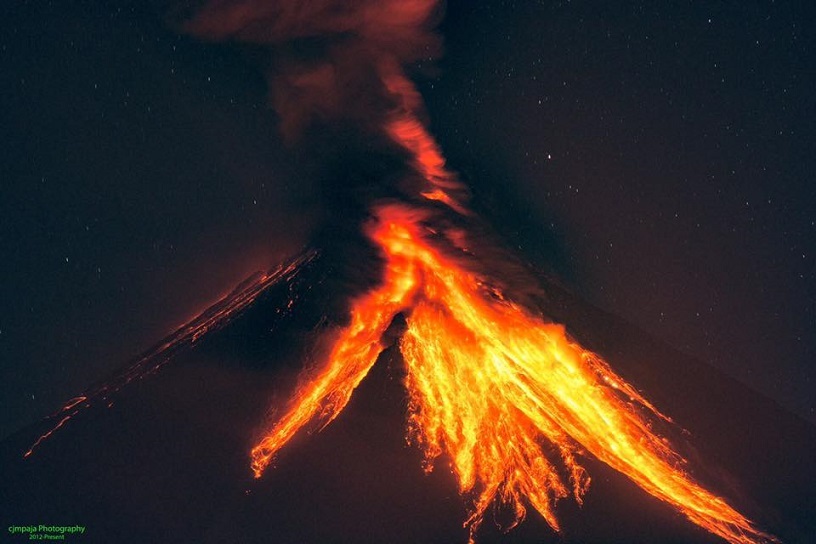 Mayon's angry mood at 9:30 p.m. January 22. Photo by Carl Joseph Paja.
While the volcano showed signs of re-awakening weeks earlier with intermittent quakes and harmless active lava flow, Albayanos did not expect a spectacular show Monday noon.
At 12:30 p.m. January 22, the volcano growled and sent tornado-like column of lava fragments and steam some ten kilometers up into the Albay skies.
The resulting ashfall blanketed the towns of Camalig, Guinobatan and Ligao towns and to as far as Nabua in Camarines Sur.
In Sto. Domingo town some ten kilometers away from Mayon Volcano, Mayor Herbie Aguas ordered the suspension of classes in the entire municipality and intensified supervision of activities in the evacuations centers. "Due to prevailing winds from northeast and easterlies, our town was spared from ashfall. But if the wind direction changes and blows in our direction, the ashfall will certainly affect our agricultural farms and will cause health problems."
A fourth-class town with a population of 34,976 as of the 2015 census, Sto. Domingo has four evacuation centers with 7, 948 evacuees in the barangays of Salvacion ES, Bical NHS, San Andres ES and San Andres Resettlement area.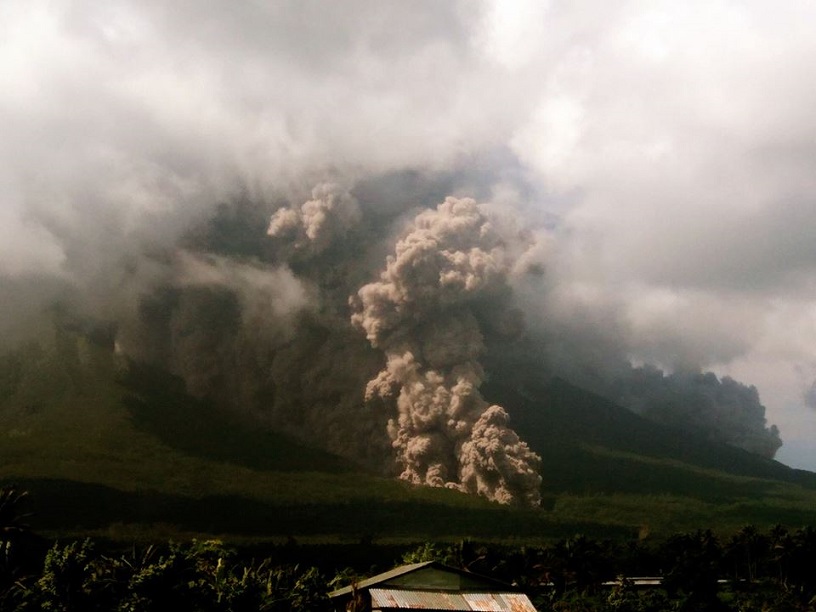 Mayon's fury as seen in Sto. Domingo town. Photo by Justin Luis Banico.
With the unexpected Monday eruption, the number of evacuees has grown. "If a major eruption happens, 80 per cent of the town will be affected," Mayor Aguas told Vera Files.
The town was allocated P1.5 million from the LGU fund when the Sangguniang Panlalawigan declared a state of calamity. "From our estimate, the funding can only last five days have based on the increasing number of evacuees."
Mayor Aguas recalled that he took oath of office in his first term as mayor inside the town church while Mayon was erupting. "The LGU finances were drained because of the long evacuation period which lasted for three months. Tax collection was also affected due to low farm produce."
Albay poet and Mayon chronicler Abdon Balde, Jr. noted that next to the deadly eruption of February 1, 1814, the second most destructive eruption was recorded on June 23, 1897. It reportedly killed 350 people due to pyroclastic flow characterized by hot water and rocks. The explosion lasted for 17 hours and damaged Sto. Domingo town and the villages of Sto. Nino, San Isidro, San Roque, San Antonio, and Misericordia.
"The locals called it the pangirikiti because the sound generated by the flowing lava was like that of oil when frying fish. There were stories about a community where only the carabaos wallowing in mud were saved," he said.
One interesting story associated with this 1897 eruption came from the descendants of composer Potenciano Gregorio who wrote Sarung Banggi. Gregorio was only seventeen years old during the 1897 eruption. "They said Gregorio started composing his now famous Sarong Banggi while flares were visible on top of Mayon Volcano."
Mayor Aguas spearheaded the Sarung Banggi Festival immortalizing the composer who was born in Sto. Domingo on May 19, 1880.
Since the mayor started the festival in 2001, millennials got to know the Sarung Banggi composer who now lies in a special mausoleum in the town plaza. "He will remain an inspiration for music-loving Bicolanos," Aguas said.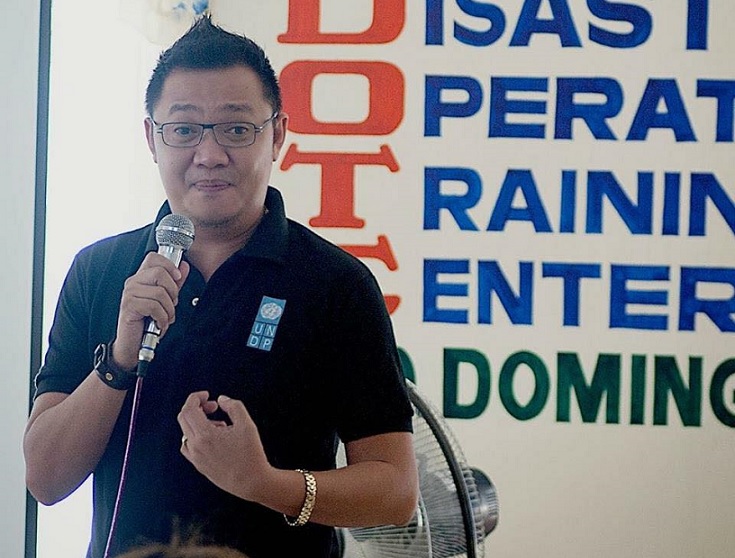 Sto. Domingo Mayor Herbie Aguas. More help needed for his displaced constituents.
Mayor Aguas was the same town official responsible for bringing the remains of Gregorio who died in Honolulu in 1939 after participating in the 1938 Golden Exposition in California. Gregorio was later buried in La Loma Cemetery the following year.
In 2006, Mayor Aguas mobilized the gravediggers of La Loma cemetery to find the grave of the composer.
On the same year, full military honors greeted the arrival of the remains of Gregorio who was met by music-loving Albayanos and given a touching motorcade from Legaspi Airport to Camp Ola.
Meanwhile, Mayor Aguas has undertaken full relocation of residents and settlements in the hazard zones to safe areas and declared total ban activities in the declared danger areas.
With Mayon showing signs of prolonged eruption, the Mayor said more financial assistance are needed to help his displaced constituents. "The urgent needs now are relief welfare relief packs and permanent resettlement areas. Any kind of donation will be accepted for our evacuees."
Meanwhile, local authorities have warned Albayanos to watch out for flying debris, hot gases, lateral blast and lava flow.
Phivolcs has also raised the alert level to 4 on a scale of 5 which means an explosive eruption is possible within hours or days.
(For those who want to help evacuees of Sto. Domingo, please call 09285526060or 09275197135.)