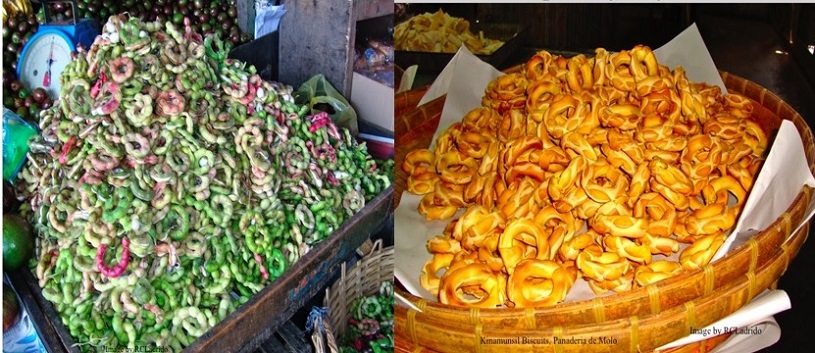 Kamunsil fruit and kamunsil-inspired biscuits by Panaderia de Molo. Photos by R.C. Ladrido.
It is difficult to imagine our food today without tomatoes, peanuts, chili peppers, or cacao. It means no afritada, turrones de mani, Bicol Express, sinamak, sili sigang, or even champorado, as we know it.
Manila-Acapulco
Some 44 years after Magellan was killed in Mactan by Lapu-Lapu, Spanish trading ships linked the Philippines and Spain through Mexico, known as the Manila-Acapulco Galleon Trade (1565-1815), ending with Mexico's War of Independence. Then, Spain ruled the country through its viceroy in Mexico (New Spain).
It was made possible when Andres de Urdaneta (1498-1568), circumnavigator and Augustinian friar, had discovered a fast return route across the Pacific to Mexico.
Galleons crossed the Pacific Ocean to Acapulco in one or two round trip voyages per year. Sailing six to nine months from Manila to Acapulco, it became the single commercial route that connected Asia, America, and Europe.
For 250 years, the galleon trade made Manila a global port city that brought porcelain, silk, ivory, jade, gemstones, carpets, textiles, spices and other exotic goods from China, Moluccas, India, and Persia to Mexico, Spain, and the rest of Europe in exchange for New World silver mined in Mexico and Peru.
New World flora and fauna
The Florentine explorer Amerigo Vespucci (1451-1512) coined the term "New World" for the continent of the Americas, in contrast to the Old World of Europe, Africa, and Asia.
Through the galleon trade, new plants that include cereals and beans, fruit trees, medicinals, ornamentals, and textile plants, were introduced gradually to the archipelago.
In Flora de Filipinas (1837), written by Augustinian friar Francisco Manuel Blanco, some fruits are also illustrated, complete with their names in Nahautl, the Aztec language.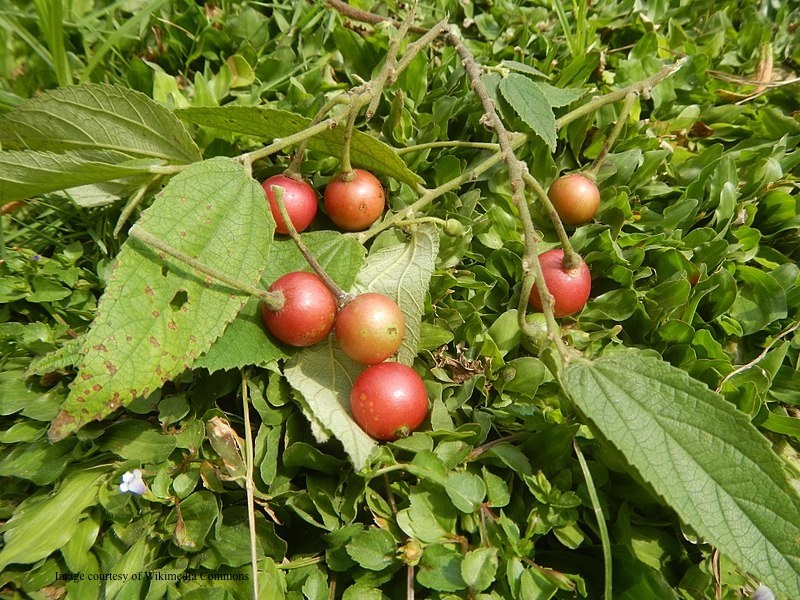 Aratiles. Photo from Wikimedia Commons.

Fruit immigrants
Our New World plants include avocado, atis, anonas, guava, papaya, pineapple, cashew, guyabano, camachile, siniguelas, star apple, chico, and cacao, and many more described by historian Isagani R. Medina as "fruit immigrants" from Mexico.Here are some of them:
Camachile: Manila Tamarind. In its native Mexico, the tree is known as huamuche or cuamuchil, derived from Nahautl cuauhmochitl. Kamachile in Tagalog, kamunsil in Hiligaynon, and damontris or kamantris in Ilocano. In Iloilo's Panaderia de Molo, its kinamunsil biscuit is shaped after the fruit; camachile biscuits are eaten traditionally with Pancit Malabon.
Chico: Known as sapodilla or chico, it is native to Mexico, Central America, and the Carribean. Its Spanish name zapote is derived from the Nahautl word tzapotl.
Bayabas: Known as guayaba in Mexico, it is thoroughly naturalized in the country, and eaten fresh, or cooked in sugar; it also medicinal. The Aetas of Guimaras supply the Trappist Monks who make it into jelly. It is used to flavor sinigang; Ilonggos use the leaves in paksiw na alimusan.
Siniguelas: Spanish plum or ciruela in Spanish, and eaten fresh. It is native to tropical regions of America, from Brazil to Mexico. Known as jocote, from the Nahautl word, xocotl.
Guyabano: Soursop is native to Central America, where it is known as guanabana. We make juices, smoothies, preserves, and ice cream out of it.
Papaya: Native to Mexico and South America, the ripe fruit is eaten for dessert, made into jam and sweets. Achara is made of thin strips of pickled green papaya. Green papaya is also used as a vegetable, the partner of tinolang manok with sili leaves.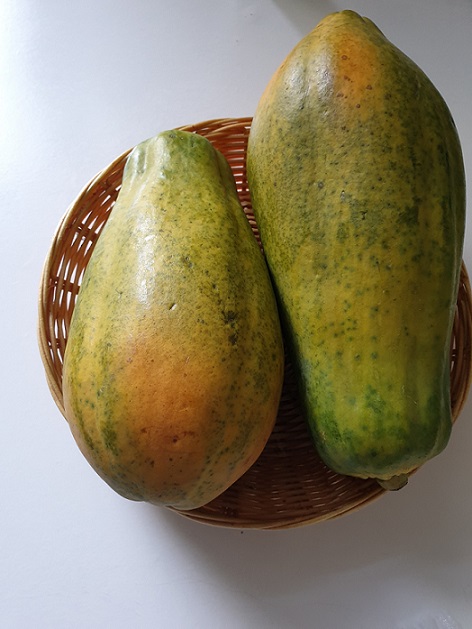 Papaya. Photo by Ellen Tordesillas

Tomato: It is tomate in Spanish, and in Nahuatl, tomatl.The Spanish brought the plant to Europe and to other European colonies in the 16th century. Initially, it was grown as an ornamental plant in France, Italy, and northern Europe. From the Philippines, it spread throughout Asia. Now, China has been a top world producer of tomatoes.
Camote or sweet potato is also known as camote in Mexico, Peru, Chile, Central America, and the Philippines, derived from Nahuatl, camotli.
From Luzon, it was introduced to Fujian, China around 1594, in response to a major crop failure and famine. Today, we eat camote cue, camote chips, guinisang talbos ng camote, and sweetened or boiled camote.
Singkamas: Jicama or Mexican yam bean and in Nahuatl, xicamatl. Used in fresh lumpia and eaten fresh and juicy, at its best in the scorching heat of summer.
Cacao: Used as beverage by the Aztecs, it is known as kakaw in Classic Maya and cacahuatl in Nahautl. Under the governorship of Diego de Salcedo (1663-1668), cacao was planted and cultivated in Ilog, Negros Occidental. Cacao tablea is used for making a thick, hot chocolate drink, sikwate or tsokolate de batirol, or champorado. And remember Rizal's satire on serving chocolate eh (espeso) or ah (aguado), thick or watered down?
In recent years, Philippine fine chocolate brands (Malagos, Auro, MS3, Theo and Philo) have been winning top international awards with Philippine cacao.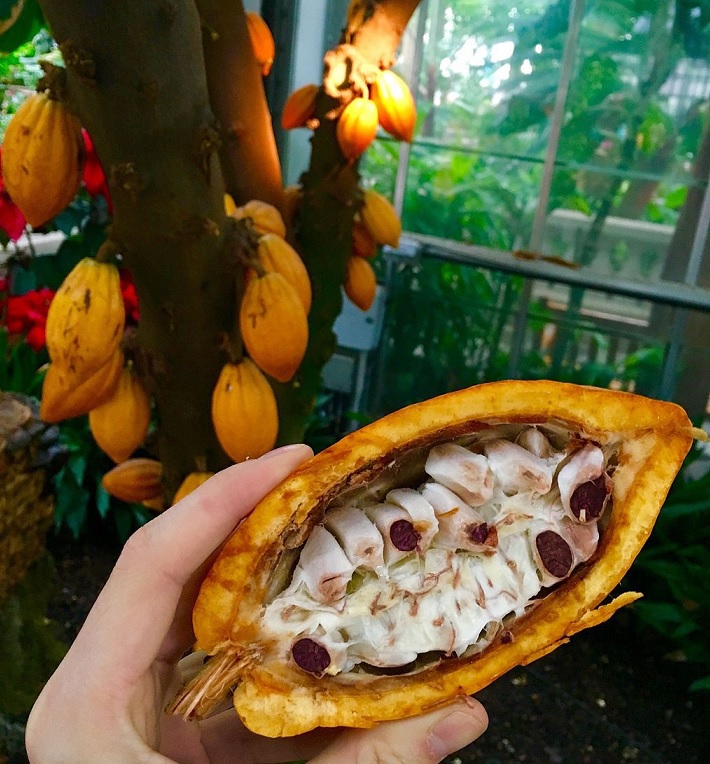 Cacao. Photo from Wikimedia Commons

Our own food taste
Other plants brought in includes corn, achuete, cassava, cashew, chayote, squash, aratiles, vanilla, ornamentals such as kalachuchi, adelfa, cosmos, campanilya, and sunflower.
These botanical newcomers would have a wide-ranging effect in the making of Filipino culinary culture: sweet, sour, spicy, salty, and bitter tempered with the flavor of New World plants.