The Facebook (FB) Page Lynn Channel Warriors of Truth has made incorrect claims about the coronavirus disease 2019 (COVID-19) vaccines, saying it is possible for people who receive the shot to develop a "magnetic field" due to a "genetically engineered magnet protein."
None of the ingredients in any of the vaccines are sources of electric and magnetic fields (EMFs), according to a team of health experts from global technology nonprofit Meedan.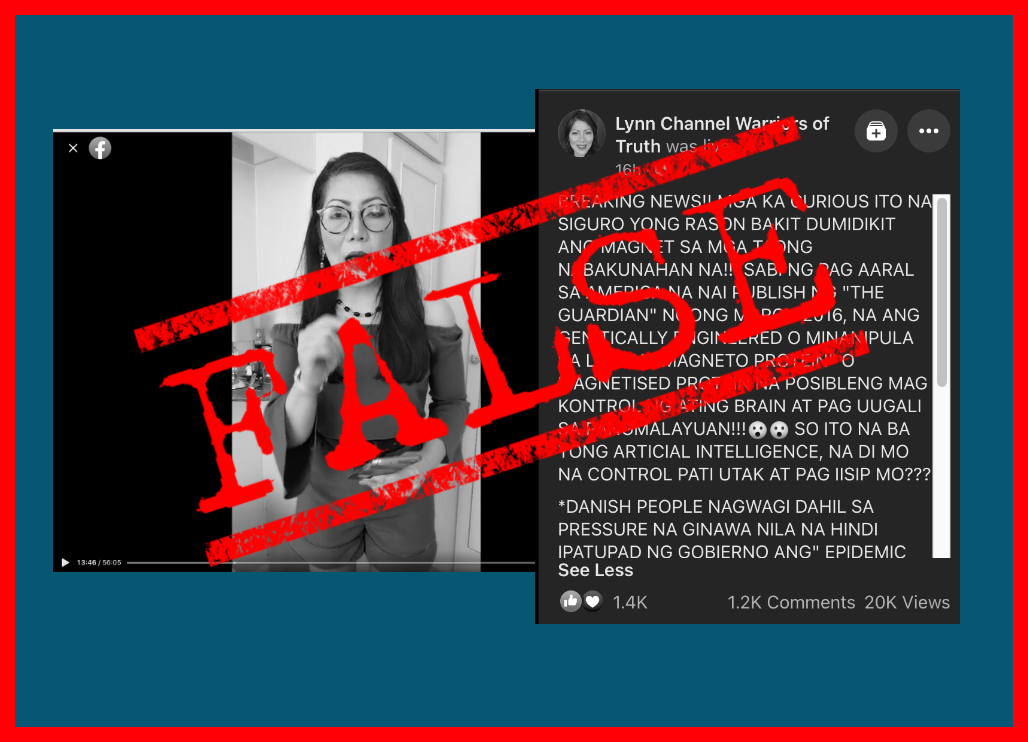 "Only certain metals can trigger magnetic reactions, and the vaccine does not contain any metals at all. That means it can't cause a magnetic response when it's injected," it said.
"The amount of metal that would need to be in a vaccine for it to attract a magnet is much more substantial than the amounts that could be present in a vaccine's small dose."
In a 56-minute FB live stream published last May 25, United Kingdom-based Filipina vlogger Lynn Agno cited the findings from a neuroscientific research on genetically engineered magnet proteins from a 2016 article by the The Guardian in Britain. But the experiment was performed only in animals, not human beings and no attempts at activating nerves in the brains of humans occurred.
The study did mention a new protein called "Magneto" or magnetized protein but these are not included in the ingredients of any COVID-19 vaccines authorized by the World Health Organization, Meedan stated.
Asked about the research involving magneto, Filipino neurologist Paul Matthew Pasco told VERA Files Fact Check said: "It should be emphasized that other researchers tried to replicate these experiments to verify these findings, but did not come up with the same results, hence they doubt the findings of these earlier researchers."
He said using light (optogenetics) and chemicals (chemogenetics) to control the responses of brain cells "have not yet been found successful in humans." Pasco, who has a fellowship in neurogenetics, is a member of the Philippine Neurological Association.
To support her claims, Agno showed a video compilation of vaccinated people who did the "magnet test" which supposedly demonstrates that COVID-19 jabs use microchips for mind and behavior control. This also holds no ground.
International fact checking organizations Agence France Presse and Reuters recently flagged circulating videos of these experiments, which medical experts debunked as "nothing more than a conspiracy theory typical of the disinformation about the novel coronavirus."
(See VERA FILES FACT CHECK: Microchips, quantum dots and other coronavirus conspiracy theories, VERA FILES FACT CHECK: Conspiracy theories on COVID-19 vaccines having microchips revived, and VERA FILES FACT CHECK: FB posts float CONSPIRACY theory on 5G, RFID link to COVID-19)
In response to the viral videos, Meedan explained that the human body contains a tiny quantity of iron, a magnetic metal. "We are all a little bit magnetic."
As of June 1, the erroneous FB post has gained about 40,000 views and over 8,200 interactions, and appeared in 377 FB groups and pages, based on social media monitoring tool CrowdTangle.
FB page Lynn Channel Warriors of Truth, created on May 2, 2021, is an offshoot of Lynn Channel, which has been removed from the social media platform for repeatedly sharing disinformation.
(Editor's Note: VERA Files has partnered with Facebook to fight the spread of disinformation. Find out more about this partnership and our methodology.)