A video with over two million views claimed to have "documented evidence" that the COVID-19 vaccine is dangerous and has led to deaths, but failed to support it.
The false claim was made by Al Santillan, a member of an anti-vaccine group Gising Maharlika, on Jan. 6, in a Facebook (FB) video livestream where he also urged those who refuse to be vaccinated to hold the line.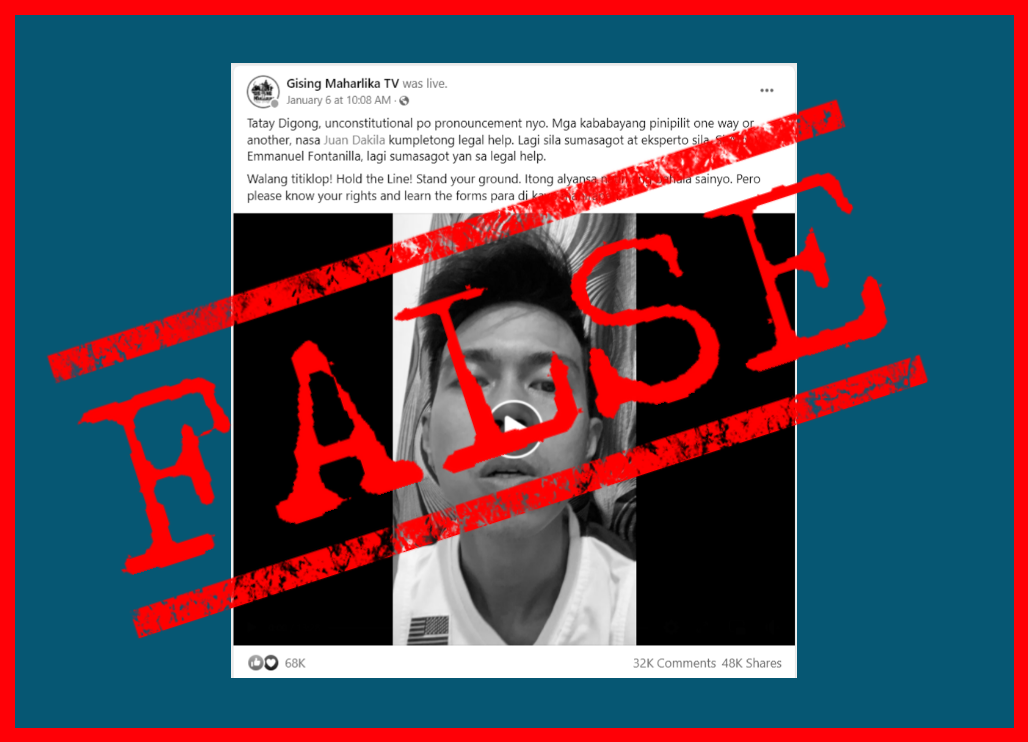 Deaths linked to the COVID-19 vaccine are rare according to the Centers for Disease Control and Prevention (CDC). The CDC reported that they have identified nine deaths "causally associated" to the J&J; COVID-19 vaccine, out of the 496 million vaccine doses administered in the United States.
"To this day, there are still no recorded deaths directly linked to the vaccines," said Health Undersecretary Maria Rosario Vergeire in Filipino during a public briefing last December, citing causality assessments made by health experts.
According to the Jan. 2 report of the Food and Drugs Administration (FDA), 0.08 percent or 85,717 of the 108 million vaccine doses administered in the country caused adverse reactions.
Of this number, 4,528 or 0.0042 percent of the total doses administered led to a severe adverse event.
While it is true that COVID-19 vaccines have risks of complications, "severe or life-threatening reactions are extremely rare" according to the Department of Health's (DOH) Frequently Answered Questions page.
Santillan also said in the video that President Rodrigo Duterte dissuaded the public from getting booster shots as this is dangerous. However, he failed to mention that Duterte later changed his mind during his Talk to the People last December and urged the public to "take advantage" of the booster shots while there are still enough vaccines available.
VERA Files Fact Check earlier debunked some claims Santillan and his group had about the vaccines. (Read VERA FILES FACT CHECK: anti-vaccine advocate spreads FALSE claims on COVID-19 vaccine, face masks)
The video surfaced a few days after the Inter-Agency Task Force (IATF) placed several regions in the country under Alert Level 3 following the recent surge of COVID-19 cases. Gising Maharlika staged a protest in front of the DOH compound last week, criticizing what they called the "medical martial law" imposed by the IATF.
Have you seen any dubious claims, photos, memes, or online posts that you want us to verify? Fill out this reader request form.
(Editor's Note: VERA Files has partnered with Facebook to fight the spread of disinformation. Find out more about this partnership and our methodology.)