Some Facebook (FB) pages have shared a graphic on how to "spot COVID-19" amid heightened reports of infections with Omicron, Delta, and the seasonal flu in the new year. It, however, misinforms.
VERA Files Fact Check looked into the sources cited in the graphic. All four of these – the United States Centers for Disease Control and Prevention (U.S. CDC), Yale Medicine, COVID Study App, and Gavi suggest there is no evident difference in the symptom profile. Further, differentiating the medical conditions cannot be based on symptoms alone.
The Department of Health (DOH), on Jan. 4, also affirmed there is no clear distinction in the symptom profiles of an earlier coronavirus disease 2019 (COVID-19) infection from other virus variants and influenza.
— Department of Health (@DOHgovph) January 4, 2022
The DOH emphasized that "it is difficult to tell by symptoms alone what caused your infection," and the more prudent action is to take RT-PCR or antigen tests to confirm what you have.
The post identified the following as "general symptoms" of COVID-19: fever or chills, cough, shortness of breath or difficulty breathing, fatigue, muscle or body aches, headache, loss of taste or smell, sore throat, congestion or runny nose, nausea or vomiting, and diarrhea.
It claimed that Omicron has nine, adding night sweats and excluding loss of taste or smell. Delta only has fourーheadache, a sore throat, runny nose, and feverーand "may cause twice as many infections as COVID-19." The flu has eight but is "possibly less transmissible than COVID-19."
But the health department pointed out the symptoms are "generally similar" for COVID-19 infection, whether Delta or Omicron variant or even with the regular flu.
The erroneous graphic, uploaded on Dec. 23, 2021, can be traced to the official Instagram account of The Healthy, which claims to provide "real, science-backed answers for your most important health questions and problems." It was reposted by the magazine Readers' Digest eight days later.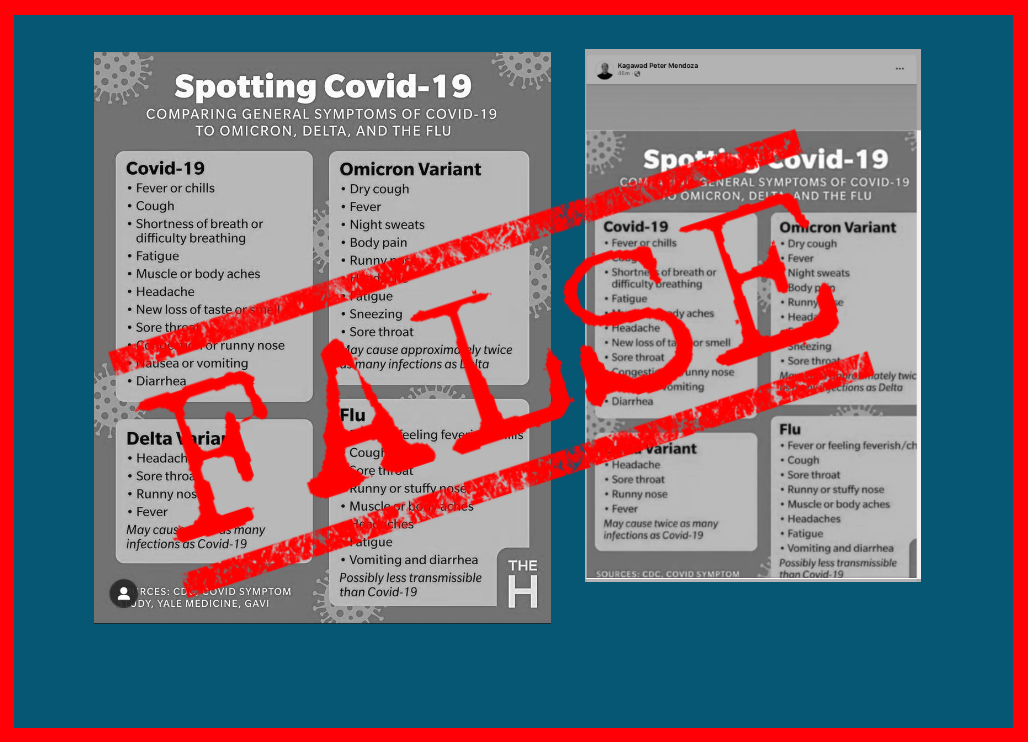 From the sources cited by the graphic, here is what each had to say:
U.S. Centers for Disease Control and Prevention
In an email to VERA Files Fact Check, the U.S. CDC said:
"All previous variants cause similar COVID-19 symptoms. Some variants, such as the Alpha and Delta variants, may cause more severe illness and death."
On Oct. 26, 2021, the CDC published a table that compared COVID-19 and the flu.
In the caption, the health agency wrote, "Both respiratory illnesses have some similar, common symptoms. But people sick with COVID-19 often have key symptoms less common for people sick with flu."
In an article, reviewed on Nov. 23, 2021, the CDC noted that since some symptoms of flu, COVID-19, and other respiratory illnesses are "similar," the difference between them cannot be based on symptoms alone.
For example, COVID-19 can cause more serious illnesses in some people, can take longer before people show symptoms, and people can be contagious for longer.
It stressed the need for testing "to tell what the illness is and to confirm a diagnosis." "People can be infected with both flu and the virus that causes COVID-19 at the same time and have symptoms of both influenza and COVID-19," the agency added.
In a Dec. 20 article, it said that "more data are needed to know if Omicron infections cause more severe illness or death than infection with other variants."
COVID Study App

The London-based health science company ZOE, which hosts a COVID Study mobile phone app launched in March 2020, said there was "no clear difference in the symptom profile of Delta and Omicron."
The team reported the finding in a Dec. 21, 2021 blog post titled "What are the symptoms of Omicron?" It looked at the "most recent" data from London—which it described as having the highest number of cases with Omicron in the United Kingdom—and compared it with data collected from early October 2021, when the Delta variant was more dominant.
From its study during the covered period, the company listed the top five symptoms reported as runny nose, headache, fatigue, sneezing, and sore throat.
In an email to VERA Files Fact Check on Jan. 5, the team highlighted that the contributors to the app were "mostly fully vaccinated, either with two or three doses, so these symptoms related to vaccinated individuals." It currently has no data on the symptoms of unvaccinated people.
Another false graphic that cited the study likewise made rounds on social media this week. (Read VERA FILES FACT CHECK: COVID task force ex-adviser Tony Leachon shares false guide on 'first 8 Omicron symptoms')
Yale Medicine

Dr. Lauren Ferrante, Yale Medicine pulmonologist, did say in a Jan. 4 article that early reports from South Africa indicate that most cases infected with Omicron "have been mild and that symptoms for this variant may be different."
"The reports show that patients in South Africa—many of whom were young—have had severe fatigue, but no loss of taste or smell," she said.
But the Yale researchers also wrote that the severity of the Omicron variant is "not yet clear" compared to Delta. They have raised concerns over its several mutations in the spike protein, which attaches to human cells that could increase the probability of infection.
"It is also possible that symptoms differ depending on a person's vaccination status, and/or whether they have recovered from a previous COVID-19 infection."
GAVI

GAVI, a public-private global health partnership for vaccine access, referred to similar reports from the ZOE COVID Study App in a Dec. 17 article. But it did say, "Reassuring as such reports may sound, these were based on very little data, as in most cases it takes several weeks after infection for severe symptoms to develop."
Asked to comment on the graphic, GAVI wrote in an email to VERA Files Fact Check: "Looks like this graphic was prepared as a combination of a whole bunch of sources, I don't know what the authors sourced exactly from the Gavi website, unfortunately."
They linked VERA Files Fact Check to two relevant pieces recently published on their website on Sept. 29, 2021, titled "Seven COVID-19 symptoms you shouldn't ignore" and on Oct. 19, 2021, titled "Is it a cold or COVID-19? An expert explains".
In a Dec. 17, 2021 explainer, Dr. Maria Van Kerkhove, COVID-19 Technical Lead of the World Health Organization (WHO), said they have "not seen a change" in the symptoms that people present with Omicron compared to Delta, so people "will not be able to tell the difference."
"The best thing for you to do is to keep yourself safe, get vaccinated when you can, and make sure you take steps to reduce your exposure to this virus," reminded Kerkhove, who is an infectious disease epidemiologist.
Based on social media monitoring tool CrowdTangle, at least two local officials shared the post on their FB pages: Kagawad Peter Mendoza from Quezon City with over 1,100 followers and Councilor Czylene T. Marqueses from Tanuan, Batangas with 13,000 followers.
The page of Kagawad Peter Mendoza has since taken down the post as of publication.
Posts on the symptoms of infection with Omicron and Delta variants have circulated just as the Philippines logged a post-holiday surge resulting in 181,016 active infections as of Jan. 11.
While the country has yet to declare Omicron as the dominant strain, health officials urged the public to continue to observe physical distancing, masking, avoiding crowded spaces, and getting vaccinated.
Have you seen any dubious claims, photos, memes, or online posts that you want us to verify? Fill out this reader request form.
(Editor's Note: VERA Files has partnered with Facebook to fight the spread of disinformation. Find out more about this partnership and our methodology.)