A Facebook (FB) post carrying multiple incorrect tips on preventing and treating the coronavirus disease 2019 (COVID-19) is circulating amid a surge in cases in many parts of the country.
Eating "more alkaline" foods will not eliminate the virus causing the disease, contrary to the claim in the Jan. 3 post by FB page SuperMom, which VERA Files Fact Check already debunked last year. The post also incorrectly made a blanket claim on the "phases" of a COVID-19 infection, and when symptoms would appear.
The erroneous post by the FB page (created on June 1, 2019), got over 1,000 reactions and 1,300 shares as of Jan. 7. It came out the same day Health Undersecretary Leopoldo Vega warned that Omicron may become the dominant variant of the COVID-19 virus in the country in the coming weeks.
A week later, the country logged 33,169 new cases and Health Secretary Francisco Duque confirmed that Omicron is now the dominant COVID-19 variant in the country.
VERA Files fact-checked each claim made in the erroneous Jan 3 post.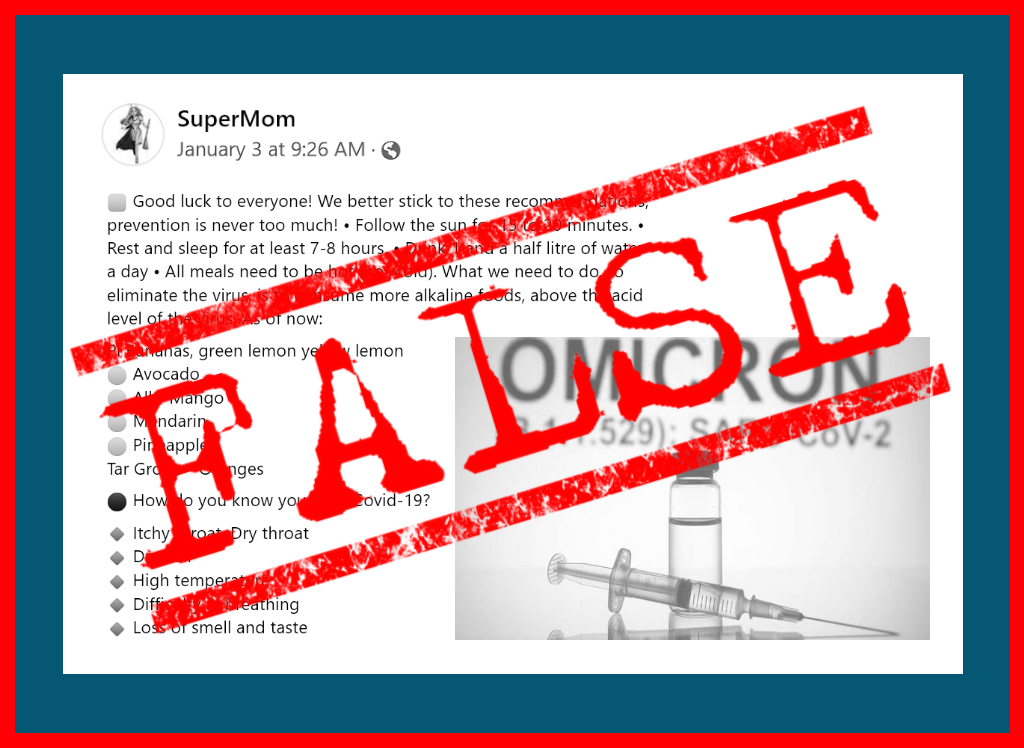 On alkaline foods
The FB post claimed that eating more alkaline foods which have a "higher acid level than the virus" beats COVID-19.
Eating more acidic foods (those with a pH level below 7) and alkaline foods (pH level above 7) is "not related to an increased or decreased risk of COVID-19 infection," a group of health experts convened by non-profit organization Meedan said.
"Viruses themselves do not have pH levels, because they are not water-based solutions," the group added.
Six fruits, which were actually acidic and not alkaline as falsely claimed, were included in the circulating FB post.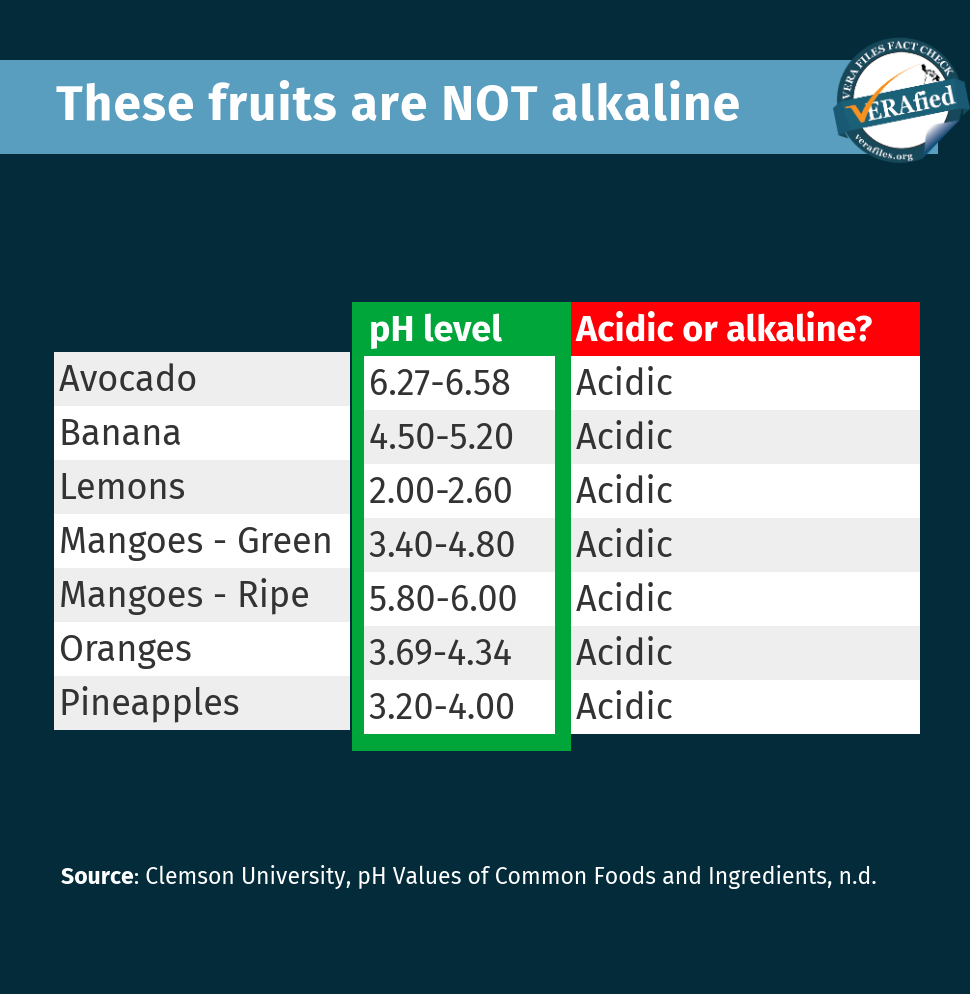 (See also: VERA FILES FACT CHECK: A high-alkaline diet DOES NOT 'defeat' COVID-19)
On sun exposure, consuming hot meals
The FB post also said that to prevent COVID-19, "all meals need to be hot" and that one must "follow the sun for 15 to 20 minutes." These are not true.
In a previous fact check by VERA Files, the World Health Organization (WHO) Philippines said eating hot meals and exposing oneself to sunlight "do not kill the coronavirus."
However, in a guide produced by the Makati Medical Center in June 2020, sun exposure for 10 to 30 minutes at midday was recommended as one of the ways to prevent Vitamin D deficiency from staying indoors for too long amid lockdowns. Vitamin D can help boost the immune system.
On getting 7 to 8 hours of sleep
A 2020 paper published in the Global Health Journal concluded that lack of sleep and altered sleep patterns "may increase susceptibility to SARS-CoV-2," or the virus that causes COVID-19.
As mentioned in a previous VERA Files Fact Check article, the United States (U.S.) National Heart Lung and Blood Institute recommends seven to eight hours of sleep for adults, and eight to 10 hours of sleep for children.
Sleep does boost the immune system, but doesn't give total protection against the virus. The WHO says "anyone can get sick with COVID-19 and become seriously ill or die at any age."
On the onset of COVID-19 symptoms
The FB post stated that most COVID-19 symptoms appear three days after being infected by the virus. This is inaccurate.
According to Harvard University, the U.S. Centers for Disease Control and Prevention (CDC), and Johns Hopkins Medicine, COVID-19 symptoms usually appear around two to 14 days after being infected. The average time for the symptoms to appear after exposure is around 5 days.
But not all who become infected with COVID-19 develop symptoms or feel unwell.
On COVID-19 presentation
Contrary to the FB post's claim, dry hair is not listed as a potential symptom of COVID-19. There have been reports, however, of hair loss as a long-term effect for some COVID-19 patients.
According to the Department of Health, among the symptoms one should watch out for include difficulty in breathing, cough, fever, confusion, chest pain, low oxygen level, excessive sleepiness, and bluish or darkened face.
The U.S. CDC also advises people to watch out for other symptoms such as sore throat, fatigue, nausea, diarrhea, muscle and body aches, and new loss of smell and taste.
On the phases of a COVID-19 infection
The circulating FB post claimed that there were three phases of a SARS-CoV-2 infection: the body pain phase, the inflammatory phase, and the healing phase.
COVID-19 affects people in different ways. The WHO says most people develop mild to moderate symptoms and recover without hospitalization. Others develop no symptoms, while others, who contract a more critical form of the illness, can require intensive care.
Have you seen any dubious claims, photos, memes, or online posts that you want us to verify? Fill out this reader request form.
(Editor's Note: VERA Files has partnered with Facebook to fight the spread of disinformation. Find out more about this partnership and our methodology.)