One member from a group advocating against "mandatory vaccination" made three untrue claims in a Facebook Live video that now has over three million views.
The video features Al Santillan, of the Gising Maharlika group, as he and several other members made their way to the Department of Health (DOH) compound on Jan. 4 to protest what they called a "medical martial law." He made three false claims:
That the COVID-19 vaccine is an experimental drug.
That wearing masks cause carbon dioxide poisoning.
That the Inter-Agency Task Force (IATF) for the management of emerging infectious diseases is experimenting on children with the vaccines.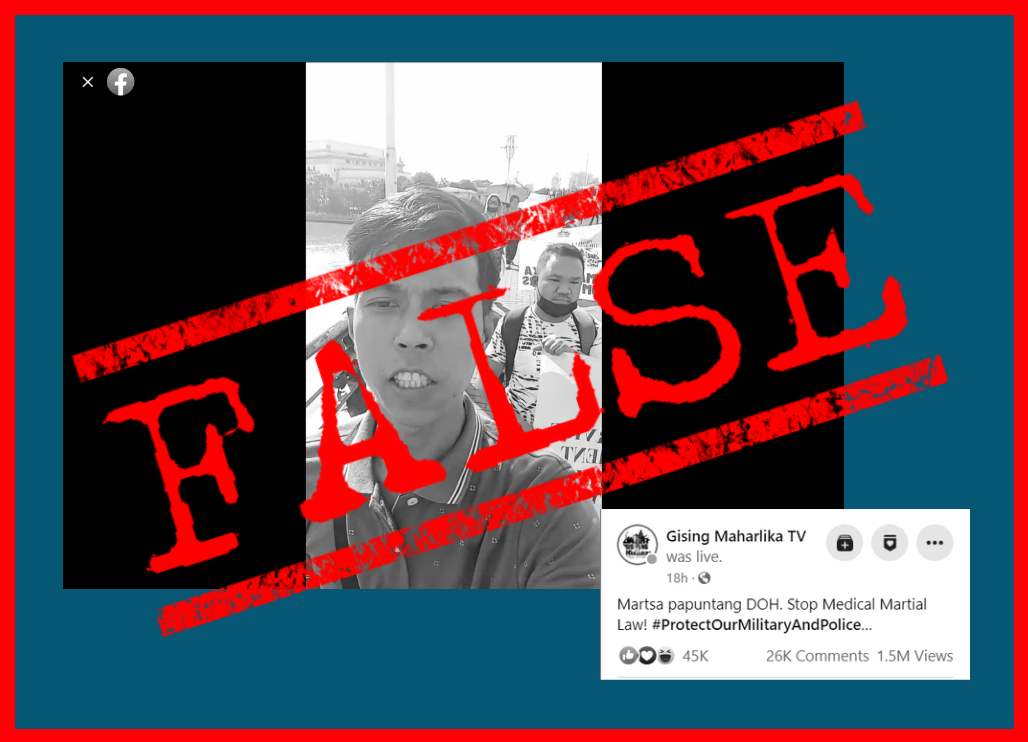 VERA Files Fact Check debunked these below.
| | |
| --- | --- |
| Claim | Rating |
| The COVID-19 vaccines are experimental. | False |
Experimental drugs are still undergoing several clinical trials and are yet to be approved or authorized.
However, this is not the case for the vaccines used to combat the coronavirus disease 2019 (COVID-19). As of Jan. 7, the Food and Drug Administration (FDA) has issued emergency use authorizations (EUAs) for nine such vaccines developed by Pfizer-BioNTech, AstraZeneca, Sinovac, Gamaleya Research Institute, Janssen, Bharat Biotech, Moderna, Sinopharm, and Novavax.
According to FDA Circular No. 2020-036, the agency only grants EUAs once all of the following conditions are met: data from adequate and well-known controlled trials show the effectiveness of the vaccine against COVID-19, the benefits of the vaccine outweighs its potential risks, and there are no other satisfactory alternatives for diagnosing, treating and preventing COVID-19.
The DOH's Frequently Asked Questions page states that severe and life-threatening adverse reactions to the vaccine are "extremely rare." As of Dec. 26, 2021, about 0.08% or 84,857 of the 105 million vaccine doses administered reported suspected adverse reactions after receiving a COVID-19 vaccine. Of the number, only 4,422 were serious adverse events.
| | |
| --- | --- |
| Claim | Rating |
| Wearing masks causes carbon dioxide poisoning. | False |
Carbon dioxide toxicity is "extremely unlikely to happen from wearing a mask," health experts told VERA Files Fact Check in a previous story.
This false claim has been refuted twice by VERA Files Fact Check:
Several media organizations have also fact-checked this claim.
An April 2021 study showed that while there was a noted increase in carbon dioxide levels when wearing face masks, it is still within the safety threshold for short-term use. The small study involved 11 volunteers tested with a valved respirator, a KN95 mask, and a powered air-purifying respirator. Published in the BioMed Central Infectious Disease Journal, the study further concluded that "there should not be a concern in regular day-to-day use" of face masks.
To reduce the chances of COVID-19 infection and transmission, the World Health Organization (WHO) recommends wearing well-fitted masks, combined with other health practices such as practicing physical distancing and hand-washing.
| | |
| --- | --- |
| Claim | Rating |
| The IATF is experimenting on children with the COVID-19 vaccines. | False |
Last December, the FDA granted the EUA for the Pfizer-BioNTech vaccine for children aged 5 to 11 after experts deemed that the data from technical documents submitted by the drugmaker and an evaluation of the U.S. FDA recommendations showed the drug was adequate for emergency use.
Eric Domingo, former director-general of the FDA, said during the Dec. 23 Laging Handa briefing last year that the vaccine has an efficacy rate of 90.7 percent among children in the age group. He added the observed adverse reactions during the clinical trials were "very mild" and only included slight fever and pain in the injection site.
"[The Pfizer vaccine for children] is not the same dosage given to adults. It is a lower dosage, and the concentration of the vaccine is also lower compared to what the adults are getting," Domingo also said in Filipino.
VERA Files Fact Check has also debunked a related false claim on the vaccination of children. (See: FB page FALSELY claims children have 'natural immunity' against COVID-19)
The DOH previously expanded the pediatric vaccination rollout for children aged 12 to 17 in November last year.
The video carrying the erroneous claims surfaced a day after the IATF placed Bulacan, Cavite and Rizal under Alert Level 3 from Jan. 5 to 15, following a recent surge of COVID-19 cases after the holidays.
Santillan published his live stream on his group's FB page Gising Maharlika TV, created on Dec. 27, 2019. It has since garnered more than 85,000 reactions, 45,000 comments, and 110,000 shares as of Jan. 7.
The anti-vaccine group already made some noise in September last year when it staged a protest at Liwasang Bonifacio, claiming the pandemic is not real and alleged the vaccine is killing people. The event earned a warning from the police.
Have you seen any dubious claims, photos, memes, or online posts that you want us to verify? Fill out this reader request form or send it to 'VERA, the truth bot' on Viber.
(Editor's Note: VERA Files has partnered with Facebook to fight the spread of disinformation. Find out more about this partnership and our methodology.)