A Facebook (FB) page posted on Nov. 5 a graphic that claimed children have a "natural immunity" against the COVID-19 virus. This is false.
The Department of Health (DOH) on Nov. 8 denounced the claim. "Maaari pa ring makakuha ng COVID-19 at ma-ospital ang mga bata dahil dito, at maaari rin nila maipasa sa ibang tao (Children can still be infected with COVID-19 and be hospitalized, and also transmit the virus to others)," the DOH said in a statement.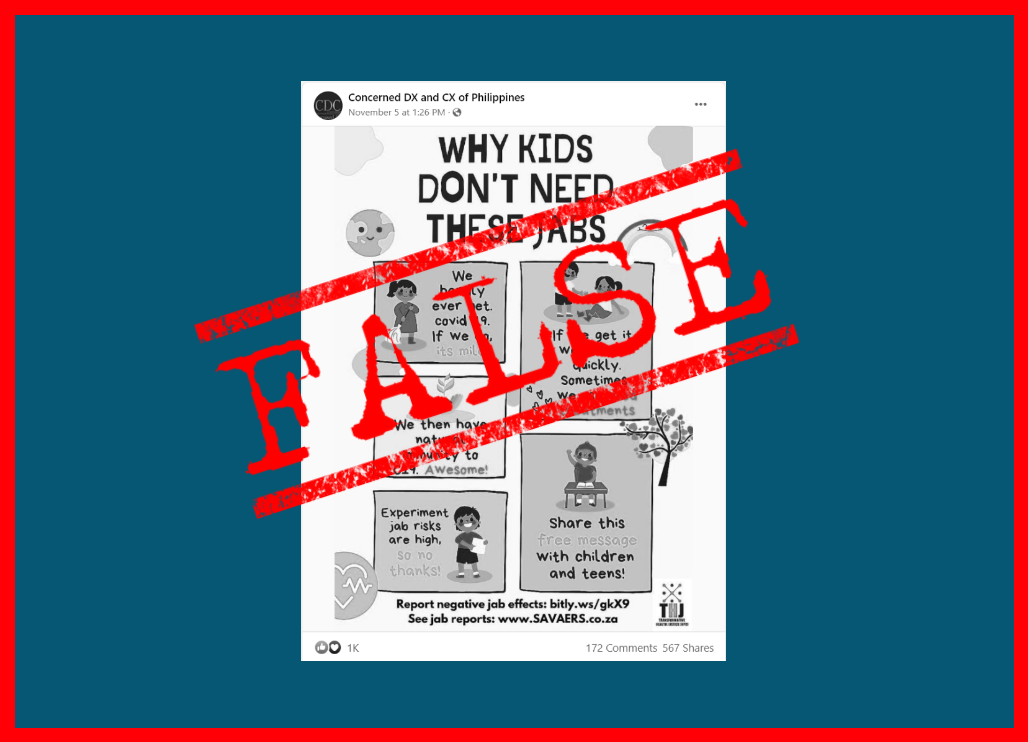 World Health Organization's (WHO) chief scientist Soumya Swaminathan said the same thing in a video published in June this year. She also said that "[children] are at a much lower risk of getting severe disease compared to older adults."
The FB page Concerned DX and CX of Philippines posted the erroneous graphic: "Why Kids Don't Need These Jabs," that also claimed the risk of the "experiment" vaccines are "high." According to DOH's Frequently Answered Questions page, all vaccines have risk factors but "severe or life-threatening reactions are extremely rare."
This false claim was posted following the expanded pediatric vaccination rollout of the DOH and other government agencies under the COVID-19 Vaccine Cluster. The new program that began last Nov. 3 covers children aged between 12 and 17.
Health Undersecretary Myrna Cabotaje said in a public briefing on Oct. 28 that there are more than 12.7 million children eligible for the vaccine. She said DOH expects that at least 80 percent of the target population will be vaccinated by December 2021.
The FB page, which promotes Ivermectin, cited the Transformative Health Justice (THJ), a South African-based organization, as source of its infographic. THJ, in their website, also advocated for a "right to Ivermectin" in treating the COVID-19 virus.
Health Undersecretary Maria Rosario Vergeire said in a virtual presser on Sept. 17 that Ivermectin does not "significantly reduce [COVID-19] mortality nor improve other clinical outcomes" based on evidence from several randomized controlled trials.
The erroneous post has so far garnered 1,020 reactions, 171 comments and 558 shares. The Concerned DX and CX of Philippines FB page was created on May 29, 2021.
Have you seen any dubious claims, photos, memes, or online posts that you want us to verify? Fill out this reader request form or send it to 'VERA, the truth bot' on Viber.
(Editor's Note: VERA Files has partnered with Facebook to fight the spread of disinformation. Find out more about this partnership and our methodology.)