The conspiracy theory involving COVID-19 vaccines and microchips has found another supporter — a self-proclaimed "psychic witch" who is espousing the falsehood that vaccinated people will turn into "robots" after 10 years.
The claim was made in a video published Nov. 11 on Facebook (FB) page Propesiya TV by Mamu Hayi Cruz, who posts popular predictions on her page.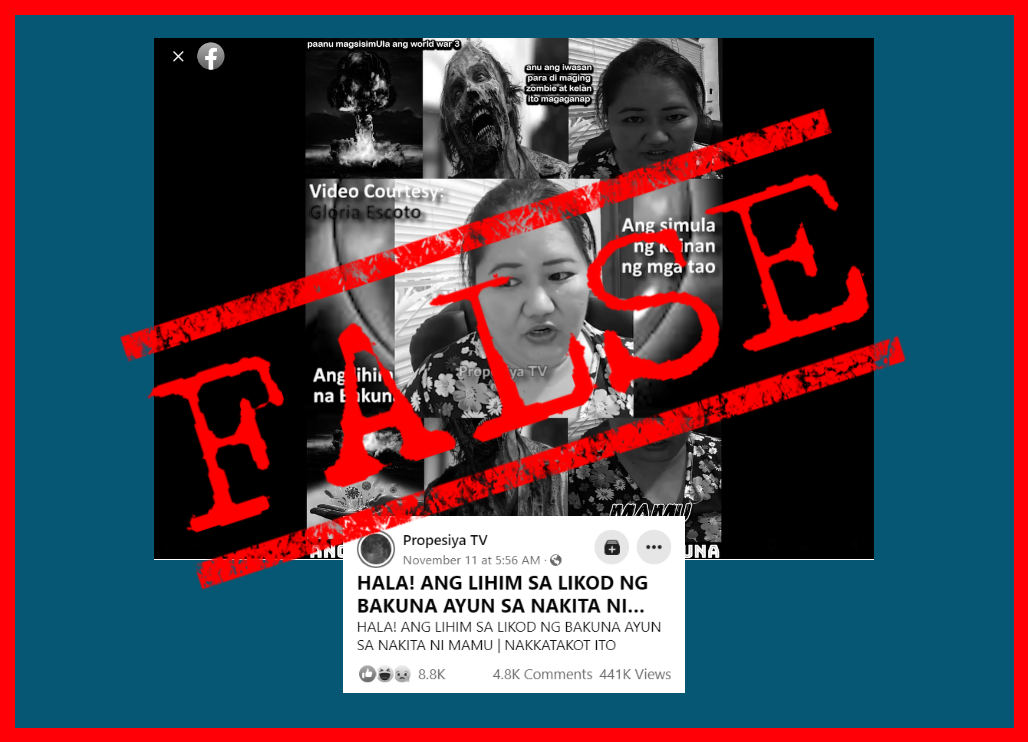 She claimed that the liquid vaccine injected into the body has chemicals that solidify into a "chip" which would be used to "manipulate" vaccinated persons and turn them into robots after ten years. Cruz, who calls herself "psychic witch," said she has yet to have a clear explanation behind her "vision."
There are no microchips in the COVID-19 vaccine. "It is impossible to place a microchip inside your body when getting vaccinated," said the World Health Organization (WHO) on July 17 in a FB post.
The Department of Health (DOH) said the same thing in a post published on June 22, where it said the vaccines went under "rigid screening and quality control to ascertain safety."
This hoax has been circulating online ever since the COVID-19 vaccine rollout started, and debunked by VERA Files several times. (See VERA FILES FACT CHECK: Conspiracy theories on COVID-19 vaccines having microchips revived and VERA FILES FACT CHECK: Viral video shows 2015 experiment, NOT nanobots in COVID-19 vaccines).
The conspiracy theory started when Microsoft tycoon Bill Gates, in a Reddit Ask Me Anything thread, said people will soon have "digital certificates" to show who have been tested and recovered from the COVID-19 virus and who have received the vaccine. Reddit users accused Gates of pushing for "implanting chips" under people's skins.
The latest FB video has been viewed almost half a million times and garnered more than 8,700 reactions, 4,800 comments and 9,100 shares.
Have you seen any dubious claims, photos, memes, or online posts that you want us to verify? Fill out this reader request form.

(Editor's Note: VERA Files has partnered with Facebook to fight the spread of disinformation. Find out more about this partnership and our methodology.